July 1

5:00 PM to 7:30 PM
FHHL Gallery
With more than 120 different cards, the Pickel collection is likely the most comprehensive of cards of Huletts Landing specifically. These encompass real photo cards, the color lithography cards from Germany made from photographs taken by the Detroit Photographic Company and many more recent cards up to color photographs from Richard Dean.
The collection will be in the FHHL Gallery for only one night and we urge you not to miss the show hosted by Jude Pickel. The wine and cheese reception will be Saturday, July 1 from 5:00 PM to 7:30 PM.
The Pickel collection of post cards of Huletts owes its depth and quality to the late James Pickel, Jude's husband, who sought out unique examples over many years, scouring everything from flea markets to the Internet.  The cards are framed with clear backs so that the often charming messages are also displayed.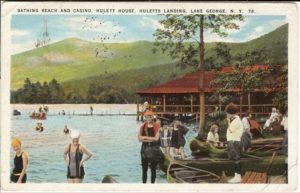 Share this entry