Stiling & Delphine Knight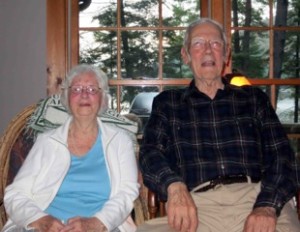 Stiling and Delphine Knight
Camelot, Huletts Landing, Lake George, NY
Interviewed by Marian Knight
July 13, 2011
Marian: When did you first come to Huletts?
Delphine:    Well, my father first came in 1916. He rode up on a bicycle with Alfred Goslin. They rode up from Long Island. It took them 3 days and when they arrived they camped on a campsite; there was one at that time, on Hulett Island, there hasn't been for years. There was a terrible storm and they came into shore and the house that's right there and still is, Edgewater. The people in it took the young boys in and they became fast friends and never really left Huletts again. My Hulett code name is (sis one???). At the time I was growing up it was a very elegant beautiful resort. It had the hotels the casino. Lakeside in was a private in but it was also used for over flow at the Hulett house. Everything was landscaped beautifully. There were many fountains with statues and flowers. There was a full-time gardener that took care of Huletts. There was a full-time baker with his own bakery shack who serviced the hotel and sold to any of the people in the cottages. The people at that time which made it different than later on were all families who came up for the whole season. We had all sorts great people: doctors, dentists, lawyers, insurance business owners; we even had during the war years, a war profiteer from Canada who stayed there and we did have a man who was the art director of Sothebys. They were all very nice families and all very nice backgrounds.
Marian: And these were all the people living in the cottages?
Delphine:    The cottages, yes. It catered to or drew on young people mostly because there were so many exciting activities over there an in the hotel. And as I said these were families in the cottages and so all these people and all these children grew up together. We also had over there a store; a real store. It became Benjamin's store later on, but at this time it was a real store with a house butcher who cut the meat to your order and next door was the ice house. They took the ice from the lake in the winter and then stored it in this ice house. I have a picture of it somewhere. There was a nurse's station in the hotel that took care of any little emergency. As I said before they had a bakery they had a large dormitory building it was across from the post office in that general area.
Marian: Across from where the post office is now?
Delphine:    Yes. It was across the street where there is now a new house built. Of course they had quite a large staff. They stashed the hotel in lake side fully. Lakeside had ??? and regular street people and they had a ??? in the area although most people went to the hotel for their meals.
Marian: So this dormitory was for the staff of the hotel?
Delphine:    Yes and it was back by the golf course, where the golf course and the post office is now. Originally the post office was called the big boat dock. And they had a post office, they had railway express office and they even had a little deck on the top that you could go up in and look up and down the lake. The post office eventually moved up on the dock to generally where it is now. But then it moved up to the firehouse when Ed Mann was there but then it moved back down again to where it is now.
Marian: Did Ed Mann have it in his house at one point?
Delphine:    He had it in his house and he first had it in the firehouse and then he moved it to his house. When he passed away they brought it back down to Huletts. In the hotel they had a very large dinning room. If you look at a picture of the hotel the who end toward the post office that was all dinning room. The orchestra came during the big band era. They played during dinner. They played on Wednesdays and Fridays. They had formal dances in the ballroom with the orchestra. On Sundays in the ballroom, they had a stage and they put on ??. Sometimes they had professionals who were visiting who jumped in. They had masquerade parties up there and I remember growing up as a little girl dancing with my father. Of course the shows that they put on, all of us were in the shows. The P???? she was really great in the show.
Marian: She was a performer?
Delphine:    In the show. Yes. They did minstrels which was permissible at that time.
Marian: What did they do with the children? You said you all were in the shows.
Delphine:    If we performed anything. I studied dance. When you got older, you graduated to other parts, so that was very nice entertainment. There was always something going on in Huletts. To get back to the band, after they played dinner or the week nights they played or the Sunday show. They'd go down to the casino and play there for dancing. Now the casino at that time; the original original casino, had a huge bar downstairs, a grand stair case and I mean a grand staircase going upstairs and upstairs they had a big dance floor and bandstand and tables and chairs and bay windows where you could have your table there and sit out over the water and a service bar and a real ice cream place and Mary Wyatt did a lot of the ice cream. They also had in the walls, sliding wooden panels in the walls and inside were slot machines and even as kids we'd go up with our quarters and play the slot machines. Later on when the Casino was rebuilt and extended, they added a game room, shuffle board, things like that and upstairs a full size theater to show movies at night. They had current movies and of course most of them were suitable for children. Anyone could come. The band also played during cocktail hour outside the casino there was a little lawn just outside the door of the Casino. They served drinks there and the band played there during cocktail hour.
Marian: Nice. Did you and your family go to the hotel very often?
Delphine:    On occasion for dinner. They also served food at the casino, you could eat there. They served club sandwiches and interesting things like that. You could eat there if you wanted. We would go swimming on the casino beach which is a beautiful sandy beach (Still is I think) As well as swimming in our own bay which was then called buckle bay. Of course the golf course was always there. They had two tennis courts in front of the hotel which is still there I think and there was a tennis court (very few people remember this, I think) across from where the casino is now. There is a house called the Richmond House and from what's now the road to the back of Richmond was a clay tennis court. A beautiful court. We moved all over, but in theory that was for the people who lived in the cottages. At that time, there were only 50 cottages in that entire area, so there was great space in between.
Marian: Now where was your family's cottage?
Delphine:    In Buckell Bay, dead center, it's called elms cottage right next to where Foster Brook comes down and next to us was a cottage and it's a link to meadow point, because the cottage is called Villevan?? It's called Villavan?? because Harold VanClique, a member of the Knight family, his mother was one of the sisters of Dr. Knight and his father's name was Will Vanclique. Harold was a banker in New York and he came up. There was no room over here at the time so he and his wife and his two daughters took the cottage. They were older than us, but the younger daughter babysat for us. He had two daughters, Carol and Darcy. So, that was the connection to Meadow Point way, way back. Villavan reminds me of a story. I was an eye witness to the time that Eddy Anderson Rochester jack benny's cohort back then. He came and he and his wife were down at the races for a week and there was no room for them at the inn all the way up to Huletts Landing. He called my mother up cause the place next door, Villavan, was empty and he asked is it alright with you if I put them there and my mother said absolutely, my children will be delighted and we were so thrilled with it. Only fixing on the fact that they were such famous people. And they had a good time with it. They came out a posed for pictures which my brother took and they just looked so happy because they had this tremendous meeting with these very enthusiastic children.
Marian: I don't think anyone remembers that except you. Probably because you were next door. But I haven't heard that story from anyone else.
Delphine:    Well, I'd say, if I could make a guess, probably in the late 30's. Like I said there were not too many people around me before then. But there were some people who had herd and turned it into Sachmo (Louis Armstrong), but I said no, no, not Sachmo, it's Eddy Anderson. But that was great fun.
Marian: Did you tell me that the story of Eddy Anderson and his wife was written up in a book? Was it by Rosalind Russell, that story?
Delphine:    Yes. Rosalind Russell. She didn't cover this I think it was before a little earlier closer to the beginning of the depression. But that's a wonderful book and it tells some hilarious stories about Huletts. Maybe Ty will talk about it. He went to the famous Christmas party at mountain grove church and he has all the details of that first hand. It became a movie that starred Rosalind Russell. The Huletts chapter was the last chapter in the book and in the movie they left off the Huletts chapter.
Marian: Oh, too bad.
Delphine:    Yes, because it was very funny. It was these city people talking about all this rough living as they called it.
Marian: Do you hae any other memories?
Delphine:    You always have photographic memories of some things. One thing I remember is Arthur Wyatt going out in his very large Chris Craft. Eventually the Wyatts moved out they stayed in Delmont because it was winterized and then they eventually moved to lakeside and took it over as a private home and then when the Eichler took over the Landing, they moved out and it is now a Kapuskinski home. When my mother and father were married and they came up because he'd been coming since 1816, they stayed in lakeside. She was a little disturbed being a city girl and everything is dark at night and they had trees growing through the room, because when buckle built it he loved all trees and he built everything around a tree. She wanted to leave immediately and never wanted to come back again which happens often up here. So, his friend in Edgewater, Mrs. Scottson said here's a canoe, take it for a ride.
Marian: Good thinking.
Delphine:    Yes. She came back for over 60 years after that.
Marian: You have a brother who also grew up in the same time and place you did.
Delphine:    Yes. He was a great fisherman. At that time they called it skin diving. They had all the suits and he'd go out. One of the other cottages had a son who was older, he was already a doctor and he had the real helmets with the screws on the side meant for deep sea diving and he took him out there.
Marian: Was you mother a little nervous about that? How old was your brother at that point?
Delphine:    I don't remember exactly when that happened but I think he was a teenager. Oh I did forget to mention that in Huletts we had a stable. Arthur Wyatt had his own stable with his own horses. The horses used to be let out on Taft's Point to stay in the field at night. It was almost immediately ahead of the bridge that connects to bluff head road. Just to the right of there was a stable fully staffed and taught riding. This road was not paved until years later. It was all dirt. I rode and my brother rode. Mostly the end people rode.
Marian: How many horses did they have?
Delphine:    They probably had 4-6 and then some people in Huletts who brought their own horses stabled there.
Marian: What was your favorite thing as a little child when you came up here?
Delphine:    Swim.
Marian: How old were you when you learned to swim?
Delphine:    Well, a toddler probably. People who remember me, there was a light post near our dock and when I was little and my brother before me, my mother would tie us on a rope to the post so we could only go up to the edge of the water and if we fell down we wouldn't drown.
Marian: You were on a beach right there?
Delphine:    Yes. That wall did not exist at that time. It was sandy beach down to the water. When we were given swimming lessons, they were given by Billy Baron who owned Fredericks which has houses all along it used to have one of a gorgeous and one of the best beaches in Huletts. We used to swim over there which is Narrow Marina and now has individual houses on it.
Marian: What about when you were a teenager?
Delphine:    Probably still swimming. But we played a lot of tennis.
Marian: Did you spend time at the hotel doing some things as they were available?
Delphine:    Yes. We could partake of anything and during the war years, the hotel was … most of the people who came during those years were people with a lot of money who had fled Europe. They weren't Jewish people, just other people who wanted to get away from it and bring their families. So there were many interesting families who we got to know and knew for years after. Knew their children and after the war some of them went back there and some of them went to South America. But he kept the hotel full during the war years.
Marian: Interesting Del. Is there anything else you want to say before we ask Ty to come in?
Delphine:    I don't think so. I'll probably be thinking of all sorts of things for the rest of my life.
Marian: Thank you very much for all this this was very interesting.
Delphine:    Yes, it was a totally different place than it is today. When Arthur Wyatt died, he died in his boat. He had a heart attack. They brought the boat in. And all the men; my father, the dentists, the doctors, and insurance people. Frank Mehan. The people formed a corporation for the cottages. They were just wonderful people and none of them ever ran a business so that didn't work too well. But they tried for a number of years and George Eichler was a part of that group. George and his wife Margo and his family had originally stayed at the hotel and Margo and I were close in age and we knew each other when she was at the hotel. He was the only one that had any buiness knowledge and was interested so he bought out the corporation. That's how the Eichlers and the Kapusinskis got into it.
Marian: Thank you very much. We are going to continue. I am talking to Stiling Knight who is my brother in law. We had a nice talk with Del learning about her life on the Landing which was before you came into the picture. Perhaps when we're done, we can bring Del back and have her tell the story of how you two met which includes my husband.
Stiling:   Okay.
Marian: So, Do you have a place you like to start or shall I ask you what life was like up here which you may or may not want to answer?
Stiling:   I always say I love this place this is a love of mine. On the map of NY state, Huletts Landing is located in the mid point of Lake George; 15 miles from Lake George Village and 15 miles from Ticonderoga at the head of the lake. Lake George itself was formed by a depression in the lake's crust when the land fell two or three thousand feet and the narrow ravine filled with water and became Lake George. Huletts Landing is about 2,000 acres of primeval forest along the shore, 50 acres of this tract is a hamlet that is a group of houses occupied by a group of people from distant cities and towns. Arthur Wyatt, owner and sole proprietor of two hotels in this hamlet of many bungalows was determined to make Huletts Landing the best and most popular resort on the lake and actually he did it. Together with the peacocks and the parks and gardens. Of course the peacocks had to be replaced every week because raccoons are nocturnal animals and that was no protection for the peacocks. If the weather was good on those days, sea planes came and took those guests for rides of course with a fee. But those were the early days of aviation, in the early 20s.
Marian: Did you ever go on one of those rides?
Stiling:   No, I saw it happen and people were worried but they still paid the fee and they went.
Marian: Do you know where they flew to?
Stiling:   No. but they just flew around and the ride itself in a sea plane was enough at that time.
Marian: Exciting.
Stiling:   It was exciting for them. It was the early days of aviation in the early 20s. Now on bluff head road near the hamlet is a farmhouse, built about 1850/1860 where I spent my early years. Also still standing is the one room school house about a mile and a half from our farmhouse. During the winter in the farmhouse there were two rooms that we lived in. The kitchen had a stove and the room next to the kitchen had a small wood stove. However most of the living quarters in the farmhouse were heated by an oil stove. Also the rest of the house but it was able to keep the sleeping room temperature about 50 degrees, usually at 50 degrees.
Delphine: Not very long.
Stiling:   Enough to survive. That was in the winter. Of course, we all had a raucous time in the summer but the winter was a little different. There was no running water in the schoolhouse. The older children carried pails really half pails of water from the brook near by. These were the drinking water pails. That was the days before paper cups. The other pail was from washing and there was a basin provided.
Marian: So each kid had his own pail?
Stiling:   No there was only one pail because there was only one dipper. One pail did it for the day for everyone who wanted to drink water and there was another pail for washing hands with a basin provided. Now, along the wall but inside the building, in a separate corridor, was the girls room and the boys room was outside around the corner near the woodshed which by the way was always filled with a tremendous amount of wood for the pot bellied stove which served to heat the one room school house in the winter.
Marian: Were there outhouses?
Stiling:   No outhouses. There was a small room outside for the toilets. Associated with the building. But in order to get to the boys room, you went outside. Now, high school children went to school by state contracted local person was contracted to drive them over the hill where they joined other children on a bus to Whitehall. The kids from the elementary school all walked to school from the local area.
Marian: It was uphill wasn't it.
Stiling:   It was maybe a mile. Wherever they were in Huletts, the local people walked to the school and also up the hill. But however, it was better when it was snowing because the temperature would be above zero if it was snowing. That was usually the case.
Marian: Are you one of those fathers that say I walked up hill both ways?
Stiling:   In a snow storm! The only plain in the winter as I recall in the 30's was the one plan going to Canada. That was the one plane we ever saw or heard all year. Now in the summertime during the 1930's, the Knight family stayed north and east of Huletts but still on the shores of Lake George yet part of Huletts Landing. We remained a part of the glow and the razzle dazzle of the casino life of Huletts Landing. One principal feature of summer night activity was the annual regatta held in Indian Bay. A Bay which encompassed part of the Knight Estate. The regatta was organized and operated by my father, Withrop Proctor Knight and the judges were aboard the Celeste, the family launch at the finish line. These judges really were comprised of my grandparents, the Dr. George Knights. Now, 10 or 20 people renting Knight cottages also participated in the regatta who were among the spectators. There were boys and girls swimming races, adult swimming races, canoe races, and also row boat races. This was before motor boats. As a matter fact, at the time, the fastest boats were the Knights double-ender. They're a row boat with both ends appearing to have a bow. They were the double enders. They were manned by two sets of cedar spoon oars and they moved very fast.
Marian: I think we have them in the other house there.
Stiling:   The cedar spoon oar are not fixed in the oar lock so they roll.
Marian: But they're cupped. Aren't they?
Stiling:   That's the cedar spoon oar. Also you can dip the oar just a small amount if you want to and vary the amount of water you pull with your stroke. They were very interesting and fast. The grand finale of the regatta was really the canoe filling which was actually canoe filling. We'd have probably 5 or 6 canoes in this contest. In the stern of the canoes, one contestant had one long kitchen broom to paddle with and negotiated among the other canoes or get away from them. The bow contestant had only a pail or a bucket and this was used to pour water into the other canoes. Now, the last canoe to sink was the second place. The one canoe that remained afloat, often just barely afloat, usually just barely afloat, was the winner. Over-all the winner of all these contests, had their name on the cup with name and date on the silver cup. This ridiculous contest of filling up the canoes was the most fun and absolutely enjoyed by all. These raucous days of joviality and frivolity at Huletts during the 20s and 30s have passed us by. Still Huletts Landing is set by a Lake in a wilderness unequaled anywhere in world and instead of those former groups of massive association with others in gay abandon, we all individually enjoy this priceless work of art in which the master stroke is nature's part.
Marian: Very interesting, Stiling
Stiling:   Thank you.
Marian: I'd like to ask you some informal things, if I may. Tell us about when you first came up here and how that was different than where you'd been living.
Stiling:   I did mention the farmhouse. I arrived unknowingly because I was a baby at the time at the farmhouse.
Marian: How old were you?
Stiling:   A year or two. Something like that. Might of been older. I remember, yes, I remember the, it might have been four or five. I remember the original farmhouse was really a cape cod. The portion that's now there is rebuilt. The roof just slanted to the back and was mainly used as a wood shed or whatever it was used for. But the addition of the farmhouse extending to the rear back was all added and replaced the shed which was part of the cape cod. That I remember seeing.
Marian: Do you have any memories of going to the school house?
Stiling:   I remember when it was very cold. I can remember feeling the ice forming in your cheeks. I don't mention this often, but eventually you got to a warm schoolhouse. Those were the good ol' days.
Marian: I remember your sister, Molly, told a story about waking up in the Farmhouse with snow on her bed. She didn't like that so much. She felt a little bit deprived I think!
Stiling:   Happened to Abraham Lincoln too.
Marian: Is there anything else you'd like to add?
Stiling:   No. It's bee a great pleasure to do what I can say.
Marian: Did you participate in the regattas?
Stiling:   Oh, yes.
Marian: What was your best event?
Stiling:   The best event was, ah, by the way, I do have my name on the cup, also. My best event was the one I enjoyed most. Managing to pilot a canoe sitting in the rear seat because that was required, but this elevates the bow which makes it a little more difficult to keep it going straight, but even though as a child I figured out how to do that. I think I won that race too.
Marian: The regatta cup is still over at Craig Derrick house on Meadow Point. Still exists, still admired.
Stiling:   I'm glad that you gave me a chance to mention that these ridiculous part of the regatta as well as the serious part of the regatta was something that the Knight family invented and had a lot of fun with the various people in the area who rented the cottages.
Marian: Okay, thank you very much.
Stiling:   It was my pleasure.
Marian: Dell is there anything you'd like to add now?
Delphine:    I went on the plane that Ty described. They picked us up on the casino beach and then they flew really just a circle around to see the various mountains immediately around Huletts.
Marian: Was it fun? Or scary?
Delphine:    It was terrifying!
Marian: I can imagine. Okay.
Transcribed by: Robert Stragnell