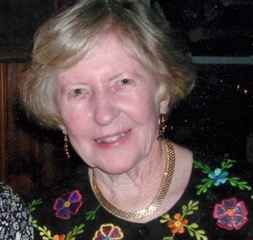 Ros Fox
Interviewed by Marian Knight
At Happy Times, Fox Cottage
Huletts Landing, N. Y.
August 22, 2013
Marian Knight: I'm Marian Knight and this is August 22nd 2013 and I'm visiting Ros Fox at her cottage here in Huletts. So we usually start, I just say what brought you in the first place to Huletts Landing.
Ros Fox: I was a very young girl and we were staying over at The Hague. Mother, daddy and I and we took the speedboat over and my parents liked it and mother and I stayed. Daddy went and got the car and ever since then we've been here.
Marian: Where did you stay when you came back over?
Ros: We stayed at the hotel.
Marian: So I should mention on this tape that we have some ambient noise, very pleasant, of the water washing up on the sand here outside the house, but we're not going to close that door so we'll just have some of that on the tape. So at what point did you come here to have the house and stay? At that point?
Ros: No. We stayed at the hotel for maybe that year, maybe the next and then the hotel had all these cottages. We stayed in one of the cottages through Mr. Wyatt. They were all rentals, they were part of the hotel. For many years that's where were and then I guess daddy saw this spot here. Wyatt owned the land and Mr. Moore, he let Mr. Moore put a house here. So we rented this, here, and loved it. Then when Mr. Wyatt died and the corporation and so forth, then daddy offered to buy this when they started selling the cottages. And I think he finally got the deed in 1956, I think. And we took three years to get it through Eichler, it was bad times but anyhow, and this is where I grew up and raised my family, and now my grandchildren and maybe great grandchildren soon.
Marian: Happy times, this is a very pleasant little cottage, very pretty.
Ros: It's a nice spot here.
Marian: It certainly is and a gorgeous view.
Ros: Yes we love the view.
Marian: So what are some of your fond memories of being here? What was life like?
Ros: Life, when I was a child, my fondest memories are when the hotel was up and the old casino, and they had really one arm bandits there, and my friend Margaret Brady and I would go in the morning and try to collect the money that was dropped on the floor there. Then, on, I think it was like Wednesday and Saturday nights they had the formal dancing in the hotel, and all the elderly ladies would sit around and Mrs. Wyatt, Mrs. Gardener, all these, O'Neil, my mother sometimes and it was formal dancing and then the band would go down to the casino and play there and you know, that was, those were fun days for me as a youngster looking at these pretty girls and handsome guys.
Marian: Did they, the girls, wear long dresses?
Ros: Yes.
Marian: And the men wore tuxes?
Ros: Probably white jacket, and that's right. See the island over there? I don't know if you remember but Henry Hill, Mr. Burpy and maybe somebody else, they camped there all, I think it was the month of August, for the whole time and the wives would stay at the hotel and I remember Henry Hill standing in the canoe in the white jacket paddling over to attend the dancing. And they had ice cream upstairs in the casino.
Marian: So kids could go up there even though it was gambling?
Ros: Oh yeah. Yeah. During the day. You know, it was very lovely then. Beautiful flowers and maintained.
Marian: Yes, I'm sorry it's gone. Life must have been really fun there.
Ros: It was.
Marian: I've heard some good stories about there.
Ros: Yeah, I mean, I was too young to, and then the war came, and then everything changed.
Marian: Well what was life like? What was a day like when you were growing up here or when you got older? What did people do?
Ros: Well… when I was young we just, we would go hiking up Elephant Mountain and the cascades and boat. We'd go to the island. Even wash our hair there. I mean, now you wouldn't do that but they did years ago. Then, as I got older, it was very different, well then I started to have a family. I did work in the kitchen at the hotel one year. Ping pong. Eichler added that extension where they put the ping pong tables there, but I used to love to watch like Betty Beech play tennis here. They had really nice tournaments. Do you remember that?
Marian: No, that was well before my time.
Ros: That was, it was fun watching this, like Pauline Wyatt, she was maybe five years older than me, so watching that age group grow up.
Marian: Her daughter Judy was here in August.
Ros: I know I see her every once in a while and Dave, in fact Judy and Dave, before they were married, I don't know why would they be walking across? Dave would be there, my mother would be outside, and, oh she would be taking his lunch to him somehow and, you know, she knew them from way back.
Marian: Any particular stories?
Ros: I can't think of, what did Blanch say? I don't remember any particular stories. I remember Blanch and I very young, there used to be stables up there and we'd take the horses out and ride down Bluff Head because it wasn't paved then.
Marian: Now where were the stables?
Ros: Right as you come over the mountain, there's that house, the cascades, it's right kind of next door. Then they, in fact, Franny Borden used to live there and it was right next door to him. And then, coming, at the foot of the mountain at the right was Fosters', it was a gas station when I was young.
Marian: I didn't know there was a gas station here.
Ros: Mhhmm. Yeah that was a long time ago. When the mountain road was a dirt road, people were afraid to go over it.
Marian: It was a very risky road I understand.
Ros: Yes.
Marian: So did you come over the road or did you up on the lake boat?
Ros: No, we came over the mountain.
Marian: What was the year that, when you first started coming up here?
Ros: Probably 1932, around that.
Marian: Because David's grandparents, when they first bought the property, but that was at the turn of the century, came by lake boat, they packed everything up on the train, came to Lake George Village, then called Caldwell.
Ros: Years ago that's the only way they could get in. And I remember the post office, see I have the picture of when the post office was at the big dock. We would go down to the big dock to get the mail. That was fun and there was, where our Casino is they call it, outside there was the big wooden barrel for horses to drink. People would ride their horse down.
Marian: So you rode Bluff Head Road, was that right?
Ros: Yes, from the stable there, Bluff Head or Lands End. Yeah Margaret Brady and I would go out and we'd tell our instructor our parents said we didn't need anyone and we'd take the horses.
Marian: I wonder how long did they last. When did they disappear, the horses I mean?
Ros: You don't remember do you? (talks to someone off mic) It was probably late 40s.
Marian: Dave has never mentioned that bit. You know, they grew up here, up on the road in that farmhouse.
Ros: Well Delphine would remember. We had a cottage here and hers was down over on the other side.
Marian: She has very fond memories. Do you have any particular memories, anything happen that was interesting to you and memorable?
Ros: No, well, when the two boats, what happened here. Oh that was when the Ticonderoga crashed on the rocks.
Marian: It was the Ticonderoga.
Ros: And then the Mohican came because the two boats were there. No I wasn't here but I heard about it. We had pictures of that.
Patsy: The band was on the boat and they were out in this bay. They may have been the 60s. I think they crashed on Gull's Bay and got a pull over here.
Ros: Oh I know what I remember. Supposedly Jack Benny was going to come to the hotel but anyhow Ross Chester came, but they wouldn't let him stay at the hotel, he stayed at down beach there. Where Patty Patella, her house. I remember we all went over to see him.
Marian: Odell has stories about that because I think it was right next to where they were living.
Ros: Exactly.
Marian: That must have been fun. Did you, you didn't meet him?
Ros: Oh sure, everybody went over and he came out and we met him, oh sure. You know, I mean, I can remember, you know, wonderful parties, the older people had. At the end of the cocktail party the ladies were all in there with their dresses in the water.
Marian: That's a cocktail party to remember.
Ros: That actually was probably one of the Manns. Did Blanche tell that story?
Marian: No, I don't remember that no. She told me a lot about the casino and life there and the entertainment that, the shows.
Ros: On Sunday night at the hotel there was, actually Pauline Wyatt and that, you know, put on wonderful show, talented and little skits and, actually Blanche and I sang. I got stage fright, and then the shows, you know, as we grew up we were in part, some of them. The Paiges, Darce Dixon. She was very, she and her sister were very talented. I think my father, he played the piano, you know, he could play by ear so people enjoyed hearing him play at the casino. Mostly later on because they, you know Lester Lanin played here.
Marian: Who did? I don't know that name.
Ros: Lester Lanin. The orchestra leader?
Marian: No. Les Brown I remember but I don't remember him.
Ros: He mentioned that yeah, Lester Lanin.
Marian: So I guess the hotel was always busy with lots of people there.
Ros: Yes, it was always busy and they provided things, you know, cards maybe on a rainy day. Old Mrs. Wyatt, Nana Wyatt they called her, had a parrot in the lobby, later on a friend of mine gave me a parrot, I had Sinbad for 30 years, but in those days it was entertaining. So many things I remember.
Marian: Was the dining room open to people other than those staying in the hotel? Could people come in for dinner?
Ros: Well the cottages you know, they could, anybody could come in. Anybody could come down yes, and then they had, they used to have a watchman there just before you, you know, in the evening, and they had the bake shop where you know, after the dance you'd go over and he'd give you a nice bun or something that he'd baked. I remember those things better than, later years when I was raising my family, I was busy.
Marian: So did your kids, you all swam out here?
Ros: All of them, sat there with the pail and shovel, they did the children. So we basically were stay here, you know, we didn't go to the beach much, you know, sometimes to socialize but, and play tennis. Then a lot of years it deteriorated, everything. The Eichlers let everything go, so it was too bad because it was injuring our spot. And beautiful flowers.
Marian: Well they're doing a little bit to livening that area.
Ros: Yes, all of us have put money in to, because we own it now, the Green there, and fix up the fountain like it used to be and things like that.
Marian: How long do you stay here in the fall?
Ros: Well somebody's usually here after Labor Day.
Patsy: People come and go, nobody stays here permanently.
Ros: We used to stay until Labor Day and then go home.
Marian: And when in the spring?
Ros: Probably, right after they got out of school in June you know. Now they come, anytime during the year, it's accessible. Everybody loves it here. Patsy lives in Vermont so she can get over easily.
Marian: Thats nice, so you can come and go back and forth. We have in the background, Ros' daughter Patsy adding comments and interesting comments. Anything else you can think of? No bad things? Nobody hurt, nobody killed? (laughs) Not that we want to remember that.
Patsy: (Talks about Dr. Seitz but it's too faint to transcribe)
Ros: Oh, right, my daughter Kathy. She had the pain and said oh I'll be right out on the golf course and then when we came back Dr. Ripp was here, and I think he came over. Was that? And someone had the mumps. But anyhow Dr. Ripp came and Kathy had the appendicitis and we took her to Dr. Saladman in Whitehall and then they took her and operated on her in Glens Falls there.
Marian: Was Dr. Ripp, I've never heard of him, I know Judy Ripp.
Ros: Right, he died young, he was a pediatrician.
Marian: Was he licensed to practice here? Could he actually treat people?
Ros: Oh sure, well a doctor, and he was from western New York.
Marian: Which house was his?
Ros: The red house, as you came, right back there. No, I remember him treating some boys that went over to Deer's Leap and got snake bite, and he treated them.
Marian: All was well?
Ros: Yes. You know, it was nice and Dr. Seitz all those years treated people.
Marian: But he essentially was a summer resident here.
Ros: Oh and then the hotel used to have Dr. White, a resident physician there.
Marian: Oh so we were well covered, that's interesting. I don't think theres anybody here now, and theres no doctor in Whitehall, just the clinic there.
Ros: Right, I know, no there isn't. No and Judy Smith took the EMT course.
Marian: That's wonderful, that's very nice to have a first responder. My husband's uncle was a doctor, he was practicing here on purpose but of course anything happened he would help out. And Kim Brown.
Ros: I was gonna say Kim Brown.
Marian: But he's not licensed to practice in NY.
Ros: Oh he's in Carolinas, that's right.
Marian: He'll comment, he'll help you know, and tell you what he thinks you should do.
Ros: There are a lot of nurses and here and they're all very helpful. Lots of memories and I have no one to remember with.
Marian: Yes Blanche was gone and I'm sorry about that. She was fun.
Ros: Yeah she was a lot of fun.
Marian: Who else was around in those days?
Ros: Well Margaret Brady. They had where the Hurleys are now, and then Eileen Gall, those were my two good friends that I grew up with, and the Galls were from, well, actually, New Jersey but he worked up in Drummondville in the silk mills and they came down and they stayed where, I don't know if you know Delnoce, it's kind of a dump now, but it was very lovely. The Wyatts had fixed it up and they lived there for a while and then they rented it out, before they fixed that house up there. That used to be, when I was little, the big rock by the big dock, there was a little bridge that led to Lakeside I guess they called it, and then I guess that that became the Wyatt's lovely home.
Marian: And that's I think, the Kapusinski's have that now.
Ros: Yeah. No comment. (laughs)
Marian: How about stores? There was a store.
Ros: Oh Benjamin's store. Yep. And he had wonderful meats.
Patsy: Butcher shop, penny candy.
Ros: Right, and then they'd take the balls back and you'd get candy. Right.
Marian: I remember Dell, Sis's mother, going down there to buy very lean meat for her husband who had a little heart thing.
Ros: Oh yeah, they had wonderful meat, and then Scotts had a store for a while, up there. But Benjamin's really had, you know.
Marian: Scott's store was very good because she knew what people needed other than groceries, she had a mending kit or something. The kids and my friends went there, walked over to get ice cream, that was their destination. After Benjamin's had gone.
Ros: Oh right.
Marian: So they have fond memories of Scott's store.
Ros: And I remember the churches, like the protestant church always had this wonderful fair along the pine grove there. And then our church, the catholic church, had a nice car party up at the gardener's, or at, sometimes at the casino. It was a little nice community.
Marian: It still is.
Ros: Yeah, well it is, it really is, and we have wonderful friends, have come from here.
Marian: Well I've gotten to know quite a few people and I'm very glad I have, it just makes life much more interesting to know people. Is there anything more that you'd like to add.
Ros: I'll think of it later.
Marian: Yes I'll turn it off and you'll say I remember.
Ros: Alright, thank you.