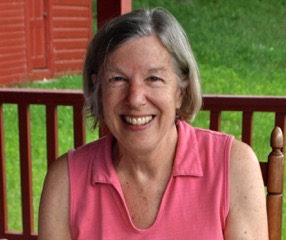 Ros Brady
Interviewed by Emily Lyons
Huletts Library and Gallery
Huletts Landing, NY
July 6, 2011
Emily Lyons: How did you first start coming to the Lake?
Ros Brady: Well, my family was here already, so I was just an add-on to an existing three generations who had been coming here for a long time.
Emily What was your first memory?
Ros Well, my first memory was playing in the sand box when I was about three years old. That was my very favorite place to be, underneath the pine tree at the bottom of the hill of Bittersweet. It was aqua colored and so were the chairs that people would sit in there, and I spent a lot of time with that. My first cousin, Malcolm Starr, and I would play in the sand box together and those are my first memories of being here as well as being able to see Spruce Mountain from my bedroom upstairs Bittersweet. And the mosquitoes. I remember Mother coming in and spraying everything under the sun including the screens probably with DDT. I remember having to go to bed when it was still light out. I remember that.
Emily How long did you stay at the Lake growing up?
Ros Well, I remember it was all summer and for one reason or another, we were always in Bittersweet even though my mother's brothers and sisters were in Fern Cliff down the hill and visiting there with my grandfather, so there would be cousins coming through fairly regularly that I got to play with.
Emily What was your favorite activity?
Ros Learning how to swim and when I learned how to swim, swimming and playing in the sand box, and then, well, then I wasn't here for a while because when I was seven years old, I think it was thought that there weren't enough kids for us to play with, so off to camp I went with my step-sisters to camp in Connecticut where I went to camp for 15 years and I ended up becoming a junior counselor at that time. A camp called Camp Panima, a girls' camp and it was a very musical camp. The director was a pianist and her husband was a piano player. Somehow or another they seemed to attract a number of musicians that went to the same camp. Benny Goodman's daughter was there, Alan Jay Learner's daughter was there, Dorothy Kilgallen's daughter was there. It was an all around camp. We learned how to do archery and tennis and swimming.
Emily In those 15 years did you come to Lake George at all?
Ros Yes, yes, I remember packing up from Lake George and I remember being really sad about leaving to go to camp. 'Do I really have to go, do I really have to leave Lake George?' I think I got sent there really. I don't think I wanted to go there, but the attraction was, 'Well, Jane will be in my cottage and she'll be there and everything will be fine.' I think that mother just wanted to get rid of us for the summer, but I really got to like it. It took awhile. So after camp we'd hit Lake George before we went back to Arizona. So we were there for about a week on either end, not very long.
Emily Did you ever go down to the casino?
Ros Oh, I loved the casino, loved the casino. I think it was a big deal to be invited down to the casino. I think it was Johnny Searls who invited me to go down to the casino and my step-brother, Spike, said, 'No way you're going down there by yourself. I'm going with you. I'm going to look out for you.'
Emily Did he pick you up or did you walk?
Ros Well, I think there was a lot of drinking that went on with these guys and I think my step-brother thought it wasn't so sure that it would be a great idea for me to go. So he came along and kinda stayed in the background, but he was there looking after me. Yeah, we used to hang out as teenagers. We couldn't leave the house until the dishes were done, so everybody would come over and wash the dishes and my two step-sisters and my real sister, Ginny, would all be there and we'd all sing while we were doing our work, and we became so accomplished that we actually went over and serenaded the Paulist Fathers over on the Harbors one summer. We'd sneak over in canoes and with not any lights on at all start singing, and they would be, 'Who's there! Who's there! Who's out there!' and we'd get away without them knowing, and that was great fun.
Emily Do you remember what song you used to sing?
Ros Yeah, Dona Nobis Pacem was our favorite and we'd sing it in rounds. They liked it. They clapped, but they never did see us. They never found us with their flashlight anyhow. Canoes can be so nice and quiet when you want to sneak by people.
Emily Did you do any dancing down at the casino?
Ros Oh yes, yes, dancing was great fun at the casino. I vaguely remember the old casino, which was right down on the water. I don't remember doing a lot there, but I heard people came down a lot for dances and also for airplane rides. I never did that, but I hear they did that.
[build a fire and we'd cook corn and there was usually a thermos of ice cream.]?
Ros Yeah, so we would play with the Condits and the Lukes and the Searls. That was kind of our group. Like I said, nobody could do anything until the dishes were done, so the guys would come and hang out on what was a setting around the dining room bay window area which were basically chicken coops that had been upholstered, so everyone would come in and sit at the dining room table until dinner was done and until the dishes were done and we'd put them to work drying.
Emily Did you ever go sailing or other water sports?
Ros Yeah, there were boats that Grandfather had. They were Cape Cod knockabouts. I think the last time I was in one of those was probably about 1973 or '4 and I remember my brother-in-law, Anthony, who couldn't swim, bailing like mad because the thing started to leak and he was afraid we were going to sink.
Con Darcy Did Anthony have a lifejacket?
Ros Yeah, he had a lifejacket on, but he was bailing as fast as he could. Since then, we've been bringing our flying Scott up and we've taken many sails where we've capsized. We've capsized more times on this lake than on Long Island Sound, and one of those times was a Hulett's Landing race. Jean Cooper had her boat (she was the mail lady and the race director) and it was an extremely windy day, and we were nuts to go out sailing. Before the race, one of the hobey boats that was going to be in the race got picked up off the beach and slammed down again and broke its rudder, so they had to wait to get another rudder for the race to start. People staying in Brown Gables, I think the Shorts, they took their sunfish for this race. Jean Cooper in her motor boat was out by Harbor Island and she was the turning point in the race, but we were right behind her sailing so fast. We were going so fast we were right up behind her transom so she never stopped, but we managed to go around her and get back to Hulett's Landing before we completely turtled. We had our spinnaker up and we broached and everybody went over, and Dan, my cousin, was with us and his son Danny was with us and my daughter Meghan was with us and we were all on board, boat all up-side-down. It doesn't float as well as it does in salt water, so we ended up paddling it over because it couldn't be towed. Every time somebody tried to tow us it would go under. So we paddled over to the fire station and they used the pump to pump us out. The only thing we lost, Dan lost one sock. That's all. And we didn't win the bet. The Shorts came in third and we would have come in third. But fortunately we didn't bet. We should have bet because we could have made some money. I don't think we would have bet on ourselves. We would have bet on someone who actually won.
Transcription by Emily Lyons
Edited by Marian Knight