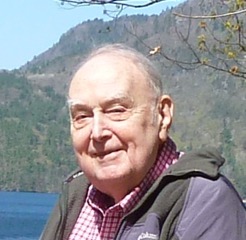 Robert Stragnell, Interviewed by Louise Davidson
At The Ritz
Huletts Landing, N. Y.
May 15, 2012
Louise Davidson: Today is Saturday, May 12th, 2012. This is Louise Davidson interviewing Robert Stragnell, one of the early residents, at least on Bluff Head Road. And he's going to tell us a little bit about what it used to be like and why he came here in the first place. And where did you come from?
Dr. Robert Stragnell: Where do you want me to start?
Louise: Well, let's start with what brought you to Hulett's Landing the first time?
Robert: I came to Hulett's Landing in 1924 as babe in arms with my mother and father to visit her parents' summer home which they had acquired in 1904. My grandmother died in 1916. In 1923 the family met at our then home in Harmon, NY and developed a division plan for the property. This whole process was rather complicated because my grandfather had remarried and his new wife was three years older than my mother, and created considerable diversion within the family members. Settling this out so that he and she could enjoy the Hulett's Landing property and the children in turn could acquire rights to the summer property that their mother had planned them to enjoy was quite complicated. Ultimately it was determined that my mother, Sylvia Canfield Jelliffe, would acquire the central part of the property. Her next younger sister Winifred, who married Alfred Emerson, would acquire the property to the north with her brother Ely Jelliffe and that her brother Leeming and her sister Helena would acquire the property to the south. The ultimate division of this property probably did not get completed until approximately 1934. I don't know all the reasons associated with this. In the interim, my uncle Leeming, whom I never knew, died of a gunshot wound to the head that may have been accidental or may have been self-inflicted. This occurred, I believe in 1925. Ultimately, for some reason, his son, Jack Jelliffe, did not participate in the division of the property. The details of this are continuing mystery to me. Many years later he acquired the Taft's point property and built his house there.
Returning to my first visit, I came as a babe in arms, I believe it was August of 1924 . I was born in August of 1923. I believe we stayed at the Mansion. There were some pictures of this. My mother and father rented the Peter Pan, which was the house that she inherited, most of the time. Whether this was to tenants of their own or tenants that my grandfather had obtained, I don't know. Now, where do you want me to go from here? Or is that more than you wanted?
Louise: Well, how much property was involved originally?
Robert: I can't tell you the total amount. My mother's property is approximately 23 acres. The total was probably about 120 acres.
My grandfather started coming to the lake as a small child. His father and uncle Samuel Jelliffe initially come up the lake by row boat or canoe from Lake George Village which at that time, the 1870's, was called Caldwell. When they got to Huletts they stayed at a farmer's home. Later my great uncle Samuel Jelliffe built the first Hulett's Landing summer residence in the Lands End area. I can't tell you which house that was, but that's what my mother told me.
Louise: This was your uncle?
Robert: This would have been my great-grandfather's brother, Samuel Jelliffe, my Grandfathers uncle..
Louise: What year was that?
Robert: It would probably have been in the eighteen seventies, after the Civil War. The original property that we acquired was purchased by a man by the name of Knowlton. He built the Mansion and the Peter Pan, which was initially the guest house for the property. It was called Evergreen Cottage at the time that my grandparents obtained the property. They bought it at a Sherriff's sale, I'm told, for around $6,000. I believe that Ely Goldsmith has a full set of documents relative to the line of who owned it before and the details thereof.
Louise: There's a woman in town, Ginny Bradish, have you ever met her?
Robert: Don't recall.
Louise: She was a Knowlton, and it was her father that owned the mansion before Ely.
Robert: Must have been, I think it would probably have been her grandfather.
Louise: Well she's 95.
Robert: Well, that's only 7 years older than I am.
Louise: Yeah, well maybe it was her grandfather then, but I know her name was Knowlton and she's also supposed to be interviewed here.
Robert: That'll give a cross-reference on the development of the property.
Louise: Where did you come from, what area?
Robert: I was born in Ossining, New York.
Louise: Where's that?
Robert: Ossining on the Hudson, where Sing-Sing Prison is located.
Louise: Oh Ossining, yes of course. I used to live in Westchester for 40 years.
Robert: When I was born we lived in Harmon, NY where the NY Central change from electric to steam engines.
Louise: So you've actually been coming here since you were a baby?
Robert: Well, my father and my grandfather, although they were both neuro-psychiatrists, did not, as is true with neuro-psychiatrist, necessarily see everything eye to eye. My mother, and step mother did not have a terribly good relationship, one with the other. I really do not remember spending any particular time here. I believe we were up in 1925 and, my real first memory would be about 1935 or '36. My father was in Europe on business. He had become medical director of Sharing Corporation, which was in the international pharmaceutical business.
Louise: So you're not the first doctor in the family then.
Robert: No. Doctor Jelliffe my mother's father was a physician as was my father. All three of us went to the College of Physicians and Surgeons of Columbia University. I remember coming up here with my mother and my sister in 1935 or 1936. Bea, my mother's step-mother was in Europe with Faity Tuttle, and I believe Faity could probably fill in many details of the family dynamics of this period. She spent a good bit of time with my grandfather and Bea as she had a good relationship with both of them.
Louise: Is she with the Botanical Gardens now?
Robert: She is the one and now is over 100. I hope that someone has arranged to interview her.
Louise: I think she is on the list and I think she has been interviewed.
Robert: She will have a great deal more detailed information of the period and probably a different sort of view of the interrelationships between the Jelliffe family members and Belinda.
Louise: Now what is her first name, Sadie?
Robert: Faity Tuttle's first name is Esther
Louise: Well I know Ann Goldsmith sees her now and then and a friend of mine met her recently.
Robert: She's a remarkable lady.
Louise: Jean Miller, the one that you knew. She went down to New York and had lunch with Ann Goldsmith and Faity. Does she come up here anymore?
Robert: She was up last summer to visit Ann and Ely.
Louise: I know she had her hundredth birthday was it last year?
Robert: At the Botanic Gardens.
Louise: I met her a couple of times, she was charming.
Robert: The next time I came up I stayed with my mother's sister, Helena Goldschmidt, ,for about 6 weeks. It would be 1939. In 1940 I again stayed with Helena for about the same length of time. In 1941, after graduating from high school, I stayed at the Peter Pan for the summer and did some remodeling at that time. A lady that had worked for us was with me.
Louise: What was her name?
Robert: Edna Fox.
Louise: Oh Edna Fox, right.
Robert: Edna Fox came to work for my mother and father when I was three weeks old. Literally, she was the one who raised me until 1934 when we moved from Harmon, to Short Hills, NJ. Our new home was just too big for her to manage. She continued to keep in touch. After Libby and I were married she trundled out to the west coast and checked up to see what Mr. Robert had married.
Louise: There is a Fox family down in old Hulett's, it's not that family?
Robert: No, not that family. She was a mulatto and a lovely person. She spoke with a sort of Brooklyn accent which astonished Libby. This shattered the impression you have of the Aunt Jemima and the southern dialect. Subsequently I went to the University of Virginia in September of 1941 and went through a pre-medical program and then entered P & S the end of 1943. During this time I would have occasional opportunities to come up to the lake for short periods of time. Because of the war we had no real vacations, just a week free before starting the next year of study. Helena was very gracious in inviting me to come up and spend the time with them.
Louise: And she was your aunt?
Robert: Yeah. She's my mother's youngest sister.
Louise: And was she the mother of Bunny?
Robert: No. Helena is Ely and Dolf's mother.
Louise: Oh Ely and Dolf. Oh right because they have a daughter named Helena. Now what type of medical training did you take? Are you a general practitioner?
Robert: No I am a board certified internist and subspecialist in Cardiology having been a Trainee of the National Heart Institute. After I finished Columbia I interned at the Huntington Hospital in Pasadena, California, where I met Libby. We were married in in April of 1948.
Louise: There's a man that remembers his wedding anniversary. Was she in medical work?
Robert: She was a student laboratory technologist at the time we were married. I went from my internship to a residency in internal medicine at the Veterans Hospital affiliated with UCLA medical school when that school was getting starting and after completing two years there I was invited, to be a trainee of the National Heart Institute. The training period was with a cardiology professor, George C. Griffith, at the University of Southern California Medical School and the Los Angeles County Medical Center. After a year in this program I was asked to be a research associate in the biochemistry department at USC.
My research was on the coagulation of blood and the development of techniques to managing anti-coagulants, so that people who had conditions in whom there was a propensity for blood clots could be protected. In addition we studied methods of isolation and purification of blood clotting factors under a contract with the Surgeon General of the United States . The Korean War suddenly demanded that I actively participate and in May of 1952 I spent three months at Brook Army Hospital at Fort Sam Houston in San Antonio, Texas. Then I was assigned to the medical department at Fort Leonard Wood, MO. Here Libby and our two children, Sally and Greg, were able to join me. Our middle daughter, Susie, was born while we were stationed there. In May of 1954 we returned from Missouri to our house in Arcadia, CA. At this time I had three children, an expensive wife, and no job! So three weeks after returning I opened an independent office for the solo practice of internal medicine. I continued this practice until my retirement in June of 1986.
Louise: A long career.
Robert: It was a good time. In 1950 I asked another physician to share space with me thus we could cover for each other on night and weekend calls. In 1980 I brought into my practice a physician who had just completed his post graduate training in Internal Medicine. We got along well. I gradually reduced my patient contacts and in 1986 retired completely. This physician is still active and still occasionally sees patients who had been under my care when I retired.
Louise: But you also a sort of a specialty in blood.
Robert: After my return from service I was unable to continue doing research. I did author several papers on the subject but the opportunity for active university participation did not continue. I continued teaching in clinical medicine at USC and was on service for 6 months a half a day once a week.
Louise: I've been to Arcadia it's a very nice town. Isn't it? I have a friend who lived there and grew up there. She might even have been one of your patients.
Robert: It is very heavily oriental now. As a matter of fact, I got word that the house in which we raised the kids has been sold by the people to whom we sold it and now is being torn down to be replaced by a mansion.
Louise: Oh gosh. Too many of those. Now you have how many children?
Robert: Six.
Louise: Six, so you left Texas with three, right?
Robert: No, we left Missouri with 3. We had two when I was in Texas. We had one that arrived in Missouri and the other three, Sandy, Steph and Sarah were born when we were back in Arcadia.
Louise: So you raised a big family?
Robert: Well it was a real lot of fun, they had a good time?
Louise: And you certainly instilled a love of Lake George in Sandy at least.
Robert: Well, I'm trying to think of the timeline of that. During the period that we were in service I took a leave. I think it was in 1953. We had Sallie and Greg who were three and five with us. We drove to New York City and picked up my mother and then drove to Huletts. The summer of 1967 Sallie graduated from high school and we took a six week transcontinental trip with the six kids in our tent trailer. We spent two weeks driving east and then two weeks at Huletts. It was at this time that Sandy, then thirteen really fell in love with Lake George. Amazing how with six kids you can manage things so well. I don't recall another visit until 1971 when my mother had a stroke. I flew back by myself, while she was in hospital for a short visit. Sandy was fifteen by this time and he and Susie came back to spend the summer of 1972 with her. This is when Sandy fell in love with the lake. My mother died in 1973.
Louise: So when you came to Lake George at this point in your life you stayed at what we call the Peter Pan?
Robert: Yeah.
Louise: Right. That was in your, did you inherit that house?
Robert: That house was my mother's property. At that time the area where Sandy now has his garden there was a small farmhouse, chicken house and barn.
Louise: Oh across the road on the mountainside?
Robert: Yes. When my grandparents acquired the property the building site of the Library was occupied by a large boathouse built by Mr. Knowlton. My grandfather used this as a work space for his writing and as time went by it became known as The Den. In the thirties Dr. Jelliffe moved the farm house and chicken coop to this site to provide maid's quarters and a dining area. room.
Louise: Is this the site of the current Goldsmith home?
Robert: Yes. Several years later Dr. Jelliffe moved the barn to a site above the Den and converted it into his library. . He was a very prolific writer and owned and endited medical magazines, The Journal of Nervous and Mental Diseases and The Psycoanalytic Review, the first English language journal dedicated to psychoanalysis. His textbook Diseases of the Nervous System: A Text-Book of Neurology and Psychiatry was published in 1915. Throughout his professional life he collected an enormous library which was sold to the Institute of Living in Hartford, Connecticut before he died. In 1952 or 53 the Den burned down, to replace it my Aunt, Helena Goldschmidt, moved the Library down to the site that the Den had occupied, thus it became known as The Library. Now Ely has done a magnificent job of redoing and has a beautiful house.
Louise: Is that a boathouse that's there? Was that part of?
Robert: I don't know when the current boathouse was built. To my knowledge that was not l present at the time my grandparents purchased the property.
Louise: What was your mother's maiden name?
Robert: Sylvia Canfield Jelliffe.
Louise: Oh she was a Jelliffe.
Robert: Yes.
Louise: Because you have so many relatives right there in a row. The Jelliffes, the Goldsmiths, the Stragnells, the Wilkenings.
Robert: The original family consisted of my grandparents and their five children. Their eldest was Sylvia Canfield Jelliffe, my mother who married Gregory Stragnell. My sister Barbara and I were her children. Barbara died in 1977. My mother's sister Winifred Jelliffe married Alfred Emerson and had Bunny and Billy were her children. Next was my mother's brother Smith Ely Jelliffe, Jr. who married Yvonne Reilly. They had three sons, David, Donald and Gordon. Next was William Leeming Jelliffe, always called Leeming, who married Myla Hare. Their son Jack was born after Leeming died in 1925. Helena Jelliffe was the youngest and she married Carel Goldschmidt. Their children were Ely and Dolf.
Louise: Where are the Leemings?
Robert: My grandmother was Helena Dewey Leeming. Her parents were Helena Arathusa Woodruff and Thomas Leeming who had a very successful, import export business of fancy preserves and things like that. He was the sole importer of Nestle's chocolate. The Leemings were English and had immigrated from England to the Montreal area and then to Brooklyn, N.Y.
Louise: I think Ely mentioned Woodruff, because that's in my family too, my mother was a Woodruff.
Robert: My Woodruff ancestor was Isaac Ogden Woodruff a very successful businessman in Quincy, IL When the Leemings moved from Montreal to Brooklyn they lived adjacent to Prospect Park. This was probably after the Civil War. There home was very close to my grandfather's family home so that my grandfather lived basically just around the corner and Helena and he were childhood sweethearts. They married in 1893 or 1894.
Louise: But they didn't continue to come to the Lake?
Robert: No, well, my grandfather came up as a boy with his father who, as I mentioned earlier, visited Huletts by row boat or canoe. I remember my grandfather telling me once that he did not enjoy fishing as he had had to row the boat for his father who trolled for fish. My uncle Ely was a very enthusiastic fisherman even though he was partially crippled with polio residuals. On apparently my grandmother had visited the lake before their marriage and was acquainted with the Knowlton property so that in 1904 when it came up for sale they came up and bought it at a Sheriff's sale.
Louise: So Ely Goldsmith is to your?
Robert: First-cousin.
Louise: We have lots of cousins and we call everybody first-cousins but they're not all first-cousins. So now, you're still surrounded by relatives here at Huletts?
Robert: Yes. The property purchased by my grandparents is still owned by the residual of the Jelliffe family.
Louise: Well it's a very complex interrelationship with all these families.
Robert: A little further clarification. The Taft's point property was purchased by my uncle Carel Goldschmidt and Anne Goldsmith's aunt, Helen Froelich, from, I believe, Amy Bassett. My cousin Jack Jelliffe did the architectural design for Helen's house and also the one built by Jim Corbett before building his own. Earlier, starting probably in the late fifties Jack and Jean Jelliffe spent time each summer at the Peter Pan. Did you get your property from her?
Louise: No it came from, oh goodness, what was her name? The man that lived where Frank Heidsick lived.
Robert: Amy Bassette or her first husband?
Louise: Yeah I think it might have been I can't remember the name. I wanted to ask you about your fondest memories here? When did you realize that you would be coming back frequently?
Robert: I have to go back a bit to the '60s. I had one sister two years older than I . She never married and lived with my mother. My mother wanted to leave the property to me and I suggested that this would not be a good idea as it would become part of my estate with potential tax consequences. I told her I thought the best thing would be to leave it to my six children with me as the trustee until my youngest was 25 years old at which time title would be transferred to the six children. It also should provide that my sister Barbara would have life time access to the property. As you know my mother had a stroke in 1971 from which she made a good recovery but died after a second stroke in 1973. At this time I became actively involved. For the next several years we rented the property in absentia. Finally in the summer of 1975 we came back with all the kids here trying to revamp the Peter Pan so that it was more rentable. Sandy moved to the lake permanently several years after that. When the house was rented he would camp in our tent trailer below where the Ritz is now located.
Louise: I think he told me a funny story about, no, was it Mr. Goldsmith?
Robert: Yes Carel while on a walk came on the cap site and said, "Oh, this must be the Ritz."
Louise: That's how you got the name.
Robert: That's right.
Louise: And what year did you build the Ritz?
Robert: I believe we started in 1987 or 1988. It was after we moved to Arizona and we moved there in June of 1986.
Louise: Sandy worked on this house and this house was finished, well it took forever to finally finish but it was almost finished about '89 or '90.
Robert: I know that we had the Ritz finished in '88.
Louise: Now you're living in Vermont right?
Robert: No, New Hampshire.
Louise: Right, you're at Kendall. So how long have you been at Kendall?
Robert: We moved in there six years ago. We moved back to New Hampshire eight years ago. We had never planned to return to the east and had signed up with a retirement facility in Prescott, Arizona where we were living. Our son Stephen moved to the east coast in 2000 because his father in law had come on ill times. They bought a home in Hanover where he could be with them. We came back to visit in 2001 and encountered Kendall and realized that it was a much more sophisticated and a better retirement facility than anything we had in Prescott. Also this was a much more realistic place for us to live. It relieved the kids from any real concern about our care, and it was really easier to get to from the various places they lived than visiting Prescott. After Steph's father in law died they suggested we come back and live in the basement apartment for what we thought would be about six months, it turned out to be 2 years..
Louise: Is Prescott in the mountains?
Robert: Yes.
Louise: Way up in the mountains, near Santa Fe?
Robert: No! It's right in the middle of Arizona. Santa Fe is in New Mexico.
Louise: Oh that's right, oh you're in the middle of Arizona, right. Now you have a son in London don't you, or England some place?
Robert: Our oldest boy Greg married a British girl and lives in Byfield, which is north of Oxford, about 9 miles from Banbury. He's lived over there since 1974 and raised his family there. Penny and he have three boys, one still lives in England, one lives in Los Angeles and one lives in China.
Louise: Oh my, what a diversion. So then you have three children on the east coast.
Robert: No two.
Louise: Oh two on the east coast, one in London, and where are the other three?
Robert: Well Susie lives in Portland, Oregon. Sarah lives up in the redwoods out of Garberville, California in a little town called Redway.
Louise: Young Robert lived there, didn't he?
Robert: He stayed with her for a time. Our eldest daughter, Sallie lives in Escondido, California.
Louise: So tell me, what was it like when you first came here? Was the road paved or unpaved?
Robert: It was unpaved and rutty. There was a steady argument going on between the residents and the road commissioner. The road is in beautiful shape at the present time. It was really, it was an axle-buster when I was young.
Louise: Well this part, which is dirt, this last mile out here, last mile and a half, we still like it dirt because it slows the car down, but there's still that controversy today on whether we should be paved. Half the people say oh pave and half the people say no.
Robert: I think that's a choice that we make. The decision to end the paving at the North Road I think was logical. The North Road is on papers of city or whatever you call these jurisdictions, Dresden Township.
Louise: Hulett's is kind of a hamlet I guess. But, now the Hotel was here when you first came?
Robert: The Hotel was here and the Casino, which is not like the Casino they've got now. That was a very interesting place to go because they had lovely college girls who came up here for the summer season to work as waitresses. It was very pleasant, diversionary!
Louise: And they had dances didn't they at the Casino? It was right on the water.
Robert: Yes. The second floor and they never asked for an ID when you wanted some booze.
Louise: Well I have an interview here with Blanche Meehan. Did you ever know Blanche?
Robert: I may have.
Louise: She died last year but she came here as an eight year old child at the hotel with her parents and then bought one of the little cottages later but she had wonderful memories too.
Robert: I didn't spend that much time at the Casino. I spent a good bit of time visiting with my grandfather. We would play cards, two handed pinochle. As far as I know I spent more time with him than any of the other grandchildren. Bunny and Dolf and Ely were here much more than I but didn't have as close a relationship with our grandfather.
Louise: Well where does he gets his name Ely?
Robert: From my grandfather whose name was Smith Ely Jelliffe. He was named for a relative of my great grandmother, Susan Emma Kitchell who was named Smith Ely who, incidentally was mayor of New York. My cousin Ely's full name is Smith Ely Goldsmith. He is called Ely just as my grandfather was.
Louise: What year would that have been?
Robert: It was after Tammany Hall. I really don't know the date. He provided the funds that allowed grandfather to study in Europe after completing his medical education.
Louise: Well is there anything I haven't asked you that you'd like to tell me about? Any experience? Did you have any unusual adventures, or funny experiences? Were you a fisherman?
Robert: I did a lot of fishing and I did a lot of girl chasing but no girl catching. I helped a number of people from parties to their residence when their navigational capacities were not up to what they should be. I enjoyed contact with Dr. Gillette who had the red house.
Louise: Oh out here on the point.
Robert: Yes and with Harry Bird. Harry and I had a very, very pleasant relationship with each other.
Louise: But there's no relationship between you.
Robert: No.
Louise: That's a whole 'nother complex of people.
Robert: That is a whole 'nother complex and a complex interrelated one that is fascinating and very difficult to carry in your head as to who is related to whom.
Louise: Well that's why I'm having trouble remembering the name of the family we bought from. He was not a relative but he was a very good friend and it was one of his daughters that we bought the house from. We got checked out pretty closely before she would sell to us. She had to know exactly what our bloodline was I think. Interestingly enough when you mention 1904 before, we just celebrated 100 years of my husband's family at Lake George but they were from the other end down by the village. And then they bought an island and we lived there for 45 years so I can understand some of the history but yours is much longer. You go back into the early 19th century.
Robert: Yes, as I say, I don't know exactly when Dr. Jelliffe's father and uncle Samuel began coming up here. I believe it was before he was born, but exactly when I don't know.
Louise: Now you have your own cemetery don't you here?
Robert: Yes.
Louise: That's the one that's between the Ritz and the Goldsmiths?
Robert: Yes, it's on their property.
Louise: Several years ago I did a short history of early years at Hulett's Landing. I, concentrating on who came here and settled and of course it's not unusual, it was a Revolutionary War payment to a soldier. Mr. Hulett had been in, and as they couldn't pay him money they gave him land. This happened with a lot of the soldiers.
Robert: I think that was true of Taft also, although I'm not sure about that. As I recall Harry Bird telling me that Taft had gotten this whole great chunk of property but he liked playing cards and chasing women and drinking booze which gradually ate up his property. When my family started here, as far as I know, there were basically three families along Bluff Head Road. The Knights at Meadow Point then the Jelliffes and then the Gilletts. The Jenkins came in and they were interrelated
Louise: Oh they're related too?
Robert: Yes.
Louise: Jenkins' related to you?
Robert: No. They're related to Amy Olney, who was Amy Gillette.
Louise: That's the family we bought from. Olney. It was the young daughter Olney.
Robert: Amy Olney was Amy Gillette, and she married this fellow Olney and then she married Bassett. Her sister was Virginia Gillette who married a chap named White, thus bringing that name into Bluff Head. That is a complicated thing.
Louise: I think they've already interviewed a couple of these people. They haven't gotten John Michael yet but they're trying to. They've done about 20 interviews and they have about 40 more names to go. But I'm probably going to interview Ginny Bradish later this summer, which will be interesting because she was the Knolton, and she remembers some of those, and she's 95, I think she's 95.
Robert: Well you better get busy with it.
Louise: She is pretty sharp to this day but she has macular degeneration. She really is almost totally blind, which is very hard. I think we've covered a lot, but I'd like to, just recollect with you, what was Land's End like when you were here?
Robert: I had absolutely no contact with the people at Land's End.
Louise: It's almost like two different towns, the north end and the south end.
Robert: You've read Hamlet Summers?
Louise: Right!
Robert: And I think that in that they describe the interrelationship of the early time when people were not dependent on an automobile. They went by foot, or by boat. There was a lot more contact between the people at Land's End and the people here. Now, I didn't span the amount of time here that Dolf, Ely and Bunny Emerson. She was here a great deal with her parents Alfred and Winifred Emerson. Early on Helena came over as often as she could.
Louise: From where?
Robert: Holland. She married Carel, I think in 1925. They lived in Amsterdam the war started. She and the boys returned to the United States when the war broke out. Carel had to go to the Dutch East Indies for a time before he could enter the U. S.
Louise: It's good he got back.
Robert: Sylvia's brother Ely was unable to meet pay his share of the bills and lost his interest in the northern two fifths of the property and Winifred, who owned it with him, acquired it. Ely had three sons, David, Donald and Gordon. An arrangement was made whereby they would own a part of the forty-odd acres. As it turned out none of them have been able to spend time here. David is dead. Donald lives in Washington State and Gordon lives down in Darien, Connecticut. They sold their share to Arcady, Ely and Dolf's holding company. The part that was between the brook and the Peter Pan line is now part of the Wilkening's. I believe that Gordon still owns an 8 acre section above the tennis court.
Louise: They gave quite a bit to the conservatory.
Robert: Well you'll have to have Ely explain that to you because they acquired, they got Taft's point. They acquired a whole bunch of back country as well and they turned that over before they began the subdivision. So they'd have offsets of one sort or another. And exactly how much property was involved in that and where the dimensions of it were, I don't know.
Louise: So when you first came here, it was only occasionally you say.
Robert: Very occasionally.
Louise: How did you get here?
Robert: I remember coming up here once by car probably in the late twenties or early thirties while we were still living at Harmon. Most of the time I came by train to Whitehall and someone would pick us up over there.
Louise: By car?
Robert: No, we took the train and then the car would pick us up here. In the early days my mother usually came up from Lake George Village by one of the Lake steamers. She described one winter coming by train to Dresden and then by sleigh from there.
Louise: Oh really? The road wasn't very good.
Robert: My grandmother remodeled the Peter Pan. Put in bathrooms and she remodeled the White House which had been initially a small farm house. Lucy White told me that she believed that she has some pictures that showed the White House dating back to about 1850. Now, whether that's valid or not, I don't know, I haven't pursued it with Lucy, but you might investigate that later.
Louise: What year did your mother remodel them?
Robert: My grandmother. She would have been say, 1908, 1910, somewhere along there.
Louise: So that could be so that it would be 58 years old when she remodeled it.
Robert: What she did was add the part that is the main part of the summer White House. The , part that was the original farmhouse was the part that first Alfred and then Bunny lived in during the winter. There was a furnace in the addition my grandmother made but it was pretty inefficient.
Louise: Well and Bunny did a couple years, but she found it somewhat confining. She was getting kind of depressed. She made a good move.
Robert: She made the only sensible move she could make.
Louise: Was the Peter Pan as old as the Wilkening White House do you think.
Robert: The Peter Pan was built in 1872 or '73 and it and the Mansion were built at the same time. One of the old timers of the area told my mother that they had damned the brook and they had a sawmill which they milled the beams and things for the Peter Pan and for the Mansion and when we were doing some work you can see these are hand cut.
Louise: So it was the Knoltons that were building the Mansion?
Robert: The Knoltons built the Mansion. Our house was the guest house. I believe they had a keeper who stayed here in the winter. It was called Evergreen House by the Knoltons. It was originally just a living room and one bedroom downstairs and two bedrooms upstairs. My grandmother added the bathrooms and Sandy added the living room on the lake side.
Louise: That was quite a long climb to get up to the Mansion then wasn't it. Well they probably went along the shore.
Robert: There's what they called the deer path that ran across there. I never considered it much of a run to go over and visit my grandfather. He ate at 5:30 and I would have a bite with him, and then come back and Edna would have dinner for me about 6. After that I would go to the Mansion and often be able to arrive at desert time so if there was a piece left over I'd take it from Ely and Dolf.
Louise: You did very well.
Robert: I did, and I was as skinny as a rail.
Louise: Now you had mentioned before, just to clarify, you went to Columbia Medical School.
Robert: I went to the University of Virginia as an undergraduate and I started as a medical student at Columbia in January of 1944. We were up at 168th street and Broadway, the Presbyterian Medical Center. I went through medical school and never was on the grounds of Columbia University proper at Mooring Side Heights. I moved to California after graduation in 1947. I have not returned since then.
Louise: I'm currently working on my 60th reunion. Well I can't think of anymore specific questions other than some general comments you'd like to make.
Robert: Well I really don't have any general comments to make.
Louise: You still enjoy coming over to the lake?
Robert: Yeah. A big problem for me is that the people that I knew are no longer here. I really have not been able to be here enough to get to know the newer people. I'm getting very close to my 90th birthday and just don't get around as well.
Louise: Takes a little more effort
Robert: Takes more than a little more effort.
Louise: Well I've certainly enjoyed getting to know all about your family, and I'm sure the plan is, this will be printed up and you'll get to review it. Because we may have missed a few things and maybe something else will come to mind, but I thank you.
Robert: Now the only hazard I have is getting out of your bloody driveway.
Louise: Oh well I can help you turn around. Let me just turn this off.
Transcription by: Robert C. Stragnell
Edited by: Robert Stragnell, M.D.