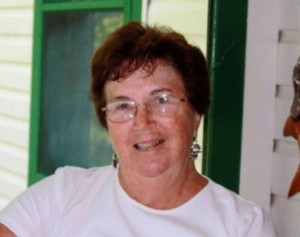 Nancy Smith, Interviewed by Tom Keating
At The Home of Wayne & Nancy Smith
Lands End Road, Huletts Landing, New York
July 23, 2010
Tom Keating: Can you tell me when you first came to Huletts Landing?
Nancy Smith: Well, I first came to Huletts Landing I do believe when I was born. My grandparents were here in the thirties. I was born, obviously, 1939. The Simmons family and that is my grandparents. My mother and dad were George and Mildred Simmons. They came summers to Lychgate, which was then owned by the Reilly's but the parents of Herb and Winnie Reilly.
Tom: And tell us what Lychgate is
Nancy: Lychgate is the little red house in the Reilly compound now as you go into Cook's bay and the houses that are owned by the Reilly Family that's the red one.
Tom: So that's the red house that would have been next to what would have been Alex Sidur's Marina.
Nancy: Yes. Alex Sidur was well ensconced at that time. Winnie Reilly and Alex's wife, Ida, they used to have bridge games and played bridge.
Tom: How did your family know the Reillys in the first place.
Nancy: Okay. Uncle Harvey. He was father Simmons. He was an Episcopal priest and he was of the order of the Holy Cross. In New York City they had a seminary. Is that right? I'm going to have to refer to my husband.
Tom: We're having prompting here from the husband of Nancy Smith, Wayne Smith, who has also been in Huletts Landing for many years, but not as long as Nancy Smith. (Laughter by all).
Nancy: So Harvey met the senior Reillys and they told him about this wonderful place that he should take his parents and they should go up and see what it was like at Huletts Landing.
Tom: So he met him in New York City.
Nancy: Yeah. Uncle Harvey was on leave because he had been in Liberia at that time. He was a missionary and he took my grandparents which was Will and Pauline Simmons and Charlotte Simmons up to see this place. Grandpa Simmons was in his sixties at that time. The grandparents spent the summers here. The children, there were George, Harvey, Raymond, and Gladys. They all shared in the cost of renting.
Tom: Point out who George and Gladys are because we know them.
Nancy: George Simmon is my father, the eldest of the sons and then came Harvey, he was the minister and then there was Gladys.
Tom: And her connection is?
Nancy: Sister of George and Harvey and then there was Raymond, the youngest, so there were four siblings.
Tom: But we know Gladys because she was married to John Oehler who also lived on…
Nancy: Yes, and his daughter now, Virginia, owns that place now on Chase Lane and they bought the old Benjamin log cabin.
Tom: Okay, let's get back to your family first arriving to the Landing. These four children, were they children at the time or were they adults?
Nancy: Oh, they were adults. One of the things that's interesting about Harvey and because of his connection to New York City. He also was familiar with the Pettersons; Dr Petterson and his wife. Grace and Henry Ijima were young people who lived in Kitchell bay. My parents used to visit Mr. Petterson and Harvey also when he was home from leave. Eventually he had to leave Africa because of malaria also the war. He was Bursar at the St. Andrew's school in Tennessee, and the little stone church, the women's guild, for many years sent money to help support that. In the archives of the church you'll hear Reverend Harvey Simmons preached and so forth.
Tom: Now are you referring to the father of the four children?
Nancy: No, I'm not. Harvey is the brother, the son.
Tom: Oh, okay. But Harvey is also the father? Harvey Senior?
Nancy: No. William.
Tom: Okay. So Harvey knew the Reilly's and that's what led your family to come to Huletts Landing.
Nancy: That's right. When I was a little girl, Grandma, she loved to cook and feed us all. The iceman came. There was an icebox. The vegetable man came. She would go over to Herman's and get meat from the store, which was then part of the hotel, and my aunt, the one from Tennessee, Harvey's wife, we would get yelled at a lot if we wore socks because there was only cold water and she would wash those socks on a wash board out in the back yard. Yeah. No washing machines, cold water.
Wayne Smith: Not in the Lake though.
Nancy: Oh, no, no. One of the biggest activities was we took picnics to Picnic Island and we went with all the folks that were in the Reilly compound because the Oehlers, Gladys, the sister, when they came from Buffalo, they would rent Robin's Nest, and that's the house that sits up on the hill in the Reilly compound.
Tom: And how would you get to Picnic Island?
Nancy: We would, well, my father finally bought a motorboat, but I think we had to row down there. We rowed! I see Winnie Reilly, her sister, Aunt Ethel; we have pictures of them sitting at Picnic Island on that front rock eating watermelon. Oh yah! And that was a treat. That was a treat.
Tom: And roughly what years was that? Mid forties or late forties?
Nancy: Yeah, well, I was probably six, seven, eight.
Tom: Now were there campsites on the island at that time?
Nancy: Umhm. Yeah, you could go. You could picnic without permits.
Tom: No permits, do you hear that ranger people!
Nancy: You could just go down.
Tom: Because I imagine there weren't that many people around.
Nancy: And you know what, we did have a little motorboat. Because another activity for us all was that we'd get up really early in the morning. I'm telling yah, you know, five o'clock, four o'clock and we would get in these boats and Pap Pap, no not Pap Pap, Uncle Harvey or which ever man was at the camp at the time – whichever brother or uncle John. We would row out until we were far enough out to not disturb any of the residents before we turned the motors on and then we would fish and boy would we fish. Perch and bass and then we would come in and Grandma would feed everybody. The Reillys, the LaMotes.
Tom: Do you think the fish were more plentiful back then in terms of being able to catch them?
Nancy: Well, we seem to catch a lot back then, but you know what they were filled with?
Tom: What?
Nancy: DDT. Not good. As a girl growing up here, I never knew of black flies until our son Gary one summer was fishing on the dock and he was probably four years old so what year would that have been?
Wayne: Sixty-seven, sixty-four? Sixty.
Nancy: Well, at any rate, my Uncle John Oehler was garbed in shirts buttoned down all around the wrists and he said there's a new bug and it does a terrible job on you. And he was swollen and everything. Well, we all got bitten badly and Andrea was a baby.
Tom: So that was the first year they didn't spray?
Nancy: Well, they had stopped spraying and then of course the black flies came back. I don't know the year they stopped.
Tom: Were you here when they did spraying?
Nancy: Umhm. I must have been a young girl, really young, but they would spray the mountains. Bzzzz.
Tom: What do you remember seeing with that?
Nancy: Mmm. Well, I'm not sure. I'm thinking that the plane went over, but they would really spray. We should look into that.
Tom: So you were eating fish but you didn't know you were possibly contaminated at the time, of course.
Nancy: Nope, nope, nope and we ate a lot.
Tom: But you're still here.
Nancy: Yes, thank God. We've all had cancer, but other than that…
Tom: Well, I would like to get back to the question I asked before. When you went down to Picnic Island you said there were campsites on the islands at that time, but were they used a whole lot like they are now or was it still pretty empty?
Nancy: It was much – you could get picnic spaces.
Tom: What about campers? Were there a lot of campers around in those years?
Nancy: Yeah, yeah, I think there were. But they would have to come by well, they could have power boats. Those were the more wealthy people. When we got a motorboat, one that was substantial, my cousin thought it was just phenomenal.
Tom: Oh, yeah?
Nancy: Oh, my God, 'Uncle George, you must be very wealthy. Of course, he wasn't.
Tom: You mean other than a row boat with a motor on it, you had a bigger one.
Nancy: Yeah. A little bit bigger.
Tom: When did you have that one? In the fifties?
Nancy: Yeah. Ummm,YES! Because, I know, ah ha ha ha! I, by then was in my…
Tom: Let me get back to Lychgate. So every year, your family spent time at Lychgate.
Nancy: All summer.
Tom: You'd rent the whole summer?
Nancy: All summer.
Tom: Really. So you were here the whole summer.
Nancy: Now, my mother and father, they would come here on weekends and I was here with my Aunt Charlotte and grandmother.
Tom: You devil. (Laughter)
Nancy: Lucky me. Only one summer I did get homesick.
Tom: Really. Why did you get homesick?
Nancy: I don't know that, I think it was a time when you do and my mother came up and I got over it. I mean, you know, because Aunt Charlotte – I was very close to my aunt too. My mother would come weekends, but she wouldn't leave my father, so she and Dad would come on weekends and they took their vacation here too.
Tom: So, how long would they come here for?
Nancy: Well, two weeks is all he had.
Tom: So, at some point your family decided to buy a house, so tell us about that.
Nancy: Okay. I believe, my mother and father when they took their vacation rented from Herman Benjamin one of the little cottages along Chase Lane.
Tom: This was after Lychgate then?
Nancy: No, it was during Lychgate. My mother was a little independent.
Tom: Oh, I see, so they rented it separately.
Nancy: And they rented it separately and it wasn't only that she was independent, but they were very giving people. She would bring great-aunts along with them and another cousin on her side, so there just wasn't room at the inn. At Lychgate.
Tom: Which house was it that they rented?
Nancy: Well, we rented the one now that's owned by Paul… Well, it's the red house right next to the log cabin.
Tom: Seaman.
Nancy: No. Oh, yes, that one too. We rented that one too.
Tom: Okay.
Nancy: Those two mostly. And at that time there was the white house on the point and the people who rented that were known as the LeMotes and they were friendly with the Reillys and we didn't go over to the casino at that time. You know, this is when we were young. And my grandma would…we learned our parts and we'd put on shows on the Lychgate porch.
Tom: What kind of shows?
Nancy: Oh there was the one….um.
Tom: Plays or songs, performances or what?
Nancy: Plays, plays, plays. (To Wayne Smith) She had the one like you were in when you a kid the one where your mother dressed you up.
Wayne: Tom Thumb Wedding?
Nancy: Yeah, I have that someplace and it's in Grandma's writing. And we put on plays.
Tom: And who would come to watch?
Nancy: Oh, all the Reillys and all the people who renting in that little bay.
Tom: Oh, really?
Nancy: And the LeMotes, um, there were two brothers of the LeMotes and one brother he had an Irish-Setter and the owner was a wonderful swimmer and he would swim to Deer's Leap with the dog! I mean you would get yourself killed today. But, we would swim to Burgess and to Gardner's Point and back always, though, with a row boat, never without that.
Tom: Do you remember any of the parts you played back then?
Nancy: No. Not really.
Tom: Did you sing?
Nancy: Oh we, she would have songs. We were all given parts and Grandma directed them. And then, some nights after feeding many people, the Reilly's would come to dinner especially if there had been a big catch and stuff like that. We all sat around. Now I envision right now, Lychgate to be a very large living room, you know, it's not. You go down there and it's modest. But we played. She had games for us to play. All of us played, adults as well as kids. And that was our evening.
Wayne: Was Chinese Checkers a big game?
Nancy: Not so much. Pick up sticks. She had this game that was a trick. I forget what it was where you had to nod your head or move your hand in a certain way and it was one of these trick games. Well, she got us going with that because all the kids would say 'well, we know what you're doing with that to get that' and we would just play games all the time.
Tom: So, your grandmother was a bit of an impresario. She ran the show so to speak.
Nancy: She ran the show. Not only that, as younger children were required to take rests and we were required to memorize Bible verses.
Tom: What do you mean, take rests you mean during the day?
Nancy: Yeah. Take a nap. Well, we didn't have to go to sleep, but we had to have a rest and she would give us the Bible and tell us what to memorize. Of course, we all went to church at the stone church on Sunday. Nobody missed. No matter who was here or who was not here.
Tom: Did they have Sunday school or just the regular church service?
Nancy: No, just church service. No telephone. We had to go to Irene's, which was then Sheep Meadow Lane. We had to go to Irene's to ask to use the phone.
Tom: So did you?
Nancy: I don't know if we paid or not.
Tom: So, she was the only one with a phone in the area?
Nancy: Oh yeah. Yeah. I mean, for us. But we didn't seem to need phones, I guess. But we did go to Irene's and as a little girl I remember she made pies, and, of course, she had animals and cats and everything. And I do remember a lot of flies.
Tom: In the house?
Nancy: Yes.
Tom: So, she would make pies and give them away or sell them or what?
Nancy: No, I think she had guests. That was a guest house and she was serving supper and dinner and so forth and pie was on the menu. And then, of course, the sheep. That's how we would get over to the post office. We would always walk through Sheep Meadow Lane and then go where they're building houses now. The Hennessey's are building right now. There was a path.
Tom: Do you have any memories or impressions of Irene?
Nancy: I do. I see her. I can vision her. She wore house dresses just like my mother.
Tom: Some people have said she was a rather forbidding personality. Did you find her that way?
Nancy: She was. She was. I was scared of her. If I had to go.
Tom: And what made her so scary?
Nancy: I don't know. She just was. She must have run that show with an iron fist.
Tom: Would she yell at you for things?
Nancy: No, I never got.
Tom: Or did she just have an imperial kind of presence?
Nancy: Yeah, that's all. When we walked through there that was accepted. Our daughter Andrea and her friends would go that way but, um, by then, the McGowens owned it.
Tom: So your main connection to Irene was then to use the phone.
Nancy: Yeah. I think my grandmother had much more rapport with her you know. She could go over there. But Grandma stayed pretty close to the cooking and the swimming!
Tom: So your parents started to rent a house on their own, you said, so tell us how that led to buying a house.
Nancy: Grandma and Grandpa began to get on in years and Grandpa had a stroke. My father and mother were friends with Herman Benjamin and that's when they could see the handwriting on the wall that they weren't going to be able to be at Lychgate. I don't really know the inner workings, but Herman built this place and my father did the side work and had others help.
Tom: Herman built the house we're sitting in? He built it for your family?
Nancy: Uh huh. The house you're in is built by Herman.
Tom: I didn't know that he built it just for your family.
Nancy: Yeah, he did. My father made the plans and he had men do it. Herman had a crew.
Tom: So Herman owned the land and your father bought the land and Herman contracted to build the house.
Nancy: Yes, he did.
Tom: And what year was that about?
Nancy: 1954
Tom: So by then you were a teenager.
Nancy: Yes, and my mother and father were a little discouraged because I didn't show a whole lot of interest.
Tom: What do you mean?
Nancy: Well, I did as I began to get more…I was home learning how to drive, but before that when we were still renting at the Reilly's, we'd go over to the old casino that was on the waterfront. My cousin Dick, Charlotte's son, one summer he was the boats-man. He took care of the boats, the canoes and boats that they rented and I remember the fire and, um, we had a fire one year here in Benjamin's cottages and all the waiters came over and they got that fire out by a bucket brigade.
Tom: What house was on fire?
Nancy: I think it's the Dressers or the Wylockers, but they got that out it was amazing.
Tom: Okay. So your parents had this house build and you're saying you weren't much interested at first.
Nancy: In the early parts.
Tom: Does that mean you didn't come for those summers?
Nancy: No, I came, well, one summer I was in college and went to Europe.
Tom: So you weren't thrilled to have your own house on Lake George then when they first built it?
Nancy: Oh, I was but you know I had so many other interests, you know, when you're a teenager you're just like "Oh my God".
Tom: (Laughter) Gee. I wonder what they might have been, waiters at the hotel maybe.
Nancy: That's right, waiters at the hotel and the Boondocks over here.
Tom: What are the Boondocks?
Nancy: Well, my Boondocks may be different from Bruce Young's Boondocks, because they went up the mountain somewhere. I didn't go there. But anyway we used to go where the McElhennys and the Doles were. Yeah, it is the Boondocks 'cause that's what they call it.
Tom: What is the significance of that?
Nancy: That's where we had a fire. You know how we have camp fires now?
Tom: So that's where the kids went to get away from the adults.
Nancy: Yeah, that's right. And there was (in a whisper) drinking.
Tom: We know. (Laughter)
Nancy: That kind of thing going on. One night I was very late according to my parents. And my father started to go look for me, but we only had one car and I had the car, and we were over at the casino – really, that's where we were. I had a girlfriend here and my father is walking up the hill up over here by where Billy Borden is now and it's getting to be daylight.
Tom: Daylight!?
Nancy: I was naughty then.
Tom: You didn't come home until daylight!?
Nancy: I opened the door and, listen to this, I would have killed my kids, and I said "Dad, do you want a ride?"
K and Nancy: (Laughter)
Tom: What a smart-aleck.
Nancy: Yeah. George, my father, calm, cool, got right in the back of the car because who did he know was going to take care of this…you know…Mildred, ha ha.
Tom: She was the disciplinarian.
Nancy: Oh yes.
Tom: Tell us a little bit about your memories of the hotel.
Nancy: I never really went inside the hotel that much, but they had bands and they would play out on the veranda, but one summer I was in love with the saxophone player by the name of (Gene Flinta?) and when he had a day off he would come over here and we climbed Black Mountain. Always as a group you know. We'd all, my cousins, Barbara Kelly we'd all do that. We water-skied on Burt Reilly's boat.
Tom: So you were a teenager at this time when you were in love with the saxophone player?
Nancy: Yes, I was.
Tom: And he was more than a teenager, I'll bet.
Nancy: Well, I think he might have been. (Laughter)
Tom: What did your mother say about this saxophone player? I can just imagine, 'In love with a saxophone player, are you kidding'!?
Nancy: Yes, that's a matter of fact. Well, he was young though. And then one year I was in love with a boy, you know I can't I remember his name. No, he was a waiter and he went to McGill University, and then my cousin, Dick, who was working in the boathouse, told how old I was.
Tom: Ah.
Nancy: Ah ha ha ha! That took care of that. So, at any rate, we did have fun here though. I did play golf a lot.
Tom: So then the hotel was not a part of your experience then, though.
Nancy: Only the men that were working there, hahahah. We never ever went to dinner there.
Tom: Then the hotel burned down at some point. Do you remember that?
Nancy: I wasn't there then. When did the hotel burn down do you know? '50 or '56?
W: No, the hotel was torn down.
Tom: I thought there was a fire?
Nancy: Only the casino. The casino moved to where it is now, and we had lots of amateur hours over there. I can still see the lady who ran it, and we would go over there and there were a lot of the people who were there at the hotel and the cottagers who would participate. I never did, I think I might have Charlestoned at one time but…
Tom: So were these amateur hours sort of on a regular basis?
Nancy: Yeah, Barbara Kelly and Barbara Aides they were tap dancers and they would participate. They did that in the casino that was in the back of the hotel until when they tore that all down, then they moved it to where it is now.
Tom: So you got into golf at an early age?
Nancy: Yes. Thanks to the Reilly's. The Reilly's were members of the… we'd go over to the golf course.
Tom: So the golf course was over there when the hotel was there. Was the golf course part of the hotel?
Nancy: Oh yes. Uh huh. They had a golf pro or a person who manned the shack. In the later years it was really Margo and the Eichlers who you would go and talk to (the Kapusinskis) and join through them, but when we were young you joined the golf course, and the Reillys and the Kelleys would, um, because they had a daughter, Barbara, and she was my friend. We would go and play golf, and then my parents bought a membership for me and golf clubs so that I could play golf.
Tom: So, how old were you?
Nancy: Oh, I was young, 13, 12.
Tom: You took to that readily.
Nancy: Yes. Herb Reilly said I had a great swing. And they were very kind to me to let me tag along.
Tom: So you got good right away?
Nancy: No, I wouldn't say good, but, you know, acceptable, but I didn't play much golf when I had children, of course.
Tom: But up until then you were involved in that?
Nancy: Yeah, but you see I got married pretty young, Tom. When I married Wayne, I had just turned 19. So there isn't a long period in there. You're talking teenage years. Teen years.
Tom: So then, even after you got married you still came for the summers?
Nancy: Oh, every summer. By then, never take us away from this place. This was wonderful.
Tom: The only summer you missed was when you were in Europe.
Nancy: Right. It was only summer. Oh, I did miss coming here when I was doing driver's training, but I came weekends. They didn't give drivers training in school. You had to take it in the summer! So I must have been 16.
Tom: So at the age of 71. You must have been here for 69 summers or roughly 69 summers?
Nancy: You got it. You betch 'ya.
Tom: This has got to be the record.
Nancy: It's the record. I'm the oldest one coming. ha ha. No. Yeah, I have not missed a summer.
Tom: So, tell us a little bit about how your own family started to be part of Lake George.
Wayne: Can I read something to enter into the record?
Tom: Okay. Mr. Smith is going to read something to enter into the record.
Wayne: This is an entry in the guest book from this cottage and it's dated May 13th, 1956. And it says: 'A real nice time with swell folks. A convert to Lake George is Wayne'.
Tom: So that was your first
Wayne: That was my first visit.
Tom: Well, it's nice that you have that remembrance of that particular day in history.
Nancy: Yes.
Tom: Do you remember his first day here?
Nancy: Oh, yeah.
Tom: Was that the first time he had met your parents or had he met them before?
Nancy: Oh, no. He had met them before because I'd been going to RPI fraternity parties.
Tom: Did you have any doubts that you wouldn't like Lake George?
Wayne: Well, I came from the Jersey Shore and, uh, it was an entirely different way to spend a summer than I had been used to, but I liked it.
Tom: But you gravitated to it right away?
Wayne: Yes.
Tom: Then you started to have children of your own and that must have been very special to be with them on Lake George.
Nancy: And they still all come.
Tom: Tell us some memories when the kids were young.
Nancy: We would come every summer and Wayne's mother still had a cottage and one of the tents in Ocean Grove and, uh, so we would spend a little time there but then come to here. My dad died very young at 60. He was insulating the underneath of this cottage and um, he passed away that fall.
Tom: You mean he died while he was working on the cottage?
Nancy: No, no, but he, we went home and he was in great states and about six months…
Tom: And that would be what year?
Nancy: Um, he died when that baby died. I lost a baby that year. (sigh)
W: Sixty-one.
Nancy: No, it couldn't be sixty-one was it?
Tom: In the early sixties at any rate, and he had only been in his own house then for a few years here. If this house was built in '54, you said?
Nancy: He loved it here. He was always working here trying to make it better.
Tom: Did he design this house?
Nancy: Yeah, he made the plans.
Tom: Did he get any input from Mildred?
Nancy: Yeah, I'm sure, I'm sure my mother had a lot to do with it, but my father was a draftsman. We worked for Bear Manny. I have his plans. They're very exact. So we would come every summer. My mother, after my father died, went back to nursing, so there would be summers when I was here with the babies alone for a little while, and I would have guests come and I would have friends come with me, and then we got to be friendly with Jean and Bob Wylocker and Jean was here all summer, and their children were close to our kids age, so we spent a lot of time waterskiing the kids and doing that kind of thing.
Tom: Did you ever have anything unusual or frightening happen as the kids were growing up?
Nancy: No, thank God. We were always pretty careful. My children call those lifejackets, boat coats and that's a new term. But I would never let them go down there without life jackets on unless I was there.
Tom: Did you kind of make their day sort of like your day was when you were a child? You describe the situation where your grandmother kind of organized everything…
Nancy: We did a lot of games. You'll see pictures on the table. On the rainy days we did jig saw puzzles. We had games. But we also, they played golf. I taught them how to play golf, so we would go over and play golf and, of course, the boats. There was great competition on who could water-ski the best. Bob Wylocker had a big boat, so he could put 3 or 4 lines out and they'd all go up together, and skiing was a big part, and the newest ski they could bring in. Those trick skis. Let's see, that was the only time Douglas cut his face and Dr. Sykes stitched him up. We were very lucky with that. The boys and all the kids, they started to work at home pretty early so they weren't up here summers.
Tom: But they also got involved in sailing, too, right?
Nancy: Oh yeah. Dr. Sykes had those sailing races. Were you part of that?
Tom: Yeah, I did some of those.
Nancy: Yeah. And I think it was Sean Brown that rode in his boat one time in the lightening, Tom. The kids took their own attraction to sailing or did you introduce them?
Nancy: Not me. Wayne. Yeah. I didn't.
Tom: But the kids were fascinated by it.
Nancy: Uh huh. When you talk about scary things, we did have a couple of scary things and you can relate to this Thomas. (laughter)
Nancy: Because, um, Gary went out one early fall day with his crowd from high school. We as parents at that point should have said, "Absolutely not, you can not go,' because it was very rough and he tipped it. Really tipped it up-side-down up by Agnes Island. The kids in this boat were really minimal swimmers and thank God they were close enough and it was cold. So he got brought home by a camper and I see him standing at the front of the boat and my heart sank because he was alive but were the others, but yes they were. That was a scary time. Poor judgment there. That wind just took that boat and they were not sailors and wah. And Douglas one time took some friends and they didn't come about when they should have come about, and he filled it with water. So the sailboat was one of the more risky items.
Tom: And the sailboat has been dispatched to some other location.
Nancy: Yes, it has. It's down in Scranton Pennsylvania.
Tom: Would you say that compared to when you were a youngster there was less structure with your household compared to how your grandmother ran her household?
Nancy: Oh, yes. I'll tell you when my mother was on vacation, I'll tell yah, if it was a cloudy day, we were on the road. We were on the road to go to see things in Vermont and there were no excuses there. Whether the kids wanted to or not, they got in the car! And the museum in Blue Mountain Lake. I have yet to get those grandchildren to go to places like that. It's just incredible. There were no questions asked then. Even the Wylocker's we would fill a car, and we took off to see historic places and to do things.
Tom: You mentioned a family a while back who I'm not familiar with. Who are the Kelley's and where did they live?
Nancy: They were very good friends with Herb and Winnie Reilly and they literally, Mrs. Kelley, came and spent the summer here.
Tom: Uh huh, at the Reilly's property?
Nancy: Yup, and the Mooring's before it burned down and Mrs. Kelley and Judge Kelley, but he did not spend all summer, but Barbara's mother did.
Tom: And she was a good friend of yours?
Nancy: Yeah. They all were. We all did stuff together because that's how it was. Picnics together, campfires together, shows together.
Tom: It sounds like it was kind of limited to this community here.
Nancy: To that bay. That bay! Just that bay and a little bit toward Alex Sidur –the Sidur's didn't come – but any of us who were renting the Benjamin's and people by the name of LeMote who were renting the white house and they would come and there were other people too.
Tom: Do you have any memory of the Sidurs?
Nancy: Oh yeah, my father and Alex got along very well. Alex scared me to death.
Tom: How come?
Nancy: He was grumpy. Oh yeah. Mmmhmm and so.
Tom: So, you would have to go there to get gas for your boat, right?
Nancy: Mmm, well, my dad would do that. I got along very well; I mean I got along with Ida. And then when Phil Henneman was spending time with her. Remember when he used to…he loved the lightning. He was coming and staying with Ida. My father got along to Alex but Alex didn't get along with a lot of people.
Tom: So when you look back over the years that you've been here, what would you say are kind of the biggest changes you've seen?
Nancy: Oh, it's the development. The mountain is being developed. There are lots of folks here now. Lots more boats.
Tom: Is there anything you miss from the older days?
Nancy: No, I'm real content here, really like it here, Tom. Haha, as you know!
Tom: Yes.
Nancy: Changes come and that's how it was and you just had to… not much you can do about it.
Tom: At least the change that has come is not overwhelming; it hasn't changed the tenor of the place.
Nancy: No, it hasn't, and there's a lot that's, you know um, for example, the Historical Association. The things that are going on are really good for the community, I think, and people get to know one another, and the little stone church and the Catholic Church are working together for, um, you know the good of the community. There's a lot of development but it's not touching the inherent nature of the place.
Tom: So would you say there are more community-wide things now as opposed as the way it used to be?
Nancy: Yes, because in the old days (in a whisper: not sure if I should say that), there were sections of the community where those folks all got together.
Tom: So they were segregated.
Nancy: Yes. We were segregated in the Reilly compound and we would go over and get ice-cream and do the amateur hours and do that kind of thing and play golf. We weren't really… they didn't have a lady's golf or at least I wouldn't have been in it anyways because I wasn't old enough and I don't think they ever did. They'd just go as couples or on the weekends and stuff. No, now people are really mingling all together and it's a community.
Tom: What do you like to do best now that you've attained the grand age that you have?
Nancy: Well, I like to sit on my dock; I like to sit in my garden; I like the grandchildren and the family to come. It's the only time Wayne and I get to see them because we spend our time now in Florida and we don't get to see them all winter, and so when they come, it's really important to us. We enjoy the lake and I have lots of friends up here, and I like to play golf and have camp fires with Tom and big poker games wearing fancy hats, Tom? Huh?
Tom: (laughter) Definitely. Well, l we thank you so much for taking the time to share your memories of Huletts Landing on Lake George and we'll say goodbye now. Thank you.
Nancy: Goodbye.
Transcription by Emily Lyons