Lucinda Heidsieck Bhavsar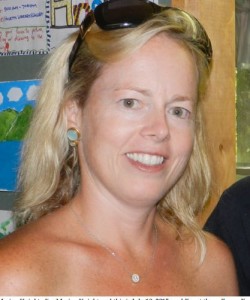 Lucinda Bhavsar
Interviewed by Marian Knight
Huletts Landing, Lake George, NY
July 10, 2015
Marian Knight: I'm Marian Knight and this is July 10, 2015, and I'm at the gallery.   I'm meeting with Lucinda Bhavsar and we're going to hear what she has to say about her experiences at Lake George and then Huletts.
Lucinda Bhavsar: Hi, this is Lucinda Bhavsar and I started coming to Lake George when I was 5 years old. My parents, my father, was Dutch Heidsieck. He had come as a child, and my grandfather, Joachim Heidsieck, was best friends with Carl Goldschmidt and they were interns together in Holland in the tobacco markets and Carl came before the war and my grandfather came after the war. He snuck in through Canada and set up a business in New York City and he, because of his friendship with Carl Goldschmidt and Helen Majella, he started coming to the lake in the 40s, late 40s, and every summer he would come with my dad and my dad's brother, Frank Heidsieck. And so I think those memories, my father really enjoyed it up here and, as a result, he started taking us when we were kids. My grandfather bought our current cabin from Cinda Alnee in 1976. It was one of the places they had been renting and so they had been coming up in the 40s and 50s and 60s and finally in the 70s, they bought property. My uncle Frank lived in the cabin for about six months of the year. He was here kind of April, May all the way up until November sometimes and he really took care of the place. We used to, when we first started coming up, we rented the barn which was an old structure, where the Van Rhyns are now, and we had some, a lot of bats, in there. That was in the days when there were a lot of bats. We would use tennis rackets or badminton rackets to try to chase the bats out of the room. I remember one time my uncle kind of pretended to be a ghost at night and kind of scare us. We did a lot of waterskiing in those days, early morning to get the flat water and we would do sometimes camping out and tennis. We always played tennis at Edie and Dick Cerosky's court. Kids really weren't allowed to play. We had to wait until pretty much the end and then, maybe, we would get on the court. It was always a big deal if we got on the court and then we always had to sweep, of course. We would. One tradition we had is we would go skinny dipping in the morning. My brother and I would always do a really early skinny dip, go swimming in the morning. We didn't do a lot of hiking, but a lot of tennis and swimming and kayaking and boating around, motor boating. So, basically, I kept coming every summer. I was big friends with Jessica Byrd in the red barn where the Tall property is now, and we would do sleepovers. That was Gillette and Maxine. They were really fun and I always had a good time over there. Then I was also friends with Chris and Kathy Goldsmith. Those were my big buddies growing up and we would usually spend most of August here and my dad would go back and forth to Virginia and I would stay here with my mom. That was kind of good childhood memories of playing with my buddies Jessica, Kathy, and Chris. I think I missed maybe one or two summers in college, but I came pretty much every summer of my life and then after I got married my husband, Av, and I would come up and stay with Frankie and they were kind of talking about selling the cabin and so we said "oh, we would like to buy it". So we bought it from our family members. We bought it from my father, Frankie and my step aunt and that was great. It really worked out well. We had kids and it was fun when Frankie was alive. We would come up and we would go for walks every night after dinner with him and he was a great guy. He really was kind of an independent thinker and didn't really care what people thought about him and he was just really refreshing and very smart, well read guy, too, very intelligent. So we had a lot of fun with Frankie up here and we would, basically, you know with the kids, we would come up in August and then, after we bought the house, we started staying a little bit longer and I quit work after the third child and then we would spend most of the summer up here and that is what we've been doing ever since- for the last eight or nine years, I think.
Marian: Where is home for you?
Lucinda: My husband and I and our three children, we live in Manhattan and basically we have three months off for summer vacations. So I come the day school is s out and we spend the summer up here. We're having a lot of fun with my friend Lynn Riley's kids and Betsy Straiten's kids and then when my friend Chris brings her son Dakota up, Chris Goldsmith. She comes up and it's kind of fun maintaining those friendships. It's basically three generations now and it's really like a, kind of, sort of family for us and I also really enjoyed getting to know Ann Adler and her six children.
Marian: Six, I didn't know that.
 Lucinda: Yes, my neighbor and also Lucy, our other neighbor. Obviously, we're very close with the Whites. Amy White used to make a joke. She would always say "now how was Frankie related to us again", as my uncle was so close with them and lived next door to them for much of the time he was here.  So Lucy is my youngest daughter's godmother. So we were also close with them. So it's been a really nice kind of summer community for us. We really cherish our time here.
Marian: Yes
Lucinda: I enjoy getting involved with running the children's program here at the Historical Huletts Society, and we've now had two years of kind of having a big Fourth of July party on the Bluff which has been fun with a lot of the families.
And I also have a nice friendship with my friend Pam Judge.
Marian: Nice.
Lucinda: It's nice for the kids to have their summer friends.
Marian: Great. Do you have any memory of any particular event or something that happened?
Lucinda: One thing that was nice was that Harry Bird's, his wife used to have very lovely tea parties, Winnie the Pooh tea parties, with Jessica Bird and maybe Chris Goldsmith, too, and she would invite us over and it was very proper, you know. We had to wear a dress and have flowers and Lucy also invited the kids over once or twice to have a cute, very fancy tea party on the porch. And that was very special and then we had Emily Adler's wedding. I think that was a special event that was only a couple years ago. That was actually really fantastic. We had the rehearsal dinner at Ferncliff, white Christmas lights up everywhere, and then she was canoed in by her brothers to bring her to the actual wedding ceremony. And also the day before the wedding, they had just a fantastic Olympic Games party, where we all spit into teams and, all over the Bluff, we had to accomplish certain things and whoever finished first, got a prize, and that was really kind of a wonderful teambuilding event.
 Marian: What kind of events?
Lucinda: Like writing down names, asking trivia questions to people about Emily's favorite flower or something, but it was very well organized and some people had to go to the graveyard and find something out so it was actually quite well done. I'm just trying to think. One event from my childhood that was fun is Kathy, Chris Goldsmith and I, we camped out on Agnes and Kathy's sister didn't make it the whole night. She didn't like the experience so she left early with her mother, Alice, but Kathy, Chris and I stuck it out.
Marian: How old were you then?
Lucinda: Maybe 10 or 12. But that was kind of a memorable night because we weren't very good at camping. That was our big night out on Agnes which was really fun. We had some really nice campfires at the point with the Goldsmiths. Some were where people are singing like Helena's husband sings and Matthew Bollman sings. That's been really nice. We have a lot of campfires on our property actually which is really special and sometimes the kids play ghost in the graveyard. I'm hoping that we're providing great memories for the kids and also it's a chance for us to get out of the city and enjoy nature. It's just so beautiful. The beauty of Lake George is just overwhelming.
Marian: It is indeed. I often say they don't call it the Queen of Lakes for nothing. It really is magnificently lovely. Well, I don't have anything else. You covered a lot of ground. If you have anything else to mention….
Lucinda: One other nice story is that John Michael White does a very nice job when the Mohican comes by. We always have a big tradition of putting on hats and swords and pretending to fight against the Mohicans.  And we have the battle of Bluff Head.   We shoot a cannon first and then the Mohican shoots the cannon and we all lie down and pretend to be dead. It's kind of this crazy Bluff Head tradition that we've had for several years now.
Marian: My Portuguese friends and we all went up to Lucy White's one time and Michael, John Michael, came out and fired the cannon. It was going off so we had a little taste. We didn't lie down on the ground.
Lucinda: Yeah, right. So you have the idea of it
Marian:  It was lots of fun. Well, that's fine. Is there anything else you want to say? I remember it was your Uncle Frank, I thought at one time it was your father, who used to walk long distances.
Lucinda: Yes.
Marian: He was very, very fit and long legged.
Lucinda: Yes, he was very fit.
Marian: He would walk along and one of our cousins, Cappy Dillingham, used to be walking the dog at night and she would, I don't know, I guess, speak a little bit, but Frank was not very talkative.
Lucinda: He kind of only talked with certain people. He was very selective, but he also didn't care. He was unique in that way. He kind of chose who he talked to and he didn't like big gatherings. He really only liked one-on-one. I mean the stories at his funeral were unbelievable; all these people that adored him and loved him. And it's you just never knew because he talked to people when he was walking on the road and he really was curious about people and about their lives and what they were doing and where they were traveling. He was a very interesting guy. We miss him a lot.
Marian: Where did he come from? Where was he born?
Lucinda: He was born in Holland during the war and grew up in Manhattan with my father and then went to boarding school and worked on my uncle's farm and then basically, after my grandfather bought the cabin, he just lived at Lake George. I think he kind of fell in love with Lake George. He couldn't really ever stay away. This was his love and he's buried in Lucy's Cemetery, the Jelliffe Cemetery. We have a nice plaque up there for him but it makes me feel so nice that he is kind of looking down on us all at the Bluff and he has this little lake view. I feel like he's at peace here.
Marian: Well the children all have wonderful memories. No matter where they are, the kids have them. The grownup kids do remember what it was like to be children here.
Lucinda: Yes
Marian: It's quite a spectacular, wonderful place.
Lucinda: Yes, I agree.
Marian: What are your children's names?
Lucinda: Jahnavi is 14. Auggie is 12 and Jhansi is 10.
Marian: Well, if that's all you have to say, we can maybe do this again if you have any other things.
Lucinda: Yes, I can think about it. Yes, it's kind of fun to think back about your memories.
Marian: So, I have just one more little curiosity about Frank. He didn't stay here all year long. So where did he go?
Lucinda: So, a lot of time he would go and help housesit; a couple of times, he'd housesit for the Corbetts and then he would go to Myrtle Beach. At the end of his life, he was going to Myrtle Beach just to escape the cold. He did spend one winter in the cabin which was really too cold. It was difficult.
Marian: I remember Bunny Wilkening tried that not too long ago and it was more than she wanted to do It was a little too much. My husband grew up here and lived here many winters, year round people. Well, thank you very much, Lucinda.
Lucinda: Thank you.
Transcribed by: Vicky Hunter