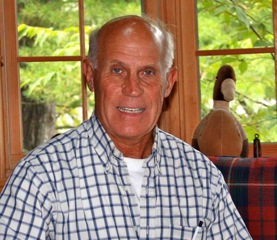 Interviewed by Tom Keating
Pinecroft, Huletts Landing, Lake George, NY
August 25, 2011
Tom Keating:    Does your home have a name?
Jim Hudson:     Our home is called Pinecroft, and this is Pinecroft boathouse.
Tom: How nice, and it looks very piney. Your sign is not outside anymore.
Jim:      The sign has deteriorated and actually Pinecroft stands for the entire property, which would include what John Chambers now owns, which was Pine Lodge, which was part of this property and the boathouse here. Part of it as was then called The Studio and we now call it The Snuggery, so those were all built by Doctor Hupp in the late 1800s and he inhabited them for many years. My aunt and uncle acquired this property in 1954 when Doctor Hupp's daughter Beth died. And the estate sold and my aunt and uncle were able to buy it, and that was nice for the family. I'm skipping, I will backtrack. My mother was raised here as was my aunt and the rest of the family in roughly the early 1900s through 1923. They owned what is now the Donaldson property and the Cedar Knoll house was my mother's house. The family left in '23 and didn't return until what I just mentioned, my aunt and uncle purchased this house from Beth Hupp's estate in the 1950s.
Tom:    Your family originally owned a house on the other part of this bay?
Jim:      Yes, they did. And it was that which I heard about all my life and never really saw it till 1954. I came to Lake George once in 1947. Some friends of ours and neighbors from Pennsylvania lent us their house on the southern end of the lake, and that was in June and I saw Lake George and how clear it was and how beautiful because I had heard and heard and heard and heard everything. Lake George this, Lake George that, but my dad really didn't like it up here. He was from Delaware and we bought a camp and a property off the Chesapeake Bay in Maryland which was only an hour and a half from Philadelphia where we lived, so I was raised down there, and it wasn't really till 1954, '5, '6 that I really saw Lake George at its best when my aunt and uncle bought this and invited the family to come back, so that's how it came about.
Tom:    Your aunt and uncle, they purchased this house or this piece of property?
Jim:      This entire piece of property which was one piece at that point. Leslie and I ended up purchasing it from my aunt before her death which was at that point actually five acres and we divided it in half. Ten years later we divided it in half and sold fifty percent of it roughly to our wonderful best tenant, John Chambers, and he got Pine Lodge and half of the property and a piece of waterfront for his dock. And we retained three and a half acres and the boathouse and upgraded the boathouse from what was just a shell at that time, typical of many houses around here, just two by fours and sheathing and made it into a year round residence at that point. It was only by selling him half of it that we were able to do that.
Tom:    So when was the original on this property built?
Jim:      The original house, I think, was built in the late 1800s, could have been even 1890. Pine Lodge was the original house and it was about a fourth the size of what it is now and it was added on to piece by piece. I think it was just a one room cabin at that time and we do have pictures, I think John has them up there in Pine Lodge, of what it was originally, which was just a cabin with a fireplace, and for some reason they built it way up on the hill. I'm not sure why and why they didn't build it near the edge to get a view. I'm not sure why, but late Doctor Hupp, as he occupied it, built this boathouse, and he had a huge library down here and he had beds and a wash basin and his shaving equipment and so forth, so he escaped the women in his life, that being his wife, who was also a physician, and his daughter and came down here and, if you will, hung out, and read and did whatever he did down here. But there was also the little building next door, which was a guest house, neither of which had plumbing or, this had…, well, they both had electricity at some point but they had no kitchens, no electricity, so we did, excuse me, in 1970, my uncle decided to give me the rights to use this boathouse, and I upgraded it at that point, and put a kitchen and a bath room in this and sort of began to live here. I had had a cousin; my uncle and aunt had a son, Jonathan, who was deceased in the '60s unfortunately just after he graduated from Williams College; he didn't make it through life. So I became sort of my aunt and uncle's son, if you will, so to speak, and about eight years later we began to work on the property and help maintain it and accept responsibility for it.
Tom:    So originally this was just the boathouse, but you could live in it because it had facilities of some sort. So at what point did it become a full size house?
Jim:      In 1999. 1999 Leslie and I remodeled it and actually added the upstairs. We had had a loft for our kids to sleep in and we went back with it because the APA doesn't allow you to go anything but back. So we went back and made it more of a full sized house. I had, as I said, in the '70s, put a bathroom and a kitchen in here but it was just completely a camp, but it had its charm at that time.
Tom:    So when was the first time you actually came to Hulett's Landing? You said you came to Lake George first in the southern end, so you hadn't come to Hulett's yet.
Jim:      I don't think so. We perhaps drove up here to just look at the place, but I don't remember much about it. I was eight years old, and so the first time I really saw Lake George was in 1955 and I was then 15, so it made an impression upon me at that time, and then I came back in '66, '67. My cousin was alive so we would come as a family, and I would come and do things with my cousin at that point.
Tom:    So the mid '60s was when you first came to Hulett's?
Jim:      Yes, it is.
Tom:    What was your first impression of Hulett's?
Jim:      Absolutely wonderful place. I had heard all about all these things but, of course, lots of changes had taken place and there were things here then that aren't here now.
Tom:    Tell us about some of those that you remember when you first got here.
Jim:      Well, the famous thing was the Knight Club as you came down the mountain. Where the Eichler/Kapusinski watershed is there was a wonderful bar that was frequented by lots of people and mainly my cousin.
Tom:    You're not talking about what we now know as The Casino?
Jim:      No, there were two night establishments at that time. This was more of a bar, but it was decent and they didn't serve food, I don't think, and it burnt down in the early '60's or late '50's, it burnt to the ground. It was the Knight Club. Actually, I guess it was perhaps owned by one of the Knight family. That's just coming to me.
Tom:    Yes, it was. Someone else told me that on another interview.
Jim:      It just occurred to me.
Tom:    That was over by where the firehouse is, was it not?
Jim:      Right across from Gail Smith's house and Jean Cooper, the Cooper house, by the firehouse, and even though it was by the firehouse it burnt to the ground as did the Borden residence.
Tom:    So much for the fire department.
Jim:      The fire department's fine but they need to be summoned properly. We won't go into that. At that time The Casino, to answer your question, was definitely strong, it was really quite delightful. It was much newer, of course, than it was now. George Eichler presided every night in it, jacket and tie at the door, and they served food and every night as Neil has tried to reinvent this year, but I think without success. Every night something happened there. It was open seven nights a week and it was much more than a bar. They did serve decent food and [held]lots of parties there. They always had Bingo night, they always had movie night, they always had kids' night. They had a talent show one night a week and that was really fun. There was a band with dance music on Saturday nights and people went to it. I mean it was a decent band.
Tom:    When did that sort of change? What brought that to an end?
Jim:      I think probably when George Eichler passed away, Margot didn't care to keep it going, I'm guessing. I forget exactly when that happened, but it became a bar and Albert has been told, I'm sure. Albert Kapusinski ran it for years until John Paul took it over, and various people tried to serve food and do things but it hasn't worked out really well. Certainly, recently Neil Van Dorsten cleaned it up, scrubbed it down, put toilets in that flush (laughs). The ladies can go to the ladies' room without fear and trepidation, so it lives on.
Tom:    Why do you think it's had trouble regaining its sort of pristine reputation that it had in the past?
Jim:      I think it has the same trouble that a number of local institutions have. I think most people wouldn't like me saying it, but the church has dwindled a great deal, that being the Mountain Grove Memorial Church, although it's strong in many in ways. Most young people and families even in my generation and down don't go to church for whatever their reasons are. Their kids certainly don't and I notice, even the kids of some of the strong church goers and supporters don't go either, so I think that's happened. The Historic Society has come up and then the extremely strong fire company, I noticed the other night, is extremely, extremely strong as an institution.
Tom:    Why isn't the Casino able to parlay that into something?
Jim:      I think families, I'm drifting but I had a theme. I think families have drifted away from some of the central things that they did for years. Now, I don't think that's true at the Landing in what's either called Eichlerville or I jokingly named it Downtown Hulett's, seems to be hatching. Those folks seem to have their institutional events and I think it's absolutely great, they stick together. The scene at Bluff Head and Land's End has changed tremendously and then all along the way. For instance, in the '50s and '60s and '70's people got together almost every night for, not necessarily a cocktail party, although there were many of them, people just got together and had drinks together and did things, and now people tend to just sort of do things with their own families. The families are spread geographically all over the country and maybe only come, so it's quality family time and we don't spend as much time with each other as we used to. We used to do social things.
Tom:    There was more camaraderie in older times?
Jim:      There was a huge amount of camaraderie. Even if you just got together for a drink and a can of peanuts, people did it almost every night. They really did. And then there were, of course, huge parties, and it just went from one house to the next and from informal to the long dress stage. In the '60's there were a lot of cocktail parties with long dresses and dinner parties.
Tom:    It was more formal then.
Jim:      It was more formal, and it was sort of fun. And then it got very informal, which is also fine. Some of us tried to maintain it by having picnics, Fourth of July, Labor Day, so forth, but that sort of has dwindled too, at least on Land's End.
Tom:    How about…, do you have any recollections of the Hotel or was that before you arrived?
Jim:      I have none at all, so I enjoy seeing the pictures and hearing about it. I do know that my family went and did go there sometimes and enjoyed it, but my family was very outdoorsy and most of the tales about Lake George that I heard about did take place in this bay and with the families down here or the Goldschmidts, the Jelliffe/Goldschmidt families. A lot of outdoor activity.
Tom:    Tell us about that.
Jim:      Yeah, they did things on the water, they had all these swimming meets and canoe races and all these things. The kids did every day, they were very active. They either read books together, and my grandmother read stories to the family every afternoon; they had plays and ran the boathouse, which Maggie Putnam attempted to revisit in the 1950's and '60s a little bit, but they had plays every week and did a lot of drama, but that was obviously pretty much pre-radio. It was absolutely no TV. Pre-TV.
Tom:    Radio came in a while back.
Jim:      Well, they didn't listen to it up here. And pre all this electronic stuff that kids have today, so they busied themselves by keeping busy doing very creative things. Climbing – I'm sure once a week my family went up one mountain or another, and to this day, if it's a beautiful clear, sunny day, it has become a Black Mountain Day whether we climb Black Mountain that day or not, but my grandfather always called them Black Mountain days, and people did a lot of boating and outdoor things. As a teenager we had boats. Let's see. I had a boat, so I brought a boat up here, and we did lots of waterskiing with the Galbraith boys, and we were just kids then. Actually we'd waterski all day long and as you know in your bay Tom, zoom zoom zoom. Those were the days. A lot of sailing when able, and so forth.
Tom:    How about camping, did you do any of that?
Jim:      We did some family camping. I had done a tremendous amount of camping because during my college years I was able to acquire a job at Adirondack Camp for boys at Glenburnie and that was fantastic. I became a trip counselor for teenage kids and it was wonderful. I spent four years working for Colonel William Warrick.
Tom:    Tell us a little bit about that camp. Is that still running?
Jim:      It is still running; it is now co-ed and they have flush toilets and things they didn't have in those days, but it was run by Colonel William Warrick, and he was just an absolutely neat guy who did all the working with the kids, and his wife, Jane, ran all the business end of it.
Tom:    They owned it?
Jim:      They owned it. It's an entire peninsula plus probably a mile at that point. It's been sold now but it was about a mile of lakefront coming south, and it was just a wonderful place, and kids came mainly from New York and Connecticut, and they were well-to-do families and the kids would come and stay eight weeks, and it wasn't a one or two week thing, it was an eight week camp and it was extremely well run. There were junior, intermediate and senior camps, and then I had something called the Adirondack Rangers, who were teenagers from 13 to 16 year olds, and my function was to take the kids on trips, camping trips every single week, Monday through Friday, and return on the weekends. So we did hiking, paddling, everything.
Tom:    And where would you go?
Jim:      We would go, short term, well, the first trip was on Lake George and that was a canoe trip, and then we would have a Black Mountain climbing trip; well, we would spend the night on Black, we would carry our packs. Then it evolved to bigger things like working our way up to Mount Marcy and doing the Fulton Chain, Raquette River and so forth with canoes and packs and portaging and all that kind of thing.
Tom:    This must have been quite an expedition.
Jim:      It really was. I had done it with the Boy Scouts a few times, so it wasn't completely new to me, and I was fortunate enough to have been in a very active Boy Scout troop with outstanding leaders, and it was totally focused on the outdoors; it wasn't a church basement troop it was an outdoor troop. So I easily got the job at Adirondack Camp and that was a wonderful experience, and that enabled me to be at Lake George every summer for four years.
Tom:    What's happened to the Adirondack Camp at this point?
Jim:      Well, it is very strong and still in operation. It's a marvelous thing. It is now co-ed.
Tom:    When did it go co-ed?
Jim:      It went co-ed I think perhaps in the '80s. Colonel Warrick unfortunately passed away, and his wife and his two kids decided not to keep it as an operation, and one of the kids who had gone to camp during my era, Alex Goodwin, bought the camp and kept it going and decided to turn it into a co-ed camp. Well, the reason there being Lake George Camp for Girls, which was also Camp Sagamore, did go out of business so there was no camp for girls, so he took both venues and combined them in one in Adirondack Camp, so I think that's how that sort of came about.
Tom:    And is that the last camp on the lake now?
Jim:      No, Camp Chingachgook is very alive and well.
Tom:    Where is that?
Jim:      That's at Pilot Knob; that's a Y Camp and it serves a huge geographic population and it's very active. The other camps, those being Arcady and another one in the southern end of the lake, the name of which I don't remember, are out of business. So there are really only two camps at this point.
Tom:    And there were only four to begin with?
Jim:      There were one, two, three, five to begin with.
Tom:    So there's one at the north and one at the south and they're still thriving?
Jim:      They're thriving. They serve very different populations. The Y Camp is really a one or two week thing and it's open to everybody. I think Adirondack Camp probably serves the more well-to-do population from Manhattan and derives its population from private schools.
Tom:    And they sold off part of their land up there?
Jim:      They sold off most of the land on both sides of the camp to a private individual who has now built a huge cabin there but has maintained the rest of the property. It has maintained its integrity, at least other than this huge cabin, for about another mile of lakefront not being developed.
Tom:    When was that originally established, do you know?
Jim:      That was not so long ago.
Tom:    No, I mean the camp originally.
Jim:      Oh, the camp, early 1900s, I think. It had been around for a long time before Colonel Warrick; it had been a camp before that, although I think that was his basic career.
Tom:    There used to be a camp at Gull Bay too.
Jim:      That is Lake George Camp for Girls, or was, Camp Sagamore. That's what I mentioned. It's now Sagamore Association and the Royal Anchorage Association.
Tom:    And all the houses.
Jim:      And it's all houses, but it was in that bay there, which is now part of that group.
Tom:    So, getting back to Hulett's, what would you say, or would you say that there has been a lot of physical changes around Hulett's or is it essentially the same as when you first arrived?
Jim:      Much of it is very much the same. Certainly, other than a few very large structures that have come, many of the houses are the same. Many houses in Downtown Hulett's are the same although one by one they're being replaced by more permanent structures, which in many cases is fine and what can I say, I did the same thing. We kept some of the same architectural integrity; that which is on the water here in this boathouse is the same, but changes, changes have occurred. There are many of the same properties.
Tom:    What would you say, what makes Hulett's so unique, would you think?
Jim:      I do think. And I have great fun telling people about it since I'm a realtor and a rental agent. The first thing I talk to people about is do they know about Hulett's and what they're inquiring about, in terms of renting or buying, do they really know where they're coming. So I tell them with great pride, I think it's a family place and I think it has maintained a very familiar, very safe, largely original kind of place with a great history and that people gravitate toward it. There are many that don't like it, I mean I've had people come to rent houses that were, cause there's no nothing, horrified. I had a person two summers ago walk away from a forty-five hundred dollar rental because he didn't like it; he just blew up and walked away. And left the money. It wasn't what he wanted or expected.
Tom:    He wanted Miami Beach.
Jim:      He did. I had very carefully described it because I sensed over the phone and by e-mails what it was they wanted, and I tried to articulate that, but they ended up renting anyway. They got what they bargained for.
Tom:    Well, I think that is important that Hulett's does not get too commercial in any way shape or form, to keep it the way it is.
Jim:      We don't need anything else.
Tom:    And I dread the day when the guy from the New York Times shows up and starts writing an article about it
Jim:      Exactly. It could easily happen. Well, it is just for certain kinds of people, but it could easily be developed, and I don't like to see some of the larger structures appear and then disappear because we don't need that. I mean it's really unnecessary. It's nice to have a winterized house, I can say because we love coming in the winter; it's dead quiet. It's absolutely beautiful. You know from some of your neighbors that the ice freezes and people come and do different kinds of activities and have an absolutely wonderful time, and sometimes it becomes a survival task, as was the case last winter with the very cold temperatures. It's great, and lots of people are coming every weekend to enjoy their houses. Some upgrading of original properties is fine, but there's no way to stop the real changes that take place. The governing bodies, I think, attempt to, but they seem to lose some control as these processes take place.
Tom:    So do you think there's any need or anything that should be done to improve Hulett's or is it just fine the way it is? Is there anything it's lacking in your estimation?
Jim:      I don't think it's lacking anything. I think it would be fine with me if the Casino were a little stronger. I think that the current operator, Neil Van Dorsten, has really tried to bring good food and some fun things. I can only assume that it's not completely successful because they're serving food now only four nights a week instead of seven and they're also serving it the same nights as some of the better restaurants in Whitehall are, so that's too bad.
Tom:    Maybe he needs to wear a jacket and tie at the door.
Jim:      Well, maybe that would do it. There was a lot of dignity, and then I should add that Alex, as I'm sure people have told you, Alex was.
Tom:    Who's Alex?
Jim:      Alex, I can't think of his last name, he ran for the town council. Next to the post office. Well, he was, George was usually there overseeing things, but Alex was not the bartender but he ran the dining room, and he was not exactly the bouncer but he made sure that people were behaving. He was young and behaving and so forth and if there was anything undignified he invited the people to leave. George didn't. But everybody went there in the old day. I can remember Franny and Rudy Borden going over there every night and dancing. We all did. Everybody did. It was just fun. It didn't matter what age you were.
Tom:    Did they catch it on video?
Jim:      Did we have video? No. Did I have movie camera? Yes, I should have taken some movies, I didn't. I think all we took movies of was waterskiing. Lots of people went, and I think, another thing that happened as the houses and downtown Hulett's developed and became more than camps and more sophisticated, people began to cook at home more, whereas originally people just gravitated to the Casino at 5:30 or 6 o'clock at night and had drinks and many of them, they ate dinner there because it was reasonable and it was good enough, and people didn't want to go over the mountain and go anywhere, and there really wasn't anywhere on lake to go.
Tom:    People were less mobile then.
Jim:      They were much less mobile. It was only years, well, the Indian Kettles was always there but you had to be sort of brave to go up that way and we were very brave.
Tom:    Well, we miss Indian Kettles. I wish it was still there.
Jim:      We miss it tremendously. I passed the other way.
Tom:    Any word on it being revived?
Jim:      It just doesn't, it can't produce enough income to pay the bills and that's the trouble with some of these small places, I think, our marina is absolutely lovely. They've done a wonderful job fixing that up, but there's a limit to what these places can make in a season. Indian Kettles, even though it had booked a number of weddings and so forth, was really struggling to survive, beyond the terrible, unfortunate death of the owner. It was marginally making it. But it's too bad because if you want to go out to dinner in the boat, unless you go to Martucci's, which is okay, across the lake, you have to really go way down south and that's a jaunt. With gas prices the way they are it's expensive.
Tom:    Well, thank you so much for your input on what Hulett's is and the perspective of the surrounding area. I didn't get that from other people so that'll add something new to our archives.
Jim:      Oh, good.
Tom:    Cause it's always interesting to hear about what's going on in other places on the lake, especially the camps, because they must have a really interesting history and the fact that they're a dying breed.
Jim:      They do, they are, and many people from the camps buy places here. One of the kids I had in my cabin bought a house at Glenburnie. He's there. A number of people have stayed around the Lake George area, so they do serve a purpose; they give kids a wonderful exposure.
Tom:    I wish I could have been here as a kid.
Jim:      When did you come?
Tom:    I didn't come till I was 22 or 23. But anyway, thank you so much.
Jim:      Thank you for talking with me.
Transcribed by: Robert Stragnell
Edited by: Arnie Galbraith and Marian Knight
Friends of Historic Huletts Landing
A Project of the
Friends of Historic Huletts Landing
O. Box 82
Huletts Landing New York 12841