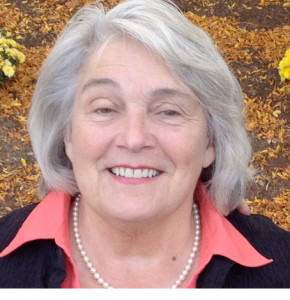 Ginny Lyons
Interviewed by Tom Keating
Lyons' Home, Kitchell Bay, Huletts Landing, NY
August 13, 2013
Tom Keating: Okay, this is Tom Keating and it's August 14th, 2013 and I am at the home of Ginny Lyons, which is on Kitchell Bay, right?
Ginny: Right.
Tom: If you don't remember your bays, the way I don't remember my bays, that's the bay by Nobles Island. So we're going to talk to Ginny about her history in Huletts Landing and fight out what we can learn about her and Huletts Landing. Welcome.
Ginny: Thank you.
Tom: So, tell me, my first question is always, how did you come to Huletts Landing, what do you remember about that?
Ginny: Oh terrific. Well I'd always heard stories about it because my mother came here when she was young, and she was a relative of the Knight family. Her, my great-grandfather and her grandfather was the brother of George Knight who, along with Adell Ferguson Knight had purchased or inherited Meadow Point. So we heard all about Lake George from my mother and we knew Aunt Adell and Uncle George for many years in New York City. I forget whether it was New York City or, I think it was New York City where he had his dentists' office. So finally in the mid, I didn't come up here until the mid 1950s, so I was probably about 8 or 9 years old. So my parents and my brother and I stayed at the guest house over on Meadow Point and Indian Bay. The guest house is the little yellow house that's up on route 6 on the east side of the road. It's one of the only little houses up on the east side of the road. It's next to the farmhouse. So that's where we rented for two weeks the first time we came up and actually the first time I ever saw Lake George was on our way down to stay at the guest house. We stayed at Gull Bay. Uh oh, I'm having a brain cramp.
Tom: These things happen (laughs).
Ginny: Blythewood. Blythewood was a big old hotel up on Gull Bay. So we stayed there for a couple of nights and we enjoyed it and we went sailing and we went boating and then we came down here and we spent two weeks on Lake George and my mother and father who had spent their honeymoon here in 1935, they were thrilled to be back. I absolutely loved it. I'd walk everyday over to Apollo's rock.
Tom: What's that, I've never heard of that name?
Ginny: That's, well, our family, the family, the Knight family's lands extended from Jelliffe Bay, where the Goldsmiths currently are, all the way to the hotel property, so Adell Ferguson Knight and George Knight owned three miles of lakeshore. They had the home is Craig Derrick and that's still there and associated with Craig Derrick was a little cove called Diana's Basin, where all the women would go swimming every morning.
Tom: Was it just for women, no men allowed?
Ginny: That was Diana's basin, right? And then a little walk away was Apollos rock and that's where all the men went. So eventually Apollos rock had a diving board, it's a beautiful place to swim, we still go over there and swim, it's still a family swimming place. We spent a lot of time in Indian Bay where Gordon Knight's house is and when we rented at the guest house and we rented at the guest for, I don't know, three or four years and then my parents bought the old boat house thats in Indian Bay, it was at the head of Indian Bay, just across from Rock Dunder, right next to the Pines, which was Gordon Knight's house. That was a beautiful boat house. It had a gorgeous marine mahogany interior downstairs where my bedroom was and I slept right looking out on the lake.
Tom: So you must have been right next to it.
Ginny: We were right next to it, right on the lake, in fact my sister owns that property now so its still a family. I still own the guest house, I own the guest house and my sister owns the farmhouse and I have a brother who owns another house there and then, so that little compound is still our family compound.
Tom: Who is your sister?
Ginny: Susanne Stratton is one sister in the farmhouse.
Tom: I think I remember hearing that somewhere but you're refreshing my memory.
Ginny: So she, they, my sisters never came to the lake until, I don't know, the 1960s after my parents had bought the boathouse, and then they would come up and spend a week in the summer. I got to spend the whole summer, so I really had the opportunity to, you know, do everything possible.
Tom: So how come you were the privileged one?
Ginny: I was the youngest one. I was so young, I was like 10 or 11 and then I was in high school so I just came up and I was here.
Tom: So did you have a lot of playmates around the neighborhood?
Ginny: Interestingly enough, at that point, at that time, Indian Bay had been developed, Proctor had sold a number of the lots in Indian Bay and the whole piece of land going from Indian Bay up to Jelliffes was Goldsmiths was completely undeveloped, and when Aunt Adell died she left lots to each of the grandchildren. So there used to be a deer path that went all along the shoreline from Indian Bay all the way up to Meadow Point and beyond, and I used to run on that deer path at morning noon and night, could be pitch black and I knew my way across the deer path, but there were not a lot of kids around to play with. There were babysitters in Indian Bay, so some of the folks with younger children would hire babysitters from the Albany area or other places and so they became friends and we'd do things at night. For example, we used to go skinny dipping over on Florry's point.
Tom: You have all these points for specific kinds of swimming.
Ginny: Yes we did, everything was very specific and it was really neat because there was not a lot of boats. The lake was completely empty. When I first came up here we had a kayak, which is right there on my ceiling right now. My grandfather had that built in the early, about 1907. It's a sea sailing kayak, but then, and we had a canoe and so my parents and my brother and I would get in the canoe and the kayak and we'd paddle down to Black Mountain Point.
Tom: Really you'd go that far?
Ginny: Yeah. I remember specifically one time we paddled down this way and we paddled to, in front of the boathouses, around Galbraith's point, the boathouses now owned by the Shannons and at that time it was owned by Dr. Putnam from I think he taught music at Smith College but we could hear him play the piano.
Tom: Oh that must have been nice.
Ginny: It was nice, and the other thing was under the bridges we would always find money because people would walk across the bridges to the little islands and they'd throw money and my father would dive down. My husband and I did that when we first came back, when we, I don't know when it was. We were sailing in our sailing canoe and, or we were in our canoe and he jumped in and found some money under the bridge. So the summers were really kind of fun because it was truly, it was more of a wilderness experience. You know, so if you hiked up Black Mountain you were hiking up a trail that was not well hiked by a lot of people, it was David and Marian might go up. My parents would go up but it was like, it wasn't the trail that it is today. It was pretty empty.
Tom: And did you do any camping in the woods or on the islands at that time.
Ginny: You know, not really. I shouldn't say that, my friends and I would always go out and find an island and camp. Every summer we'd do it a couple or 3 or 4 nights. There were no, you didn't have to register. We would just go out, find a campsite, we'd go to Vicars or we'd go, mostly Vicars. Agnes Island was a good one with a jumping rock. We'd just find a spot and set up camp and we'd stay a night or two and then come back. If we slept on Rock Dunder my mother would paddle over hot chocolate in the morning (laughs). It was great.
Tom: So you did that without your parents?
Ginny: Of course. We were teenagers. Then, when I was in high school we did a canoe trip, my friends and I, 4 of us did the Fulton Lake chain. We took everything that we needed and went over to Forked Lake, it started at Old Forge and paddled up the chain to, over the Browns Trace carry and Raquette Lake and then the carry over to Forked Lake. I forgot how long we spent, it was a little over a week. We took our time.
Tom: So you were pretty adventurous.
Ginny: Oh yeah, we had fun, but I got stuck carrying the canoe over the Browns Trace, which is like two miles long. It was a big portage. That was fun, and then, so I really literally grew up, my summers, on Lake George with swimming, and canoeing and kayaking, sailing. My dad got a boat about 1960 and he got a little flight fish.
Tom: And you learned to sail yourself?
Ginny: Oh yes, we taught ourselves to sail. And then, at that point, sort of the, in the early 60s the grandchildren on Meadow Point, Cappy Dillingham and Donald Knight and Ty Knight were all, all built their houses, where they currently have their homes. So, you know, it changed, it was a different flavor. We had more people around, we started, my parents always had bridge parties and we'd go on picnics down to Picnic Island and motorboats started.
Tom: That's what I wondered about. Tell us a little bit about the development, motorboats and what it was like when they weren't around.
Ginny: When they weren't around what was really fun, I particularly remember my seventeenth birthday, which is in September. My parents, myself and one of the babysitters who I had been very close to, we picked her up in Albany and she came up to visit for the weekend and so it was really hot so we played tennis over at the red clay court David Knight owns and then we went swimming and we swam to Rock Dunder and then we swam over to Apollo's Rock and then we swam around all Meadow Point, Coney Island Point and then we swam over to Agnes Island and then we swam back and we ended up sitting on Rock Dunder, which is in the middle of Indian Bay, and so, I don't think we saw a motorboat the whole time. We were sitting up on that rock and I remember a motorboat boat going by with a waterskier and I said wow.
Tom: And that was the first time you'd seen waterskiing?
Ginny: Well, I'd seen waterskiing before but it was the only boat that we saw that whole day. I mean think of that, and we could swim with no boat with us, just two girls swimming all the way to Agnes Island and back and not even thinking one wit about people or boats. The same was true, we'd swim, I was friends with Chris Flory there who's dad had a big motorboat and so we would swim across the lake every year and we'd start in Indian Bay. He'd use his motorboat to go with us, but we never saw any other boats. It was really for safety for us, in case we needed to get out but we'd swim across the lake, go to Deer's Leap, swim back, it was great.
Tom: And what about, I imagine your family eventually got a powerboat of some sort so you would waterski?
Ginny: Yeah my dad got a Thompson lapstrake hull boat, it was very nice, and then we learned, then we got waterskiis and we started waterskiing. Waterskiing wasn't a really big thing, it was more of a once in a while you would do it. GG Knight was a good waterskier and Gordon had a big inboard and that boat became the ski boat, everybody learned to ski behind that, and actually I should tell that story about how I learned to waterski, oh it's so funny. I was a teenager and back in the old days you wore bathing caps and you'd set your hair with curlers and pins. So I had my hair all set, it was later in the day and there was a big north wind out there and Gordon Knight came over and said, "Ginny, you've got to learn how to waterski." I thought, okay, sounds good so I put my bathing cap on right over my curlers and he said, "now you just hold on, you'll get right up." And I did, I got up on the second try.
Tom: Wow that's really good.
Ginny: Yeah, right (laughs). So he headed straight across the lake to Deer's Leap and I'm not kidding, white caps all over the place. I didn't know any better.
Tom: Not the best way to waterski.
Ginny: No, and I took a real fall and the ski came up and took my bathing cap off and I was really worried I was going to lose some of my pins and curlers (laughs). So anyway, we had a good time, it was always family was around, my dad bought the farmhouse and the guesthouse so my sisters could be here more during the summer and they did, they came up and stayed after the mid '60s they stayed pretty much all summer.
Tom: So you have another sister besides Suzanne?
Ginny: I do.
Tom: Who's that?
Ginny: That's Fluffy, Mary Collins. She lives right down on Indian Bay.
Tom: I'm not sure I know her. She's around yes?
Ginny: Oh yes, she was here today. So they brought their kids up and their kids came here and we had a great time. I got stuck babysitting a lot but that was okay, what better place to be you know?
Tom: So at that time Bluff Head turns into a dirt road, were there houses down on that dirt road at that time?
Ginny: Absolutely not, in fact, you know, it used to be a big event for us to take a car ride. So we'd come up here, I never got in a car. I could count the days on one hand, we were just walking and hiking and swimming and playing tennis.
Tom: So did that dirt road exist then?
Ginny: Bluff Head Road existed and the white house was there where the McMasters live. Bunny Wilkening's house was there, it was her father's at that point, Dr. Emerson who was a termite expert. And then Harrison Bird's house at the end, and then the old house where the Adler's currently are, it was a beautiful old house out there, it was the, sort of the White, Jelliffe, house. The Jelliffe's house was there, the Judge's were there, the Ceroskys didn't build their house until the early 70s, I remember when they built their tennis court. All the new houses that are currently there, including where the Browns are, all of those were not there. It was an empty road and people would come over from Whitehall and park their cars and just swim wherever they could. So it just like the little country nothing road. Yeah, so we had a great time. After we got married in '69.
Tom: Just before you got too far into the future let me take you back a minute. Tell me a little bit about night time shenanigans. What would you be doing at night.
Ginny: Oh god, did we have fun! So, you know, interestingly enough, the Casino was not something that I would go to. I might walk down there to see if there was a canoe for sale but I never, didn't really go down to party at the casino, the way a lot of people did, but we had, we would have sing-a-longs at somebody's house every night. So we would have, we'd have ukeleles and guitars, I'd play my ukelele and guitar on the porch and if it wasn't on our porch then Jack Minon or somebody else would have a guitar and we'd go to Gordon Knight's house or Cappy Dillingham's house and we'd have parties and my parents would have big dinner parties, you know, for family and friends and we'd have bridge parties. It was really kind of fun. When it was just the kids doing stuff, me and my friends, we would, we'd go to somebody's house and play cards or we'd go to somebody's point and go skinny dipping as I said before, or we'd go out canoeing at night because there were no boats on the lake. It was nice. You could just go out and paddle wherever you wanted to paddle to.
Tom: And did you ever get into any kind of danger situations where you had to be aware of something or that just never happened?
Ginny: No, I was always pretty good. My brother tipped over at night once and they had to paddle home, it was with a girl (laughs).
Tom: My gosh, I wonder what made them tip over.
Ginny: And it was one of my best friends. No, you know, the only, no real dangerous things, you know, we were very competent swimmers and boaters and we knew the rules and we really obeyed the rules.
Tom: Did you ever swim competitively?
Ginny: I did in college. I was a swimmer in college.
Tom: So you must have learned when you were 2?
Ginny: I learned very young and actually Proctor Knight got me interested in swim racing and the way that happened was we used, the family regattas were held every summer and it wasn't just the family regatta, it was the Indian Bay regatta, and then it became the Meadow Point regatta and we would have swim races, we would have the canoe competitions, sometimes races, sometimes broom races. Did you ever hear of broom races with canoes? Everybody gets a broom and a bucket and you have two people in a canoe.
Tom: Oh I know, it's to sink the other canoe right?
Ginny: And you sink the other canoe and you don't have a paddle, sometimes you had a paddle, sometimes you had a broom. So that's one where you try to sink the other canoe and you'd have five or six canoes trying to sink each other and it was total, total chaos and then we had the broom races and then we had the skull races where you stand up on the gunnels of the canoe and you ooch it along. That was fun.
Tom: Boy, you did all these cool things that I used to do.
Ginny: Oh I love doing it, it was so fun. And then Proctor organized, he had medals for the winners for the swim races and so when I was 12, he said, "now you've gotta enter the regatta, you've gotta enter the competition." So he had us over Apollo's Rock practicing every day. Doing the crawl. And he was giving us instructions about how to swim faster and better. So it came time for the race, well, who was I racing against? I was racing against all the boys, and they were all two or three years older than me.
Tom: They didn't divide the genders at that time?
Ginny: They only had 4 or 5 kids. And so I won. The boys were not happy. I won't name them because they're still around.
Tom: Alright, so we're talking about the regatta. So I wanted to ask, was sailboat racing a part of the regatta.
Ginny: No, there were, I mean my dad bought a sailboat and it was the only sailboat within anywhere. The only other sailboat that we knew about was up at Blythewood in Gull Bay. I'm sure there were some at Hague at that point but there were no sailboats and then Art Tuttle who lived in Indian Bay bought a sailboat and, it was a beautiful boat and he and my dad, we'd go out and have little races. His, Art Tuttle's boat was the Raven and that was just sleek and huge, compared to my father's smaller 16 foot day sailer, but it was fun. Actually, after we got our sailboat then sailboats started to appear. The lake was really more canoes and that's about it. The one, the other boat that was here in the fifties was the Celeste, Manzel Celeste that uncle George Knight built and it was an electric boat and it was here when we were first here and my mother and my father and I took a ride in it.
Tom: You mean it ran on batteries?
Ginny: Yeah it was a battery. It was beautiful.
Tom: How far would it go?
Ginny: I can't remember, I think we went down to High Rocks and back one night for a trip. I think that might have been the last summer it was here at the lake and David has it and I think he's repairing it. I'm going to ask him about that.
Tom: I assume it was a wooden boat.
Ginny: Beautiful wooden boat, really gorgeous, so there was not a lot of sailing, eventually there was, but the other race that we had as part of the regatta was something known as the bang and go back. Are you familiar with that? Well the bang and go back race was fun! So you would take your motorboat, any size motorboat, Gordon Knight's inboard motorboat that went 60 and my dad's little Thompson that went 30, you know, and Bruce Dillingham's fishing boat that went 10 and you'd get all these boats from Indian Bay and Meadow Point would line up in Indian Bay and then Proctor Knight would stand there with his bullhorn, it was actually just a speaker, what do you call those, a megaphone, and so he'd just say go. Across the lake there would be probably, usually Gordon Knight or someone would sacrifice themselves and not be in the race, and be standing on a boat, so when Proctor said go, you had to open your throttle full out, the rule was, you had to go as fast as you could across the lake, and then when the flag was raised on the other side of the lake, you had to keep your eyes open, you'd see the flag going back and forth, you had to turn around and go back as fast as you could, and the first boat back between Rock Dunder and Flories Point would win. So it was a race of going as fast as you could and to see, you know, there was some way you could win. Well I found out that my father's boat went 1 mph faster if somebody got in the back of the boat. There were no rules about that, redistributing the load, so we were, there were three of us in the boat, my brother and one of the babysitter guys and me, and I drove and so we got across the lake and I said, get in the back. And Dennis got in the back and we got across the line first and we won the trophy, but Proctor Knight said, "weren't all three of you in the front seat when you left?" I said, "yeah I think we were." Anyway, I guess it was fair, I don't know, I never told anybody. There was no investigation, that was fun. That was a dangerous race and we stopped it probably, the last one we did, gee, maybe '71, 70 somewhere back in then. Because there were too many boats, you can imagine trying to do a race of boats straight across the lake today at 10 o'clock in the morning. It wouldn't be good.
Tom: So tell me what you recall about the hotel.
Ginny: Wow. I remember going down there and seeing it for the first time when we first got here.
Tom: Was that sort of like another world from where you were?
Ginny: Interestingly enough, wherever you are in Lake George, it's another world. We were very separate from the hotel, but we knew a lot of people down at Huletts because Delphine Knight, Ty's wife, grew up down there, so my mother knew that area a little bit. My parents had gone to dances there on their honeymoon so we would go down and go down to the hotel and we would always go down and buy our meat and baked goods at the bakery and then at the little general store that was at the hotel and then there was always Scott's store, down across the bridge, next to the bridge on Lands End.
Tom: So there were two general stores at the same time in business?
Ginny: Yes, it wasn't really two general stores, it was sort of, the one I'm trying to remember, the one at the hotel was more a butcher shop and bakery. It was really good stuff. So we could get that stuff there. Scott's eventually started to stock, they had soups and canned goods and dried goods and then they started to stock, they'd bring meat over, we could ask them, they would bring it over from Whitehall. The road between Huletts and route 22 was not a good road, in that, it was refurbished I think in the 60s. I think that's when it was redone, but it was not a good road, if you look today you can see where there'd been cuts through the rock. It used to go up over everything and it wound around everything, it was like the old road route 22, that wasn't a good road either, but anyway, so the hotel was sort of the, it wasn't something that we frequented and as I said before, the casino wasn't a place that we frequented. But we'd go down there once in a while, as I got a little bit older. I'd go down there with friends but I just wasn't interested.
Tom: The Casino was part of the hotel was it not?
Ginny: Yes.
Tom: And then there was the big fire, do you remember anything about that?
Ginny: I do, my sister came up here in '57 for her honeymoon and then the next year it burned down, but it was, I think it was a structured burn because they were gonna tear it down anyway, that's what I understand. I do remember it was a beautiful big old building and the drive up to the front was very pretty and that's all I remember about the hotel.
Tom: At what point in time did all this sort of idyllic paradise that you describe in your earlier years begin to change in a more dramatic way, or was it just so gradual you didn't notice it?
Ginny: No, I noticed it. The thing that I noticed, remember, so I spent the first, my first 25 years at Indian Bay and then when we bought this place, we've been here for 34 years, the change happened when houses started to go up on Meadow Point. And there were more and more people and more and more renters, and more and more boats. And the thing that I noticed the most was probably in the mid to late 70s, all the slime that came on the rocks. Never saw that before. The rocks were absolutely bare. I mean you could walk on anything single surface in the lake and not slip. You could just climb right out with your bare feet and not a bit. The change in the environmental quality was pretty dramatic for me, and you could see it happening and it was very sad to see that. It's hard to tell people they can't enjoy the lake.
Tom: Basically it was an increase in population around Huletts right?
Ginny: An increase in population and an increase in motorboat activity, and then in the 70's when the Lake George Park Commission started, we thought that was really going to solve some of the problems but the legislature did not really fund that appropriately. Right now the Park Commission is funded on the number of docks it permits and the number of tickets it gives out, now that's counterintuitive. You would want it to be funded to give out fewer tickets, and you want the legislature to appropriate something for them but they don't do that. Back, before the Park Commission, there was a DEC ranger that lived on Narrow Island and if there was a big thunderstorm coming he would ride up, he had a little whaler type boat the way they do today, a little more primitive. They'd put one red flag, or two red flags and they'd ride the boat right up past Indian Bay and you could see, oh my mother would say, "Oh there's a big storm coming, we've got to get the sailboat back in." It was kind of, we didn't have weather radios. Certainly there was, your telephone was determined by the number of rings. So our rings were, what was our ring. So you didn't get news the same way that we get news today.
Tom: How many digits did you have in the phone number when it first came.
Ginny: I think it was a 499. It was still a 499, I can't remember.
Tom: But it was 7 digits long?
Ginny: Yeah, I think it was 7 digits, but we each had a different ring. It was a party line and sometimes, you know, parties would talk a little bit too long. It would be a problem. In 1978 or 9, Dave Cooper, and my dad were very good friends, they were fishing buddies. Dave Cooper took down the boathouse that my parents lived in and built a new house so the new house that's in Indian Bay, sort of grey/green, where my sister lives, that was built in '78, '79. It was built about the same time that we bought this place.
Tom: Okay, so tell me about coming to this place, since this is sort of like the other end of town.
Ginny: It is the other end of town!
Tom: Did you notice a distinct difference or what?
Ginny: No, not really. The thing is that my husband and are very good tennis players and so we would have little tennis tournaments up, well when I was growing up we started a little tennis tournament for Meadow Point and then we invited the Goldsmiths to play tennis and we had a, we'd have tennis day. So we got to know the Goldsmiths and we got to know people on Bluff Head Road and my mother knew Harrison Bird from years before so we had a relationship going north. My mother's uncle, my great uncle, was very good friends with Day McBane who lived in this bay, who was a painter, and my uncle was a painter. So we knew Day down here, so it wasn't totally foreign. We rode our motorboat down here once in a while. But I was not familiar with this area at all or some of the people. We knew, we used to get gas at Sider's little marina there. Dick and I moved to Burlington in 1971, trying to remember, anyway, and we were still at the guesthouse and so I was playing tennis tournaments. One of my tennis team members was talking with me one day and she said, "you know, I have a friend who has a place on Lake George and they're looking to sell it." And I said, "oh we might be interested in that, we'd like to have a place of our own." She said, "oh well you've probably never heard of this place, it's called Huletts Landing." I said, "ooo yeah, I've heard of this place." So that's how we found out that this house was for sale. Bill Beech was selling it. So I called him up and we came down and we looked at it during the summer of '79 and we bought it in 1980.
Tom: So was it an instant decision to buy it?
Ginny: Pretty much. Once you walk on that front porch you can't change your mind. Nothing changes your mind. You know, it was not an easy decision because as you well know, you have, when you have a family compound it was very difficult to decide that we were gonna move to down the lake because down the lake could be one mile away, may as well be 20 miles away. You know what it's like, and at the same time we were looking at this place Gordon Knight was selling a lot next to my parents and we made an offer on that which we thought was a very reasonable offer and he wanted to sell half the lot for the offer that we made and we made out much better just by buying this. So that was too bad, I mean in some ways I really wish that we could have remained in Indian Bay but I wouldn't trade our experience down here for anything.
Tom: So tell me a little bit about this house. What do you know about the history of it?
Ginny: Can I tell you one more thing before we move down here? When I was up at the guesthouse, Dick and I used to hike all over everything. Spruce Mountain. We knew every little inch of Blueberry and Spruce and Hogback and we just would take off and hike everywhere and we found the old cable up to the old World War II light. Did you know about that? On the top of Spruce Mountain there's still remnants.
Tom: Light? What do you mean light?
Ginny: Spotlight. For planes. Because remember planes. No, just so they know not to bump in the mountain. Planes didn't fly as high back in those old days. So that spotlight was up there and there was a cable that went up to it and so we found the cable and then we found an easy trail to go up Spruce off of the old military road. I went with my cousins and I took a whole passel of kids, my daughter, my sister's kids and all the family kids and we marked the trail up to Spruce. That was the first time there was ever a trail up there so what I would do was I would leave one kid, I'd walk up the trail that I knew and then I'd tell the kids you know, okay you stay here, and I'd take the next kid up to the next place and we'd go up, 10 kids, and then Bruce and Cappy Dillingham would mark the trail and clear the way a little bit and thats how that trail got made.
Tom: Is that trail still in existence?
Ginny: It is, but the people who have bought the land up there don't want people going up it. It's a shame.
Tom: That's not state land.
Ginny: This side of Spruce has been donated by Ely Goldsmith so its state land. The other side used to be hunting club land it used to be just the people who owned it didn't care. Today they do care about someone walking on their property. It's too bad, and frankly I think they might be wrong because the right of way to that light I think is a, it might be a federal right of way. I'd like to research that. But anyway, so we did that trail. When we moved down here Lori Hanson had made the trail up Elephant and then across to Black and so I used to take, I took my nieces and nephews up that trail. I showed David and Marion that trail and other folks that I've taken all the people down here, and showed them the Spruce trail and then I took them up the Elephant to Black trail and now I guess the Cordiers have marked it a little bit better. You have marked it better (laughs). That's a great trail.
Tom: But the connecting trail is obliterated now. We lost it the last time we were marking it and we never went back to finish it
Ginny: You know, because of the blowdown, that blowdown was awful.
Tom: When it blows down it just gets obliterated and you can't find it.
Ginny: I think you could do it better by when you get up on the snowmobile trail to Black if you go back this way.
Tom: I had a plan to come from both ends.
Ginny: That's exactly what you should do. We went up there one October, you know, Columbus Day and hacked it away a little bit and remarked it and then the Cordiers the next year they started to make it better, or you did.
Tom: It was me and Lydia did it. So tell me about this house.
Ginny: So this house was built in 1880, the first wing that we're in and then the second wing was built in 1881. Then gradually the cookhouse and the maids quarters were attached. This house was built by Elijah Howe Howland who was a superintendent of schools from Rochester, NY and then he sold it in 1905 to Andrew Peters and his family. And then Lillian Peters was the last of that family and she owned it right up until, she left it to Bill Beech in 1976. And then he sold it to us. So there haven't been many owners.
Tom: Do you know the plot of land was bigger than it is now?
Ginny: Bill Beech subdivided. Lillian Peters sold Joan and Charlie Reach a quarter of an acre and then Bill kept a lot for his house and he kept the boathouse and so it's smaller, but its still, it's pretty, it's the right size. It's a little over 2 acres.
Tom: That's fine.
Ginny: Yeah no that's fine. Not gonna worry about it. But this has been a great location for us and one of the reasons is that as our kids have grown up they've met a lot of friends. So they met the Starrs, we met the Starrs and the Bradys and the Aloysis and we became very good friends with them as a result so we spent a lot of time swimming and camping and hiking and doing things with them. We would go up to Indian Bay almost every day when the kids were little. So I'd be with my family. It was a difficult thing not to be, to be pulled away.
Tom: You felt separated?
Ginny: I did. It took about 10 years to feel that we actually belonged here. So having family was really important. Yeah, because it's a new location, it took time to get to know people and gradually we're very comfortable here.
Tom: Did you find a lot of memorabilia from old times in the house?
Ginny: Yeah, I mean, some of it. A lot of the furniture is here but there weren't a lot of photos. We do have some photos of the old golf course that was here that was across the street in the woods. The tees are still up in the woods across the street from our house.
Tom: Really?
Ginny: You can see them. They've got trees in them but the tees are there and the picture of the green thats over next to the Hansens house is, we have a picture of that with women in bustles and men in their old wool coats. I have pictures of this house. The dining room and the living room and you can see the same furniture in both rooms. Some of the same furniture. Bill really, he took all of the pictures and the photos. He left just a couple for us, the ones I'm talking about. So yeah, so when we were here, it was a different part of the lake so opportunities to do different things. I had already hiked half of the Tongue Mountain range from Clay Meadow with my cousins from Meadow Point. Cappy Dillingham and David and Marian and some of the kids did that hike. As my kids got older we decided it would be fun with some of their friends and some of the adults to do the whole Tongue Mountain Range. We did that. We backpacked it. It took us two days. There's no water on top of that mountain. So if you ever hike that mountain.
Tom: I did. I backpacked it.
Ginny: It's so dry. You can do it in one day. It's beautiful when you have a bunch of kids.
Tom: That's a bit more of a challenge.
Ginny: We did that and the first time I hiked it with Cappy in 1972 or '3 she was ready to step on a rattlesnake. I saved her from doing that. It was, I don't know if you've seen snakes over there. We went off the trail, never supposed to do that but it was a good view and good pictures. Couldn't resist and there was a snake coiled up under a bush and her foot was within three feet of it. She was stepping. So I just pulled her back. She knew what I was talking about when I said Cappy, stop, wait. I pulled her back.
Tom: Very good to be alert when you're hiking.
Ginny: Yes. So we've seen a lot of rattlesnakes around here, I'm sure you have.
Tom: Not on this side, I've seen one on the other side. You've seen them here?
Ginny: Oh yeah.
Tom: I'm going to be afraid to go out now!
Ginny: Oh come on. There was a snake one year when our kids were about 10 and 8, it was fall and we had walked over to one of the little, Allen's Isle, you know, with the little bridge, the first one. The kids walked out onto the end of the island, they were just looking around, you know the water's cold, its late fall, and they turn around and my youngest daughter, my oldest daughter says stop! She was gonna step on a rattlesnake. Right on the island.
Tom: I rarely see a snake of any kind.
Ginny: Oh yeah, they're around.
Tom: Maybe I'm just not alert.
Ginny: We've had three or four over there, I've never had any on my property, knock on wood (knocks on wood). I've seen one up on top of Spruce Mountain. I've seen them on the Bluff Head Road many times.
Tom: Yeah?
Ginny: Oh yeah! I've seen them by Bunny Wilkening's.
Tom: Maybe they're afraid of me.
Ginny: No, they're afraid of people. I've seen them over by the guesthouse. One was on the porch at the farmhouse years ago. So they are around, but they are very wary of people. They truly are. So we did a lot of things down here that people had been doing for years. Swimming and boating and sailing. I got into doing the High Peaks in 1991 so I started climbing those and I've only got 33 of those. I've got a few more to do.
Tom: Do you still sail?
Ginny: Still sail. I love sailing.
Tom: Tell me about, do you have any winter time experiences here or is it strictly seasonal?
Ginny: Oh yeah, that's good. So yeah, no, we used to come down and stay with the Starrs at their house at Pine Point and Dan Starr wanted to buy an ice boat. So the internationals were up on Lake Champlain and I said well I'll look for one for you so he gave me authority to spend X amount of money and I went and bought him an ice boat. The guy who I bought it from was a person who made it, the DN is a small single person boat that's really fun. Totally fun. So we would come here in the winter and we would ice boat and ice skate. We would ice boat and ice skate over to the harbors and then, we'd find a route that was safe because when you're ice boating you've got to scout it out and then you sail it. Eventually I bought my husband an ice boat for our wedding anniversary and we would have two boats sailing. Lots of fun. He and Dan Starr would take off. Judy and I would hike up, do a winter hike up Deer's Leap and they would just take off and go down toward the Narrows and come back. Thank goodness (laughs). Ice boating is a real exciting adventure. It hasn't been that great the past few years. Ice hasn't melted adequately or there's been too much snow.
Tom: But essentially in the old days, houses were just summer houses right? You didn't come in the winter?
Ginny: That's right. We never came in the winter. I think the earliest my husband and I stayed in the guesthouse in March once but those houses, none of the houses were winterized but when the Adirondack Park Agency made it's rule about having winterized homes that was, that's what turned the corner. So if you're building a new house then you had to winterize it. That's what made the big difference. So if you're building a house today, really, I don't think you're allowed to build a camp. I don't know why it is exactly.
Tom: Oh the mystery of life.
Ginny: So, I don't know, what else is there?
Tom: I know it might be hard to put it in words, what does all this mean to you, for you? Your life here?
Ginny: Oh god, it's just the core of my existence. It's really amazing isn't it. This is such a special place for everybody. It's amazing. It's such, I think for people who have been at the lake or who are committed to this lake it is, it really in many ways defines who they are. It's done that for me. You build relationships with people. You build relationships with the environment. I mean I am totally committed to environmental, an environmental ethic. It's appalling to me to see some of the degradation thats happened. Not just to this lake but to our environment generally. Climate change in particular. My profession, biology profession, I head up a lot of work in the Vermont Senate on environment. This lake, the lake experience has built those interests and its not just the lake, its the people who are here. I think about my mother giving me a penny for every cigarette butt I picked out of the lake.
Tom: There are cigarette butts in the lake? Don't have that problem too much now.
Ginny: You know, its really fascinating. I don't want to insult anybody, but the guys from the '50s used to smoke and then they'd flick their butts into the water. I mean they had no, people look at that lake and they think oh, it can handle it. It can assimilate all this stuff. It can't assimilate anything. So what does it mean to me? It's really important to me. I can't imagine being without it. I want, my kids feel the same way. Obviously they're here all the time.
Tom: Aren't we all lucky.
Ginny: We are all so lucky. We truly are. It's really, what I find, you asked earlier about the transition, what changed it from the good 'ol camp days, when there weren't a lot of people and things, its just, its gotten so expensive for people to live here. To pay the taxes. To own a home and so its attracting a different kind of person. So you have people who are very well off, very affluent and they're coming from, they're not coming from the environmental, grassroots of the lake. They're not. They're coming and looking at it as a consumer item or prestige. It's just very different and its very disappointing. I mean, I feel, we built a grass tennis court out there. It was an old dirt court back in the 1800s and so a few years ago Dick said I really want to do it. We had talked about it many years. We hit tennis balls on it and they'd bounce all crazy and so we built the grass tennis court and I'm thinking oh my god, what does this mean if you're building a grass tennis court. It means you love tennis. I think the lake has really instructed a lot of us in our core values. Even in wanting to preserve it for next generations. I don't feel like I own anything in this lake. I feel like it owns me.
Tom: That's a nice closing thought. So thank you so much for sharing your experiences with us on Lake George. Okay, well we are back at Ginny Lyons house for part two of our interview because there's just so much to say. We wanted to talk some more. And today we're sitting on the porch overlooking Kitchell Bay and the Tongue Mountain Range and I can tell you as if I don't have to tell you that it's drop-dead beautiful (laughs). So you wanted to tell us about how the Historic Society got started and about the golf club too.
Ginny: Well, the Historical Society and then the people, I think how the Landing has become connected more and more. I don't think any one person could take responsibility for anything around here because its such a community of folks but after we moved to Kitchell Bay one of the driving forces in our moving here was Bill Beech and his sister Betty Donaldson and Betty was a very good tennis player as are my husband and myself and we met the Ceroskys and started playing tennis up on Bluff Head. As a result we became friends with folks at Bluff Head. We were already friends and family at Meadow Point and then because we were living on Lands End we developed very close relationships with people like Bob and Ros Brady and Dan and Judy Starr and their extended families. For me it was really an interesting knitting together of the entire Landing and then with, knowing the Browns and other folks in Cook Bay and knowing folks in Woodcock Bay and down at the Landing through the federation. Became president of the Lands End association and the LGA. So all of those things together I think set up an opportunity for people really to become a stronger community and I think thats happened over the past 30 years. Part of it is because of mobility and motorboats but I think part of it is just people have gotten in contact with one another. The origin of the historical society, which I should talk about. The historical society started when Ros Brady, Judy Starr and I would picnic almost everyday with our kids on one of the small islands where the bridge is. Usually Allens or Syke or Pumpkinseed or we'd be at Pine Point and the kids would swim and they'd talk and a lot of the conversation was about the history of Huletts Landing. So I shared the story about how Dick and I raised, found the French and Indian War boat and talked about that a little bit and then we talked.
Tom: Where did you find that?
Ginny: That was over off of Meadow Point. I can tell you that story too. So we started talking and we talked about how our families came to the lake. Obviously my mothers family would come up on the Ticonderoga or the Mohican with their oriental rugs and their big trunks and they'd come for the whole summer. The Danforth family and the Starr family, they started to come here in 1940s and so they had a history, an interesting history as well. So somehow we decided, I didn't like the idea at first of having a historical society, it sounded very social. Like a social club. But the idea of preserving the history of this area was something that we started talking about. So Judy and Ros and I put together the Friends of Historic Huletts Landing. We drew up, gosh, we started the newsletter. I was responsible for the newsletter. Ros was responsible for the mailing list and the membership. So we would sit in my dining room and we would put stamps on the newsletters and send them out in the post office. We developed a program early on. We invited people from museums close by. Starting with the one in Glens Falls. Not the Hyde.
Tom: There's another?
Ginny: Another small museum there. I'll think of it as I'm talking. So we worked very hard the first year, you know, its just having, we had a couple of programs. We'd put signs up down at the town crier and in the post office. We sent notices around. We started, and one of the benefits of my having been a part of Bluff Head, Meadow Point and Lands End was being able to identify people who might be interested. So we identified Lucy White as someone who might be very interested in preserving history because of her family and her interest in history. Harrison Bird was alive at that time and so we talked with him about doing a presentation. I don't think he ever did. So that's how it started, it started as a little conversation on an island on Lake George talking about our family history and then really working very hard to put together programs over the summer. For the first two summers thats what we did. I made desserts. I picked flowers. We'd have our programs down at the church. We'd go down and sweep the church out first and then we'd have our programs and then about the, we started very early the second or third year applying to the state of New York to be a 501(c)3 educational and museum historical organization. It took a couple of years to get that but we did get that so now we are a 501(c)3. Ros and Judy, Judy served as president, Ros served as treasurer. I was vice president and jack of all trades. So we were on the board, it felt like I was a perpetual board member, on the board for so many years. It was worthwhile. Then we thought, okay how can we institutionalize this. We asked the, actually about that time that Ann Goldsmith was redoing the big mansion, which was built in 1905 and so she found some historical items when they were doing it, like a lady's shoe and some other things and families all had these old pictures so we thought where can we put these things? We asked the fire department if we could have a room and so we got a room in the old firehouse. Tom Cordier fixed up some old cabinets, glass cabinets and so we could put some of the artifacts that we had in there and photographs. Dick Cerosky and I actually made the little tiny signs green and gold on the building, FHHL. It is still there and I asked my sister Suzanne who was doing graphic artwork at that time if she would do a logo and so she did the logo for us. And we've had that ever since. I think, I started to do a logo first newsletter, that did not work out. She did a great logo and we put that onto the newsletter and eventually onto letterhead. And we just started collecting photographs, and we started identifying people who were different parts of the Landing to contribute. So Lucy White quickly took over the newsletter because that was her area of expertise. Barbara Wilford became membership person. Then we asked, I thought Marian Knight would be good because its a Meadow Point person and she came on to the board. Ann Goldsmith got very active. That, gradually people the entire Landing became part of the Friends of Historical Huletts. I got my sister to be on the board, she doesn't know it but I did. So, you know, I think now it's become a very eclectic organization of different people, but also we've really reached into and identified different families and different stories. The history of the place will be preserved. What is absolutely amazing to me is how many people don't know any of the history of Huletts Landing. So not knowing that Rochester came and played in the old hotel or not knowing that the Revolutionary War was a huge part, the French and Indian War was a huge part of this history. I think that, you know, from the conversation on the little island to the organization today and Jim McMaster doing such a wonderful job and fixing up the old firehouse its actually become an important part of the community and I think it is a thread that ties the community together. I think its great. I just wanted to share that.
Tom: Well I'm glad that you did because I really didn't know how it got started but now that it started in this picturesque way on an island when you're having a picnic. That's a nice story to know.
Ginny: Well yes, we used to talk about different things because Ros was here when she was little but for very little time and Judy wasn't here really until the 1980s, she came up before that but didn't stay until then, so neither one of them really had the depth of history, and so I started talking about French and Indian War or we would start talking about the steamboats bringing people up, you realize that there is a very rich historical culture that was here. Yup. That was how that started.
Tom: And it's still thriving.
Ginny: Its thriving. I'm still on the nominating committee but I'm not on the board which is okay, other things to do. So the other thing I should mention is the French and Indian War boat that we found. When we were scuba diving over off of Meadow Point. We were actually snorkeling and we saw this keel or end of a boat sticking up and it was about 20-25 feet of water so we'd dive down and looked at it and it was an old boat. So that winter we both got our scuba certification and the next summer we dived on it.
Tom: What kind of a boat are we talking about here?
Ginny: It is like a, I have a picture of what, Russell Bellico came, when he talked here he got interested and he and my husband and I dived on the boat again and he looked at the pieces that we have. He thinks its like a little bateau, a French and Indian type bateau that was retrofit with some British ironwork.
Tom: Now did you discover this wreck?
Ginny: We discovered it. So then I called, this was back in 1973 or '4 and I called the state, I called the state archeologist and asked him, we found this boat, we think its pretty old, and he said, "well we don't really want that." I said, "really?" I mean this is pre-maritime museum. This is pre-Art Cohn up in Vermont, pre-Zorinsky down here on Lake George, there wasn't a whole lot of underwater archeology. People hadn't really clued in to underwater stuff I think.
Tom: How big a boat would a bateau be?
Ginny: This one, it was a single masted sailing boat. It was about 20-30 feet long. So when we talked with the archeologist, nice young guy, actually my age back then. He said, "we don't want it." I said, "what about Blue Mountain Lake." I called them, would you want to salvage it. There wasn't any underwater museum so they didn't want it, they said no we're not interested in that type of history from Lake George.
Tom: Did the boat have any kind of armaments on it?
Ginny: It, yup. So we found a hatchet and we found a lock and I believe that the anchor was on the shore at one point, somebody took it. So then I talked, the archeologist said, "why don't you just pull it up on shore?" and we said okay we'll do that. So one of my sisters friends came up with this huge boat, they were visiting and we pulled that wreck around and got it up on shore and we constructed it and I have pictures of it when it was reconstructed and we still have pieces of it. Then I invited Harrison Bird over to look at it and in the mean time I had researched it in Chappell, which is a sailing book, and identified what I thought it was and invited the state archeologist. He agreed with me, he had also looked it up in the same book and Harrison Bird agreed with me and now Russell Bellico agrees with what it is, is a French and Indian War sailing boat thats been retrofit for the revolution. It's an old boat. It's really kind of sad that the state archeologist wouldn't have an interest in it you know. So we preserved pieces of it and we preserved the whole boat. We had it covered. The year that it came up was '78 which was the same year that my parents house was being redone and the workers on that house used the boat for firewood.
Tom: Really?
Ginny: Yes.
Tom: You mean they didn't know what they were doing?
Ginny: They had no clue. It was sad. So we have pictures and we have some of the smaller pieces and as I said before when Russell Bellico came up…
Tom: Who's he?
Ginny: Russell Bellico has written several books about Lake George and boats and transportation on Lake George and he came up as part of the Historical Society three or four years ago and thats when we dived on it again. There were just some boards and things left down there that are still there. It's okay if they stay there. So that, for me, I believe that boat is kind of the tip of an iceberg for the historically what happened around here because of course we know that there were a lot of Revolutionary War soldiers and French and Indian soldiers and native americans who were all along these shores. Especially on Meadow Point and Bluff Head and an Sabbath Day of course with General Howe. That's kind of an exciting piece of history.
Tom: No, I didn't know that, that's why I do these interviews I learn all this stuff.
Ginny: So anyway, we did that. I know that when, I can't wait to interview David because his brother found a tiller from I don't know what, some really old boat.
Tom: Okay. Do you want to talk about the golf at all?
Ginny: No, golf is fun.
Tom: I thought, I misunderstood, I thought you started that or something.
Ginny: I will, no I did not but I will say one other thing. One thing I missed the other day is that we really enjoy fishing and the kind of fishing that we've done over the past 20 years or so has been salmon fishing with copper line. You go down 110 feet and catch salmon and lake trout and the beauty of Lake George is that you can eat those fish. If you go to Lake Champlain too much mercury.
Tom: How does the salmon taste different from an ocean salmon?
Ginny: It's delicious. It's a little bit milder but its delicious and lake trout is also very delicious. It's got a pink, very pink meat. So you put out 500, you put out a ratio of 3-1 of copper wire to get the lure down to the bottom to 100 feet and then you troll at 2 mph. That's how you catch salmon.
Tom: I'll have to keep that in mind.
Ginny: So no, the golf, I just want to mention the golf because the golf club is, the golf course down here is remarkable. It's been in existence for 100 years, over 100 years and I think again it's one of those things that brings the community together and having men's and women's golf is, its a real asset to Huletts. That's all I wanted to say and I've enjoyed playing with the women a whole lot.
Tom: Wonderful. Okay well thank you once again for giving us more information about Huletts and Lake George. Bye bye.
Ginny: Thank you.
Transcribed by: Robert Stragnell