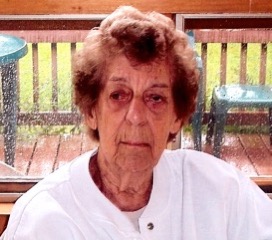 Ginny Bradicich, Interviewed by Barbara Wilford
At the Home of Ginny Bradicich
Huletts Landing, N. Y.
August 15,
Barbara Wilford: This is Barbara Wilford. It's August 15th, 2011. I am in the home of Ginny Bradish, correctly known as Lois Virginia Bradish, and Ginny has been here in Hulett's for many long years. She's going to share some of her memories. We're in her home down on Hulett's Landing proper. Okay, Ginny.
Ginny Bradish: As a matter of fact I've been here, I've not been her consecutively, but I came the first time in 1939. When I was just out of college.
Barbara: I was going to ask you the first time you came here. 1939 huh?
Ginny: 1939 was fantastic. We had a 16 piece band, and the ballroom at night while having dinner, and we had the Casino down on the water, which was fabulous. It had a boathouse underneath it and we could rent canoes and boats.
Barbara: Who were you with in 1939?
Ginny: In 1939 I was with my two girlfriends. One turned out to be my sister in law eventually, she married my husbands brother, and the other girl of course was a girl that I grew up with and her name was Toni Roan, and the other girls name was Marion McClean. And we came up in my husband's to-be's, I can't remember the year of the car, it was a Chevrolet, and it was such a long trip we had to stop in Albany overnight and come the next day.
Barbara: And you were living in New York at the time?
Ginny: No we were living in Long Island. Huntington, Long Island. I was born and raised in Huntington, Long Island.
Barbara: How did you all hear about Hulett's Landing?
Ginny: Well Marion's father was a big shot with the world telegram and they used to go away for a little bit in the summertime to someplace different than Huntington Beach where we had all grown up. And so they asked us to, their daughter was coming up and they asked if Toni and I would like to come and we did. And we just had a fabulous time. We were here for a week.
Barbara: And you stayed in the hotel?
Ginny: No no, we stayed in what is now Pat Smith's house but it doesn't look like that, it was a little house called Sunnyside, which also turned out to be, eventually, the house we stayed in for the first two years we came up here later. But when we first came we were just, I was not married, I wouldn't be married till the following year and there was a piano in Sunnyside and Mrs. McClean played the piano and every night we'd have the night watchmen would come over and ask us please to turn it down a little bit because we were keeping the neighbors awake.
Barbara: There was a watchmen that walked around at night?
Ginny: Yes. Oh yes, we had many watchmen.
Barbara: Really?
Ginny: Yes.
Barbara: What do you remember about the hotel?
Ginny: Oh I remember lots about the hotel.
Barbara: Can you describe it for us?
Ginny: Yes. It was a beautiful big old Adirondack hotel. It was either three or four stories high. The first story would be, there was the reading room and there was of course the beautiful big dining room, and a ballroom, we had a beautiful ballroom with beautiful highly polished floors. A writing room, and then of course there was the room as you came in you were greeted by the bellhop and the people at the desk. And then, the most expensive rooms were the first floor, and the second floor was a little cheaper and the third floor was the cheapest.
Barbara: There were no elevators.
Ginny: No elevators, we'd crawl up and down the stairs. It was fabulous, just fabulous. I remember them advertising for air conditioning when we got here we discovered that they had just cut a hole above the door and that was the air conditioning. It was air coming in. But it didn't bother us. And they were big gang showers down on the first, not the first floor but the, I guess you might call it the lower floor.
Barbara: Like under the porched in area?
Ginny: Where you could actually go up and on the porch for all these beautiful rockers and then around to the corner down below was this place where you could go in if you'd been swimming instead of going up and taking a shower, it depended on the floor that you were in whether you had a bathroom of your own or you shared bathrooms because the bathrooms back in those days didn't all have bathrooms for them. We had running water in the bedroom which was a sink and a john and a place for our towels but to take a shower or a bath you either went way down stairs or you went to one of the bathrooms on the floor.
Barbara: Did you ever actually stay in the hotel?
Ginny: Oh yes. Yes. After my first trip up here with my girlfriends it was almost like glued to my brain that someday I was going to come back here, of course, I had no idea that whether my husband would like it or not. Of course it turned out he loved it, but, yes, when we left and went back that was the first thing I said to Al when we were talking aout going away on a vacation because we didn't have any kids yet. He said would you like to go up to that place where you went with Marion and Toni and I said "Oh yes." So we came up, we spent a week in the hotel with, it was $39.95 for a week. With the most fabulous food you ever saw in your life and then of course at night we'd be down at the Casino and I say Casino because that's what they called it. That was on the water. Then of course later on that burned and they moved, they didn't move it, they built another one up here out of an old barn but that's never been the same as the real Casino. The Casino had a place down below where you could rent boats and that was where we had our first experience of meeting Franny Borden. He was the boat boy. I don't think he could have been more than 18 and he was the one that rented us a boat, or rented us a canoe one day. It was just unreal. Like dying and going to heaven. (laughter)
Barbara: That's really nice. Do you remember what floor you stayed on?
Ginny: We couldn't afford the second floor so we stayed on the third floor.
Barbara: All the way up you walked.
Ginny: We weren't up, there was another floor above us but that was enough for us, you know, we paid what we could.
Barbara: And you said it came with food, was that like dinner every night?
Ginny: Oh breakfast, lunch and dinner. Three meals a day.
Barbara: Three meals a day.
Ginny: $39.95.
Barbara: For the whole week
Ginny: Yep. And all kinds of amenities. All things to do. There was always something going on every night.
Barbara: And this was in 19 what '41, '42?
Ginny: That was '39 because Al and I, we met, you mean when we came up together? We were married in '40. That was '44. Because the funny part about it is, well it's not so funny now when I think of it, I got pregnant up here with Linda.
Barbara: I didn't know that.
Ginny: That's why we always thought she loved this place so much.
Barbara: That's probably part of it.
Ginny: And we met a swell bunch of people and had just so much fun. It was really worth it. Then we started coming back all the time. We dropped off a few years because we had both Carol and Linda at that time, but then once they got older we started, then we stayed, then we didn't stay in the hotel, we stayed in Sunnyside.
Barbara: Did you ever stay in the hotel when you had the children?
Ginny: No, just ate there. What we used to do was we'd come up for our two weeks vacation because Al was an engineer at Fairchild in Long Island and he got two weeks. He actually got six weeks but he used to take two weeks in the summer. And we would stay in Sunnyside and we would have breakfast and lunch in Sunnyside, you know, during the day, but every night we went up to the Hotel and had dinner. So that was sort of like a vacation for mom too.
Barbara: Then it was just dinner, it was like an American plan I guess they called it.
Ginny: You know, they passed out the menu and whatever was the dinner of the day. Later on George, differently, but at that time it was, when we first came up it was Pauleen Wyatt and Art Firth and they were married and they were Mr and Mrs. Firth and Mr. Wyatt was very old at the time and very sick and so he couldn't really do too much so Pauleen and Art took care of bringing in the guests and having the bellhop take your stuff up to your room and things like that. We had Ed the chef who stayed with George Eichler for many years after George bought the place. And he was a super chef.
Barbara: Now after they tore the hotel down, were you still staying in Sunnyside?
Ginny: We stayed in Sunnyside when the hotel was being taken down and then they built this in, I think it's '59 or '60.
Barbara: What is the name of your street out here?
Ginny: That's Margot Way. It's named after Margot Eichler.
Barbara: So they built this house?
Ginny: Well what they did was when George took the hotel down he was very smart. He put all of the things that were in good condition and looked nice and could be cleaned up and whatever and piled that in one place and then he took all the stuff he didn't want to ever seen again and knew that wasn't worthy of being put in cottages and put that in another pile and they got rid of it, and then he built, I think I counted them, I think there were 7 cottages he built from hotel lumber. Hotel artifacts whatever. The flooring. Some of this pine paneling my Al bought at home and refinished and brought up and many of my rooms, all the rooms have pine paneling, and a lot of it came from the hotel.
Barbara: So from the lumber from the hotel he bought 7 cottages.
Ginny: I think it was 7.
Barbara: Well okay, around 7, that's close enough.
Ginny: Very similar to this. Most of them looked, Margot had I think planned one or two cottages. Some of them had the deck some place else. Some of them had it here, but we put all this one ourselves, this was all added on. The bedroom on the other side was made larger and, you know, a lot of other things, the windows were all taken out and new ones and whatever were put in.
Barbara: But that was in 1960.
Ginny: We bought the house in '63.
Barbara: Okay. The hotel came down and the house was built soon after the hotel came down?
Ginny: Yeah the hotel came down in '59 and '60. George started on the house. I think we were the first ones in it, in July, it must have been 1960. But other people took it too because we only came up for a couple weeks at a time and then he called us up and said he was going to put the house, he said "Ginny I'm not well and I really think that I'm going to have to wind down some of my rentals and so forth, are you interested" and we both said yes, and then we kind of dragged our feet and then we said yeah we're going to go for it so we did.
Barbara: And that was probably what?
Ginny: That was '63.
Barbara: So that's when you became the owner here. What's the name of this cottage?
Ginny: This cottage is called Twin Cedars. There were, there's only one left but there were a whole group of cedar trees from way up, if you went up my street and made a right and went up a little bit farther and you came from that distance it was almost like a pathway and there were these big beautiful, cedar trees and they were all the way along but you see back in those days it wasn't just the person that owned this property, Buckle owned the other property so I think maybe he might have been responsible for those cedars, so we had two of them where our driveway is now, which wasn't there, and that's why the call it Twin Cedars.
Barbara: Oh nice. I love the fact that all the cottages have names.
Ginny: Yes. And what we're trying to do is get back to putting those on the, a lot of people have, well I guess you might say that their signs have worn our their welcome, they need to be replaced, and Jay just finished, I don't know if you noticed it or not if you came in but Jay just did a new Twin Cedars for me and it's right by the back, by the side door.
Barbara: I missed that but I'll check it when I go out.
Ginny: But it's a very comfortable house and we love it you know we spent a few dollars on fixing it up and making it more liveable, like the carpeting and the walls and adding on here. We knocked out the wall between the porch and the living room and made our living room bigger. You know, little by little, we put a garage on the outside. George let us have a garage.
Barbara: When did you start staying more than your two weeks?
Ginny: I would say after two or three experiences with renting we decided we didn't like coming back after we'd clean it all up and fix it and having it a mess so we said no more renting, we're just going to come up ourselves, and I had the whole summer off because I was teaching. So it made it nice and the girls had their jobs at home and then they would spend so many weeks with, like Linda and Carol worked at Gruman cause Al worked for Gruman, he was an engineer for Gruman so they had a deal with Gruman where if you worked 8 weeks then you would get your job back the next year, because they had a summer program for people who's children were going to college and their fathers or mothers were working for Gruman, and so they did that and so then we started spending more and more time, maybe it was six weeks and then next thing you know it was the whole summer.
Barbara: Very nice. Where did you do your grocery shopping?
Ginny: Well, that was a breeze. We had two stores. We had Benjamin's and we had, let's see, Scott's. Scott's was up across the way from the Catholic Church, Benjamin's was down here. So what we would do was, I think it was called IGA in town, and they would take care of all the groceries, all we had to do was walk over there in the morning or call and tell Mr. Benjamin what we wanted and then by afternoon it would all be delivered here and we had a running tab and they had all the tabs on the walls of all the people that used to charge, and big monstrous wheels of cheese were up on the top there and then of course we had the bakery where George the baker made all the baked goods. We had pies and cakes and donuts and breads. Every day George the baker did his, 5 o'clock in the morning he'd start with the baking. Course you see he was always supplying the hotel at that time too. But he continued to do it even after the hotel came down.
Barbara: When you came back now, you no longer had dinners, when you had the cottage?
Ginny: Well, when we first bought the cottage, we had dinners, we had dinners a lot because the Casino before it burned to the ground had meals at night and then when the Casino moved up here we would send the kids up early if we were going to a party or something and then we would go up later and have dinner, and Saturday nights we had the Jay Corby trio here and we danced our feet off, let me tell you. We all did the alley cat and the hokey pokey and you name it.
Barbara: So on Saturday nights there was a band every week?
Ginny: Every Saturday night we had either the Jay Corby trio or something similar. The Jay Corby was our favorite because what the men would do was, about 12 o'clock they'd pass the hat and we'd add another couple of bucks to the whatever they were going to be paid for that night and they'd stay another extra hour, because you know, we didn't have to drive anywhere, we all walked up to the Casino at night and the tables would all be prepared for us and we'd figure out who was going to sit where and all that stuff.
Barbara: So then, you continued to have your dinners, but one meal a day out of the house for a while?
Ginny: Well we also had, I'm trying to think, see we always had the soda fountain, and we still have the Soda Fountain by the way, we don't have it as many hours, but we used to have the Soda Fountain at lunch time the kids could go up there and have a sandwich or they could have, you name it, hamburgers, hotdogs, whatever, so that was always available. Yes, we always had at night, every night, 7 nights a week, we had meals served at the Casino. And everything was a certain night like Monday night would be, well let's say it was Maryland Chicken, and Tuesday night would be spaghetti and meatballs and Wednesday would be something different, maybe hamburgers and hotdogs and Thursday night would, you know, George had a certain pattern so that you knew on what night it was what you could have.
Barbara: Did you have choices or was there just one offering?
Ginny: No you had two or three offerings.
Barbara: But similar in style?
Ginny: But you always could depend on the one particular thing. If you said, oh listen, we'll all go out on Wednesday night, okay that's the night of Maryland Chicken. The food was excellent because we had Ed then.
Barbara: And then the kitchen which they had moved from the hotel.
Ginny: Oh they had a beautiful kitchen up here.
Barbara: They moved it from the hotel to the casino is that correct?
Ginny: The Casino had burned down and they had the Casino up here where it is now, but it was in beautiful shape and we had music, the music played at night when we'd come in. A big beautiful working kitchen with a big rotisserie in there to do steaks and stuff. You could have other things besides the special, those were the things that I was talking about were sort of like the special, but you could always have steak, you could always have lobster tails, you know. It was just super. Really.
Barbara: So when you were here every year there must have been other neighbors that were here every year also.
Ginny: Yes there were. There was Kay Hess, I don't know if you remember the Hesses, remember Lenny? Len Hess and Steven her brother, and they lived right over here. Kay was here all summer. Vivian Hopper was here all summer. First she was in the house that the Marone's have now and then she bought the house Mary Derossi is in and lived in that and then, I think, if my memory serves me I think she became ill and she passed away and that was the end of that. Yes, there were a lot of people that stayed all summer. We had bridge clubs. We used to play bridge up at Carol Hannan's, and of course there was, on Monday night was the square dance. The kids had everything under the sun to do. Monday night was square dancing. Tuesday night I think was, I know Wednesday night was bingo so Tuesday night must have been a movie, and George used to get first rate movies and show them in the casino in the big room, and charge the kids like fifty cents or something. They'd all be lined up waiting for the movie. And then bingo was fun. We had all the women including me who had to be approved by the state of New York. And you had to be approved because it was gambling of a sort, and we'd have great times. And Margot Eichler continued to win, and they said "I don't think that's very nice Mr. Eichler, your daughter wins all the time," and he said, "Well I can't help that, that's life."
Barbara: She just was lucky like that.
Ginny: And Friday night was our teenage dance for our kids and they all got dressed up in long gowns and had partners to dance with and just lots of fun.
Barbara: It was great fun, I remember the teen hops.
Ginny: And Thursday night was the talent show. Many of my girls, not that I ever had girls that had a lot of talent as far as singing was concerned, but they all, nobody cared, we let them all sing if they wanted to, or dance.
Barbara: That was part of the fun.
Ginny: But I remember you being over here a lot.
Barbara: I was.
Ginny: And taking Linda out in your boat, I remember you and Linda shooting off in the boat, and chase some boys on the other side of the lake.
Barbara: Oh us? Never.
Ginny: Yeah right? (both laugh)
Barbara: We did have good times.
Ginny: I don't think there's any place ever that's been like this place was. I don't know who the brains behind the outfit were, it must have been Arthur Wyatt in the beginning and Pauleen but the kids had such good times up here, and they have kept up with so many wonderful friendships through the years.
Barbara: Yeah, there's a lot of folks who were here during all those wonderful years who hate to see things change, who want everything to stay the same and it can't obviously.
Ginny: Well you can't because we don't have the facilities either to do that as we did then.
Barbara: But it was wonderful.
Ginny: But it was a died and gone to heaven place I'll tell you. Really. I'll never forget coming home as my mother was anxious to know how I'd enjoyed myself and she came flying out the door and said, "how was it, how was it, tell me, tell me," I said, "Mom I think I died and gone to heaven." I was going to be married, I came up that summer before I was married and Al and I were married in November and of course I just kept talking about the place and talking about the place and finally these following years would you like to go up there on your vacation, I said, "I'd love it."
Barbara: And then he fell in love with it.
Ginny: Oh, right away, because you know all the men up here were very very athletic. They all played golf and they all palled around together in the day time and played golf in the morning and then we'd have lunch or something, then maybe he and I would go out in our boat and have a little swim or something and just have a good time and then we would take the kids on picnics but the men all got along great. Then we formed an association.
Barbara: Do you remember when that was?
Ginny: That was when, let me think now, no I don't remember the date of that, it was the best thing we ever did because they were, the Eichler's, it was really Kapusinsk, Al Kapusinksi, where threatening to close down the golf course and sell off the property and put houses all over it, and were just devastated because that was part of our fun up here was the golf. The women got to play too and so we formed the association and then we made up an agreement with the Eichlers for the use of the golf course and now of course we have a lifetime lease, so they can never take it, it can never be built on. I say never, you know, you can't ever say never, but, to my knowledge it can never be built on, it'll always be a golf course. Of course it's not being used as much as we would like to have it used but you know, the golfers are no longer playing golf because we're all too old. And the kids don't seem to have the interest in golf that we had.
Barbara: Well there's a lot more pressing on them of things to do now.
Ginny: Well, I think it's that and I also think that the kids today are different breed. They're totally interested in things that wouldn't have interested us back in those days.
Barbara: A lot of what they're interested in didn't exist then.
Ginny: Yeah.
Barbara: So you had a boat, where did you keep your boat?
Ginny: Yes, we kept our boat right down the end of the street here. We had our big beautiful Airethusa and we rented the dock space from Mr. Eichler. We didn't have it when we first bought the house but we had the, yes we did, we got the boat right away, what am I thinking, and we could peek out the door and make sure the boat was okay.
Barbara: That was good.
Ginny: It's always good.
Barbara: Did you spend a lot of time at the beach?
Ginny: Oh yes. We liked, when we first came here we liked casino beach, because that's where all our crowd, and we were young then, our crowd hung out down there, but as we got older, we enjoyed over here, but you see, back when we first came up here George told us, George Eichler, that that was for the owners, not for the guests. That the guests had to swim down on the casino beach, so that's why we ended up there in the beginning, but later we swam over here all the time. Which was very nice.
Barbara: On the beach by the road.
Ginny: On the side of the road yes. It's wide enough and very private and very nice and clean. Let's see if there's anything else we've forgotten.
Barbara: When the kids were growing up you said that there were two stores here, so did the kids like to go to the stores and hang out?
Ginny: Oh yes, heavens yes. This one was within throwing distance, I mean all we had to do was just go out the door and up the street, you had to pick up your mail and do your shopping at the same time. And we had a running tab, and you'd walk in there, everybody had, all the people that stayed up here all summer had these running tabs and they'd pay Mr. Benjamin or Mr. Scott on the weekend then they'd start it all over again. And Dotty, Dotty Stark, the Stark's lived next door to us here and she was a bosom buddy of mine. Do you remember the Starks?
Barbara: I do, yes.
Ginny: Well Dot and I would say, well let's go shopping and so Barbara was little at the time and so was Jeanie and then we'd walk up there and then get their little magazines that they wanted and candy and stuff and we'd do our grocery shopping and it was nice.
Barbara: I remember them being very well stocked with things for kids.
Ginny: Fantastic.
Barbara: Lots of sweets and toys and that kind of stuff.
Ginny: And color books and crayons for the kids if they, you know, on a rainy day. And that's another thing we had. We had a bridge club, I shouldn't say bridge club, it wasn't really a club, but we, I'm trying to think of the man's name he was a fantastic bridge player and we would play bridge on a rainy afternoon like today, you know, we'd all go up there and he'd put us in groups.
Barbara: At where the Casino?
Ginny: Yeah. And we'd have bridge. It was fun. And Agatha Manuel was very instrumental in teaching me to play bridge, she was wonderful. Love that lady.
Barbara: She was my kindergarten teacher.
Ginny: She was the, super woman.
Barbara: Yeah she was. Can I backtrack a little bit? Tell me what you remember about the Casino that was on the water because not too many people talk about that.
Ginny: Alright. The Casino on the water was, I wouldn't say that it was a glamorous looking building, but it was over the water so that underneath it was the boathouse where you could get the canoes or you could get the rowboats and take them out for the day or whatever you wanted to do. Up above was a real dance pavilion. It had tables all around the dance floor and the band was down at one corner, and big beautiful view of the whole lake going up the lake. All done in pine paneling. Beautiful inside. And downstairs was a bar so that if you were wandering around in the daytime and you wanted to take your company into have a drink or something there was a bartender on duty and he was right in there and there was, also, a gift shop down there.
Barbara: Really?
Ginny: Yeah, nice gift shop, they had lots of stuff, and that lady that ran it was a very dear friend of Margret Eichler and had been in George and Margret's wedding and she also was the one that saw to it that we all got on the boat when the, see the Ti used to stop here everyday.
Barbara: And the Mohican.
Ginny: And the Mohican also, but mostly the Ti, and we could hop on that and take a tour up the lake, almost to…
Barbara: Rodger's Rock?
Ginny: Oh even farther than that. And then they would turn around, drop us off and that would be it. That went on for years. And I never did know how they ordered, how they determined what had happened with the fire, I don't know whether it was an electrical fire.
Barbara: When the Casino burned?
Ginny: Yeah when the Casino went down.
Barbara: I don't remember.
Ginny: See, we were, it happened when we weren't up here on vacation at the time, the next thing you know we got word from George that the Casino had burned to the ground, which was a shame. He never wanted it back because he and Margret lived right next door in that blue and white house, and so he didn't want to be staying up all night listening to the Casino, so I guess that was the end of our Casino. But they took this old barn and they made it into a Casino, it really, when the dinner committee would have, that's another thing we had, we had this big to-do Labor Day weekend, it was called the Dinner Weekend, it was a dinner committee that formed, Luke Smith and Etta and the Bowlens and the Hudsons and oh gosh, a whole pile of people. Al and I were not involved in that because you had to do too much entertaining, you had to have somebody, the whole gang every weekend and we didn't want to get tied down to something like that but we did go to the dinners and we did have a wonderful time and good food. And Kenny Casola, who was the diner, remember the diner? Downtown?
Barbara: No. The diner?
Ginny: Oh Barbara you must. Across the way from Grand Union was the restaurant.
Barbara: Oh the old Silver Diner.
Ginny: The Silver Diner. Kenny Casola used to do all the catering from the dinner dance, and before that they used the kitchen and did all the cooking but when that was no longer available, they used to bring all that food in, you would swear that you were sitting in some big ritzy restaurant because how he ever did it I don't know, but he had these big trucks with all these trays that he'd pull everything out and bring it in, he had all these women that worked for him. It was fabulous. That was another big highlight of the summer, was the big dinner dance.
Barbara: Really.
Ginny: I think I did the alley cat about 6,000 times in my lifetime.
Barbara: Do you remember the nightclub?
Ginny: Oh heavens yes.
Barbara: Well, what do you remember about that?
Ginny: Alright, now, I don't remember as much about it because there wasn't much to remember. If you came down the mountain and were gonna make a right to go over to toward your way, right there was a little bridge with water running down from probably the cascade and there was this little bitty building, it wasn't very big. And that was where Pauleen and Art used to, and they also, the family, the Knight family. If I'm not mistaken, I think the Knight family owned the building, and I think Chi Chi Knight ran it for a while and then the next thing you know when we came up one summer Pauleen and Artie were running it. It was great because we'd leave the Casino on a Saturday night and maybe it'd only be 1 o'clock and a whole gang of us would go up there and have maybe one more drink and a few more dances and then we'd come down the street and we'd smell the donuts. And Al would go in and get a big bag of, and he'd say, "This is breakfast for the kids in the morning," and we'd bring this bag of donuts home with us. It was wonderful. George the baker was always in business.
Barbara: Yeah he was I remember.
Ginny: He was so good to the kids.
Barbara: What was the nightclub like inside?
Ginny: Oh it was really a dump. It wasn't at all pretty or anything, it was just a makeshift building that I don't know who, I guess it was the Knight's had got the idea.
Barbara: I remember two rooms.
Ginny: Yeah. It was. It was almost like the goose. Very similar to the goose. How the heck they ever built on that stream I'll never know. It burned to the ground you know.
Barbara: So if you had to pick a favorite memory, could you?
Ginny: A favorite memory.
Barbara: Or an experience? I know that's a tough one.
Ginny: I'm just trying to think, there were so many wonderful memories. I think the ballroom and the hotel. I think the something about the hotel would be one of my favorites because at one time we had the talent shows in the ballroom on Tuesday nights and my daughter Barbara was up there singing away and I got the biggest kick out of it, I just couldn't believe that I had somebody performing in a ballroom. But the ballroom was just beautiful.
Barbara: What color was it, do you remember? I don't remember it at all.
Ginny: It was, it was on the first floor, and it, it was like brown staircases, not staircases but stairs that you would go up to and the band would be playing up there on the platform, or on the stage. If the person was performing they would come down the stairs and be on the dance floor. It was just a beautiful ballroom.
Barbara: Sounds lovely. Must have been very large.
Ginny: It was very large. Yes. It was a big huge room. And the tables were all around you know, where we would sit and have drinks. It wasn't, you didn't eat there, you ate in the dining room. He insisted in keeping that dining room which was off the end. If you'd gone up the catwalk that was the first room, big monstrous room.
Barbara: So it kind of overlooked where the path of the golf course is.
Ginny: It looked more toward the lake.
Barbara: Oh on the other side then.
Ginny: Yeah, if you were going up the catwalk, it would be on your right but the windows all faced out so that you would see the lake. And you had your same table every night. You were assigned a table when you came in, you always knew, you didn't have to stand around waiting, you just went to your table, and all the young kids that were the waiters were the super kids, most of them had fathers and mothers up here that either rented or bought houses. Like the Smith kids, they were all waiters. Freddie Stroeder, he was a waiter, his father and mother owned a house. The Nashes. Now Larry Nash just inherited Blanche's house and he used to be one of our waiters.
Barbara: He and my cousin Bruce Young.
Ginny: That's right Bruce Young was another one. I'm trying to think there were, and then there were a lot of kids from Cornell that used to come up here.
Barbara: I think Bruce and Larry both went to Cornell.
Ginny: Well maybe, but I'm thinking of kids that, you're talking about Bruce Young? Well I figure he was one that came from here but I'm talking about kids that didn't come from here came up and waited on tables, they stayed in the dormitory.
Barbara: Do you remember the dorm?
Ginny: Oh sure.
Barbara: Half of it for men and half of it for women. Two entrances.
Ginny: What did you say.
Barbara: They had two entrances. One for the guys and one for the gals.
Ginny: Oh yes. One for the gals, yep. That's right. And the kids, the boys used to always tell us about all the bats in there. Oh my god. Well I guess when they took it down, I guess the bats all took off like a banshee, I don't know where they went but they weren't around anymore.
Barbara: Probably everybody's homes.
Ginny: I think Alex was glad when they took that down.
Barbara: Was he?
Ginny: I think so. It got to be an eyesore because it was really not a very pretty building. But you know, I'll tell you how I met Rita Hurley. This is very interesting. Al and I were up here and it was, it must have been about a week before the hotel was going to open, it was just one of the typical springs where the boys would be through school and they would be all coming up here and staying in the dormitory and probably, I guess they fed them in the Casino and, anyway, Al and I must have come up early with the girls because there was a whole bunch of young fellas all down on the Casino beach, horsing around, having a good time and I saw this lady walking up the bridge, no, not the bridge. Coming up to the end of the, where the lake was, where you would dive in the water, but she was out, I was out there and I saw her walking on, so I walked up to her and she said, "I'm Rita Hurley," and I said, "Ginny Bradish," and I said, "I'm concerned about the waiters not having anything to eat and no food tonight because George isn't having meals start until tomorrow," and so she said, "well so what were you thinking," and I said, "well I don't know, I was thinking that maybe we'd, would you be interested," and she said "absolutely." So we got a ham and a turkey and potato salad and macaroni salad and stuff and we put it all out on the dock and fed them all. They never forgot that.
Barbara: That is such a neat story.
Ginny: And they had such a great time and after that those waiters were always our best friends.
Barbara: Of course.
Ginny: But that's how I met Rita Hurley. And we started being friends and of course our husbands were very good friends after that. They and Paul Murphy and Paul Stark and John Stanton they all palled around together, played golf together and had good times.
Barbara: So you guys have been friends more years than you can count.
Ginny: Oh yeah, just about. Friendship goes back a long time.
Barbara: And then your kids were all friends probably.
Ginny: That's it. You see, although my girls don't keep up the friendships as much as maybe Luke Smith and Patrick do. They can't because they're down on Long Island. These guys are all up here. It's much easier to keep a friendship up when you're right around the corner. But when they come up they're all together and they go down to the beach and they talk about old times and stuff. It's fun to listen to them. I'll never forget the time that Margot had her ski club come up here in a bus. Oh the kids, they didn't like that at all. They didn't want anybody from some ski club up here, tracking around in their Casino and taking over their beach and stuff. So they had a big beer party one night and they took all the beer cans and put them all on the bus so that when Mr. Eichler came over he'd think that they were big heavy drinkers and he wouldn't have them anymore.
Barbara: Did it work? (laughter)
Ginny: Yes. They never came back. (laughter)
Barbara: Oh my.
Ginny: I guess they didn't like the, I don't think they liked the young people from Hulett's Landing. The kids up here thought this was their place and they didn't, that was one thing good about George, he never minded any of the young people from other bays putt-putting around and coming over and tying up and coming to the movie or coming to the bingo, you know, he never kicked anybody out.
Barbara: As someone who didn't live on the Landing, he always made us feel welcome.
Ginny: Always. He was a great guy, George.
Barbara: He was a nice man. Let's see. What about memories of, do you remember the night the Mohican ran aground down here?
Ginny: I can remember quite a bit about that because we had just arrived. We had driven up, it was a Saturday night. We had just gotten here and we had called up the Casino, that was up here then, and said that we'd be up for dinner and we had our girls and one of Lois' girlfriends was coming up and spending some time with us in the summer. It was just Al and I and we had our station wagon, and all of a sudden Jim Metler came over and he said, he was one of the waiters, and he said, "Ginny, Mr. Eichler wants you and Mr. Bradish and the girls to go down to the house and stay there because we've just had an accident on the lake, the Mohican hit a rock and there's a lot of people on board and we don't know who they are or what's going on." At that time there was a lot of trouble out in California with the Watts riots, and I think George thought that maybe it was gonna be one of these things where they were gonna have some sort of a performance showing us that they had rights and all this stuff, but it didn't turn out to be that way at all, but anyhow, Al and I walked back with the kids and we came in the house and he went around, George went around and he also sent Jimmy Metler and Luke Smith and a few of the others all around to tell all the people who renting to go in the house and stay in until such time as he would notify us. And in the meantime they somehow got that Mohican up to the big dock, got the people off, and then, eventually got it over between shore and the island, you know, the Hulett's Island and started pumping and pumping and pumping, it was almost like A Night to Remember with the Titanic, and in the meantime, George had called, I'm talking about George Eichler now, he'd called the bus company in I guess it must have been Glen's Falls, I'm not really sure where, to bring a bus over to put these people on to get them back where they came from because they had no way to get out of here. Well, it didn't work because the bus failed, it came over alright, but it couldn't go back. There were so many people in the bus. The mountain road was just not conducive to travel.
Barbara: It has improved a lot over the years.
Ginny: They just couldn't do it, so what they did was, the bus took off and went back where it came from empty and we all took our cars, thank god we had our 8 passenger station wagon and a few others had big station wagons so we took the station wagons and all night long they were taking people back to town, no, to Whitehall, to the armory, and then a bus met them there and took them back to where they came from. So it was very well done, he, George handled it just beautifully, I mean they were taken off the Mohican he made it very clear to them, this is a private place, I can't have you people wandering all over here and frightening people because I have women here without husbands, and I'm asking you to just stay out on the dock, which was the big dock. It hadn't been torn down part of it then, and so they were very nice, they were very well behaved, they stayed out there, George set up the band. They had a steel band that they had had on the Mohican and he set that up for them, because you had to have electricity and stuff and got donuts and soda and all kinds of stuff to make them happy and little by little the men took the station wagons and took them out of here and took them back to I guess to Lake George Village. And that was some wonderful memories. That was truly a scary night because, I was so glad that Al had, normally, when we came up for the first, first week I would come up with the girls alone and Al then would come the following week and then stay for three weeks, this time for some reason or another, it's funny how god protects us, he had decided to come with us, and he helped Ed and George Eichler and George the baker, the whole gang of them to get all these people together in the cars and take them out of here. And we treated them very nicely. We didn't make them feel like they were different or they didn't belong or anything, but it was a little scary because we didn't know who they were or what they were, it just turned out that all it was a moonlight sail. And the funny part about it is the name of the group was the Silhouettes, and they were black. Isn't that funny?
Barbara: Yes.
Ginny: The Silhouettes.
Barbara: That's kind of cool.
Ginny: But they were very nice. They were very well behaved. In fact Carol said to me the other day, "mom all I can remember about that night is Freddy Dexter up there dancing with one of those people." I said, "leave it to Freddy. Nobody else would have probably done that, but he did." When the band was playing, because the band played a long time out there.
Barbara: Yes that's true I do remember that. Do you have a favorite spot around here?
Ginny: I used to have a favorite spot. We no longer have that little, what do you call those little houses where you sit and wait for your?
Barbara: Gazebo?
Ginny: Gazebos. We used to have a gazebo out on our rock down here.
Barbara: I remember, out on the point.
Ginny: Yes and I used to love to sit out there with my book and read, but of course they tore it, I think it almost fell down, that's why they took it down, and then we had another one right next to the tennis court and that's gone too, but that was my favorite spot.
Barbara: They were nice. They were wonderful. Well I'd like to thank you very much, this has been very enjoyable, I've learned a lot from you.
Ginny: Really?
Barbara: Yes I have.
Ginny: Well I'm glad that I'm doing something right.
Barbara: Thank you so much Ginny for sharing all this.
Ginny: Well don't rush off you don't have to rush.
Barbara: I'm not but I am gonna turn this off.