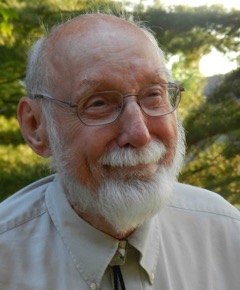 David Knight, Interviewed by Ros Brady
At Bittersweet, Lands End Road
Huletts Landing, N. Y.
June 24, 2010
Ros Brady:        Ok, I'm Ros Brady, and I'm interviewing David Knight, and this is Bittersweet, June, 24, at about noontime, and this is a sample interview and one, two, three, four other people here? Five other people here, who I hope will chime in and ask questions of Dave as well as myself. So, here we go. Okay. session with Jill (Breit) here,
Dave Knight: Thank you.
Ros:      Welcome Dave, to Bittersweet. Did you happen to know this property when you were growing up here at all?
Dave:   I knew where it was, but we saw the Starr property from the lake, not this part very often, it was very rare, and we would go by up to Land's End, far, to the rock, without looking much. We just walked by, very often, so we knew where it was, we saw it, but we would never go here.
Ros:      On the walk to High Rock?
Dave:   We walked up to High Rock.
Ros:      Which was a beautiful, beautiful…
Dave:   And it was, yes, very often, people went to High Rock.
Ros:      Where now Bobby Condit built the house.
Dave:   Yes, before he built the house.
Ros:      Yes, before he built the house.
Dave:   Thank you.
Ros:      Yes, good.
Ann Goldsmith:            Did you ever jump off the rocks?
Dave:   No, no, we didn't at that point. Since then, my son in law, tried diving off of the front of it, 40 feet, some odd, and, it's too high to dive from. I, when we were kids, we would dive off of the tops of buildings and things like that down here, big boat dock, but that was the highest that we went. Maybe 20 feet up. Not, now. (laughter) Thank you.
Ros:      So you've had a long time relationship here, you've been living here for quite a long time, in Hulett's Landing?
Dave:   Yes, well, we came up, my father was not well, and we came up here in the middle of the depression, which, 1930, about, 1933, and we lived here, went to the one room schoolhouse, graduated from it, went through high school, but we were sent to Brooklyn for, we expected to live in Brooklyn and go to high school in Brooklyn, my grandfather had a heart attack and we came back, lived here, some in Whitehall, whatever, but I left Whitehall to go into the Army, second world war, and that was my experience was here, yeah, I lived here. This was home.
Ros:      So you were actually born in Brooklyn?
Dave:   I was born in Passaic, New Jersey, and then when I was, before I could remember anything we lived in Brooklyn and then went out to Springfield Gardens in Brooklyn and that was where I went, I think I was through the second grade, and then we were here.
Ros:      And the real reason you were here was because your grandfather had a heart attack and your father came?
Dave:   Well, my father, actually he had an epsothalamic goiter.
Marian Knight:            Your father did.
Dave:   My father, and he was operated on, and it takes years to get over, but he recovered completely, so he went into the second world war, as a healthy man, fifty five years old and, he was in both wars. So he was in the first world war, and he volunteered knowing he wouldn't go, second world war, but he was there. And then,, I went in, when I was in high school, and my brother, the year after, because I'm a year older, so that was, so we, three of us were in at the same time. Second world war. Only one of us got really shot at. (laughter)
Ros:      Goodness. Well could you tell me a little bit about your experience of this one room school house?
Dave:   Well, mostly here, as, in the winter time we liked the winter, my brother and I, we liked the winter more than the summer. The summer was wonderful, but we were tourists as far as everybody else was concerned. We enjoyed it, but the winter time we had a wonderful time, because we could sleigh ride. We slid down the mountain from the school, every day. We got pulled down, we'd go down almost to where the present post office is, and then pull the sleds back up the mountain, up higher than the school house, and do that maybe three or four times, in the middle of the winter. Oh, it was fabulous.
Ros:      Oh, it must have been quite a ride. Did they plow the roads at that time?
Dave:   Yeah, and when they would plow it, but it was really before they treated the roads at all, no salt or anything like that, so that in the dead of winter there was about six inches of packed snow on the road, it looked solid, it looked like a road, but there was about six inches of packed snow on all the roads. Because they would, as, when it would snow, people would pack it down before the snow plows came through.
Ros:      So is that the way you went to school then, you'd walk up the hill with your sled?
Dave:   Oh yeah, you'd walk to school. There was no such thing, we had telephone. We were the only people in Hulett's that had telephone. And we had hot water, because my mother wouldn't live here without it, but we had, yeah, we had quite a few things that other people didn't have. We were very fortunate actually. Not much money, but we had, my grandmother supported it, because she was taking care of pop and pop was not well, so we lived up in the road that is now, almost, well 7/10, 6/10 of a mile from the bridge is a house on the road, farm house, it's called the farm house, but we lived there, that was fun. And it was an old house, it had been there, 1700 and something, it was very old, it was 230 years old when we were there. It was one of the first houses in Hulett's, but we lived in it, had bats, had all the things that houses have.
Ros:      Like Bittersweet, we have bats.
Dave:   Oh yeah, sure. Don't clean the bat dung out by yourself, without proper mask and all, because you can't do it and stay healthy because what it does, is that you get, they get it from, coin lesions in your lungs, and I got 'em, two. They found it by mistake, but they are, they're there. You don't take the, you don't clean the bat dung out by yourself.
Ros:      Ok. We have been, hate to tell you, but an Electrolux comes in handy for that sort of thing, and then I take the bag, spread it in the gardens.
Dave:   Oh yes, it's very good fertilizer. Excellent fertilizer. Want some?
Ros:      Yeah, well I can give you some too. I collect it from the bat house at bittersweet, put it in a bag, and I actually gave it to a friend of mine, she said I've never been given bat dung before.
Dave:   It's uh, you can buy it, somebody told me, you can buy it, but I never.
Ann:    Is it true that, that's where Suzanne lives now, is that the house?
Ros:      Yes, that's the house, the farmhouse, where Suzanne, Straton lives.
Dave:   The farmhouse was where we lived.
Ros:      Suzanne?
Group: Straton.
Ros:      Suzanne Straton lives now.
Dave:   Yes, Straton lives in there now. Questions?
Jim McMaster:   Did the house have that big extension on it when you were there?
Dave:   On the back, yes, well that was, built by my grandmother.
Jim:      Oh no, to the south.
Dave:   Huh?
Jim:      To the south, there was huge structure.
Dave:   No. Where, the farmhouse?
Jim:      Yep.
Dave:   That's up on the road.
Jim:      Yep.
Dave:   No that's built in the back.
Marian:David, there was an extension, remember, for the loggers, that was taken down.
Dave:   Oh that was taken down, yes, it was before, the extension was never up there when I was, it was taken down when I was walking around. Two years old or something like that. About the time I was born. That area. It was, my grandmother built another house with the lumber from the, from that. The house was built on the water, and we stayed in it, Marian and I stayed in it when we were kids, I mean, when we first came up here (as newlyweds), it was one of the houses that my grandmother rented, put bathroom in, that kind of thing. I remember, that was, Wonderland, my grandmother called it, because named it after her success in New York, she had built a thing up, but as a youngsters, that's another story.
Ros:      Now how'd your grandmother's building a thing up?
Dave:   Well, she built, she built Muskaday, no, Wonderland, out of the parts from the extension. I never saw that. But there was a piece that was added by my grandmother, so that we could live there, and that was an extension out behind. It had the downstairs kitchen, and an upstairs bathroom, and a bedroom upstairs, , that had, when I was a child, that was just, that's where the kerosene stove was, that was just a junk, that was nothing, but that was all taken out and redone.
Jim:      That's the extension that's still there?
Dave:   That's there now, yep.
Jill:       Dave, as a person who's not ever seen the house, could you describe the house, and kind of walk us through the house, what it was like when you were a kid?
Dave:   Yes. It was, I remember most, I would jump out of bed, because it was very cold upstairs, and run downstairs and get dressed behind the stove. Somebody else would have to build the stove, build the fire in the stove, and I would get dressed and then we went off to school, but we went, that was when we went to high school, we rode, they had a school bus that took us to Whitehall, but when we were kids, we walked up to the, we all would walk to school, I don't think anybody ever took us up in a car, because you didn't drive a car except to go to Whitehall, or something like that. So, but, Whitehall was our, where we shopped today, but in those days there was a store in Clemons, a general store in Clemons that was very active, and it was the Benjamin's store, and he would build the store up here, behind what was the ice house, and that was very active all the time that I was growing up. As, and they had, for a few years, he would have a travelling store, that he'd put everything in the truck and carry it over the mountain, but we had not, we didn't suffer from not being able to get things, we always could get things.
Ros:      Well,, what was your experience like in this one room school house, how many students were there?
Dave:   There was, the school house had no electricity, and I didn't care, because I didn't know about it one way or another, had no electricity, no plumbing, and it had a potbellied stove in the middle to heat, so it had no heat except that, and someone had to build a fire every morning.
Ros:      The teacher or one of the students, who had to?
Dave:   Well, I was. I did it for one year.
Ros:      It was assigned.
Dave:   And you got paid for it, what little money, you know, no, I think it was $15 for the year. That was a lot of money, fortunately. I don't remember, I think I was, seventh grade or something at that point.
Ros:      When you started, when you were paid?
Dave:   When I built, when I worked, I took care of the stove, but someone had to go down to the brook and get a bucket of water and carry it up so that we had drinking water, and it was drinking water, in that one room school house. I remember the, someone said, when you dip water out, and poured it into a glass, not a glass, paper cups, we did have paper cups, and you dip out, you weren't supposed to drink out of the dipper, the dipper was aluminum.
Ann:    What'd you do if it was frozen?
Dave:   Today you think of all the things that you need in school, but we had a good teacher, we always had good, very, very good teachers, and so I had a wonderful education.
Ros:      Who were they, and where did they come from?
Dave:   Well, Mrs. McGowan, was one. She ended up as principal of the high school in Fort Ann, for many years, when, she left Hulett's, and then at the top of the mountain between the two, ponds up there, there was a house on the right hand side, it's been torn down and moved back now, but the woman who lived in that house had a daughter and she was a Foster, and Mary Foster, was a teacher, and when she graduated she was our teacher for one year. She was a good teacher too.   She died early, I mean she died, not, many years ago now, but, she was in an automobile accident, in fact, one of the reasons that the road doesn't go down through lock 11 was that she was riding along with boyfriend and ran off the road at the end, trying to make the curve back over a bridge, because it used to go across the bridge, rode along next to lock 11 and then turned back, and that really had to be changed but it didn't happen until somebody really got hurt. They spent a year in Ticonderoga hospital, being, fixing up. Always walked with one leg shorter than the other after that, but she, when she was a youngster, before, when she first got out of normal school, she taught school in that one room school house.
Ros:      So who did she teach, you and your brother?
Dave:   One year there were only three of us. The most that were ever up there were 14. Frannie Borden was one of them, and Bing Robbins was one of them, and he had a sister, and I've forgotten her name, I can't say the name, there was a family that lived on top of the mountain that had five kids, Nutting, I can't think names, don't ask me names. But there were 14 at the most.
Female:            Well how long was your school day, could I ask?
Other female:   The teacher wants to know. (laughs)
Dave:   The school day? I don't remember. No. I think we got there in the morning and we left when they told us to. We had a, there was a, 15 minutes recess in the middle of the morning and then 15 minute recess in the middle of the afternoon, and we played baseball in the middle of the woods, that was my only baseball, but anyway, got so that you could throw a ball, and, you could hit a ball, or you could learn to ski, I learned to ski, on the skis with straps over the top, and I could ski when I finally had real skis, you know, still do it.
Ros:      This is a very small community, how many year round students were in Huletts?
Dave:   I think there 14 houses that had people in them. I say that, I don't really know exactly.
Ros:      Did you find it quite an adjustment to go to the Whitehall school, after this one room school house?
Dave:   No, I just never, it was just automatic, everything that happened, I just, I'm not bored with anything. Everything was great. I said, as you live.
Ros:      But you didn't have to play baseball in the woods when you went to Whitehall.
Dave:   I didn't know it, I didn't know that was difficult. (laughter) No I did play baseball once in Whitehall and I couldn't play the game, but I did, you know, they told me I was on, I hit the ball, I could hit a ball, because we, in the woods, whatever, you could hit, you could catch, you see it, watch it, hit it. I could do that, and we played, but I only played baseball, in Whitehall, real baseball, once in my life.
Jim:      What did people do up here for a living?
Dave:   They cut wood in the winter, or they hunted, and a family, the idea was that the number of tags that you got for your deer, were, that was important, how many men there were in the family would be the number of tags that you could get and you'd go out, and they would be caught and each tag would be used whether it was by that guy or not and so the deer were killed for food, always for food, if they were, and they went out on the ice and fished, and they cut wood. But what people made money on was during the summer. What money was made was made in the summer time because that was the only cash. We had money coming in because my grandparents were in Brooklyn and he was a dentist and he was earning money and sending it up through my grandmother, he would give it to my grandmother and my grandmother would support us. We didn't have much but we had cash. I think it was $11 a week.
Ros:      What did they do, what kind of work did they do to raise money in the summertime?
Dave:   We had a hotel here. Arthur Wyatt was a man who was prior to Eichler, and Arthur Wyatt had a real hotel, and he had people, and he worked at it, and he had a lot, he had cooks, and he had, made meals, he had a band and he had the casino, Marion remembers the casino down on the water, the real casino.
Female:            So do I, they used to have dances there and so on.
Dave:   I, it was a casino, where you, until it got raided or whatever, and they'd have slot machines and the works, and one time we had rented houses over here, where we were, my grandmother did, and one time, one of the families, one of the women, got together and said we're gonna go over in canoes and get ice cream, would you like to come, and I said sure, so I rowed over in the canoe with this family, I guess, I don't know, what I remember is this woman, and I don't remember who it was, paddled the canoe, and there were, I think, three canoes, with a whole bunch of kids, and we came over, and ate ice cream. But she asked me if, and I asked her, would you lend me a nickel, yes, so I took a nickel and I went in and I put it into the slot machine, which I wasn't supposed to do, pulled the thing, and money came out, and I had 20 nickels, so I got the nickels, and put them in my pocket and then, when we were going home, after the ice cream, I gave her a nickel back and she said, where did you get the nickel, did you use it? And I said oh yes, sure, I did, because no one would know one way or another, oh she said, don't tell your mother, she was all upset because I had gambled. Well that was my only gambling in my life, because I don't gamble. I don't do it. (laughter) So you pull the machine and the money comes out, that's how it works. She was shocked, oh she was terribly upset.
Ros:      So she found out, the person you went with?
Female:            Don't tell your mother. Don't tell your mother. Did your mother ever find out?
Dave:   Oh yeah, I don't remember her name but she was one of the people that, she was living in one of the houses that we rented. When I was older, maybe 15 years old or so, someone, one of the people who rented one of the houses, was, had an outboard motor, and he had a very, in today's, maybe 15 horse power, not a speedy twin which was the big one, 22 horse power, anyway, it would, it was very powerful boat for what we were used to, and I worked, I used to work with him on it, if something had to be done, I would do it. Well, in the process I learned how to take apart, fix, repair, outboard motors, so one way or another, I was always the one who did this because in the family, they're all non-mechanics. I, luckily, I'm not, I had it in the family, my uncle was an inventor, he was a really, very capable man, but, in the family, around me, nobody except me, could take anything apart, put it back together, whatever was necessary. Docks, or anything, anything mechanical, that was what I could do, mechanic, I am, that's all. Now we keep adding to that, you can add education to that, but you're still a mechanic.
Ros:      So in the army, and your other profession is that what you ended up doing?
Dave:   Well, yes, I was an airplane engine mechanic during the Second World War, and, I went into, went to school in college, I started in pre-med and ended up doing engineering. I went to RPI at the end, went through to design machine tools, made a living, that's how it's part of the family, but I had a hobby because I couldn't do physics, and I graduated with three degrees, because that's the way you do it, I mean I could do nothing else, I couldn't play, I couldn't play, didn't know how to play, but that's alright, just didn't know how to play.
Ros:      Didn't know how to play? Oh, it was all work.
Dave:   All work, yeah.
Ros:      All work, all the time.
Dave:   And that's what you enjoy.
Ros:      Yeah. Wow. So, you grew up here, you went to the one room school house, you went to the Whitehall and then you went off to college.
Dave:   Well, I went to one year in Brooklyn, went to Brooklyn, that's, that is a story in itself, it was the beginning of the Second World War, I was in Brooklyn and heard about (H.V.) Karltenborn, "the skies over England are in, are in the hands of the English tonight." I remember that, never, heard it every day. I was talking to Marian, the Brooklyn gas company made gas, coal gas, and it was before natural gas came through the pipelines, the whole east, so that when you, if you turned the gas on, you had to be very careful to turn it off, because if it stayed on it would kill you. Carbon monoxide, and that was it, and that's what the old gas story was real. I'm just talking about what life was, you've got a long life you know.
Transcription by Robert Stragnell
Edited by A W Galbraith
A Project of the
Friends of Historic Huletts Landing
O. Box 82
Huletts Landing New York 12841