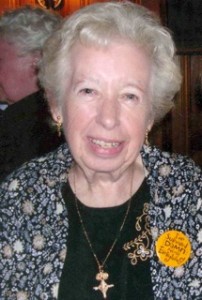 Blanche Meehan, Interviewed by Marian Knight
At the home of Blanche Meehan
The Landing
Huletts Landing, N. Y.
September 2010

Marian Knight: You've been here a long time; haven't you Blanche? How many years have you been coming up here?
Blanche Meehan: Oh yes. I'm not sure how old I was when I came up here, but I know I was pretty young. I would make a guess about 6 or 7 years of age and I'm now, uh, let's see, heh, now I am thirty. No I'm not thirty, I wish I was thirty. Heh. You know I don't want to admit how old I am. No. I'm kidding. It doesn't matter. So anyway, I was born in 1924.
Marian: Uh huh. So that means you're 86, because Dave was born in 1925 and he's 85.
Blanche: You're right. I just turned 86.
Marian: Uh huh. When was your birthday?
Blanche: September. September the 2nd.
Marian: Oh yes? That's Dave's birthday. So you share a birthday.
Blanche: Oh, really? Oh. How nice.
Marian: So when you first came of course you came with your family. Where did you stay?
Blanche: We stayed at the hotel. Do you want to know how we got here?
Marian: Uh huh.
Blanche: I don't remember it but I've been told it. We lived in Brooklyn, New York and we took the Albany night boat to Albany. Then we transferred to a train that took us to Lake George Village and then from Lake George Village we took the boat up the Lake to Huletts Landing. Disembarked at the terminal. There really was a…everybody came down to see the boat. When they would hear the boat's whistle, everybody would rush down to see the boat come in and I think – I'm not sure of this – that ninety nine percent of the customers for the hotel came by water and not over that awful awful road from Whitehall and that awful part of the road was the Whitehall part. So anyway that's how we got here. I blame my interest in cruise liners to the fact that my early years were spent on Lake George traveling back and forth. So anyway, that's how it all started. We stayed at the hotel for the month of August and traditionally it seemed to get very cold toward the end of August. Which this year points out that it's not really true.
Marian: Yes, that's true. Things have changed a little bit.
Blanche: So anyway, of course I joined in with the younger people and I wanted to live in a cottage very strongly, but I was very unsuccessful in getting my mother to agree to going back to entertaining guests and also cooking and what have you. She liked her August off. So anyway, I don't know how it came about but probably my father, not having to cook, didn't mind going to a cottage, so that's where we ended up. I was still in high school when he agreed to rent a cottage instead of going to the hotel. Which is what happened and I loved it, it was wonderful. He had to put up with an influx of relatives that hadn't been here before, so that was alright with me, but I don't know how it was with my mother (chuckle). Not good I think.
Marian: What cottage was it? Where did you rent?
Blanche: The cottage was right here on this ground and the remains of that cottage are Gallagher's cottage today, because it burned. We had a fire. We were fixing up the kitchen putting new Formica on the table tops or whatever it was and it was in the fall and the man who was doing the work neglected to turn off the pilot lights so when he opened the door, he was blown out. Luckily he was blown out because he was unhurt otherwise he probably would have been killed which would have ruined what was Huletts Landing for us. I can still remember my poor mother and father coming home on a Sunday night and I was working so I was not up here very often in that period of time and I just…I can still remember going to the front door and opening it and expecting, you know, the usual kissing and hugging and what have you and (choking up) my mother broke into tears and she said "we lost our cottage!" and of course I was all upset too because I really loved this place from the time I was a child including now. My father said 'don't worry we're going to rebuild and it's going to be nicer than what we have now'. So that was the way it was left. Ken Robbins, who was the unfortunate person who caused the fire, agreed to build for us. He built the first one too I think. I'm not sure about that, so don't quote me. But anyway, he was a great builder and he built this place. This was built back in the mid fifties and we never had mice.
Marian: Really?
Blanche: Really. Anybody that's worked for me knows that and they can't get over it. Another year when we open up and we don't have any mice! So whatever he did, he did it right and he never made another mistake like he made, God help him. He was a gem. Okay, where do we go from here? Alright I, uh, went to Skidmore College which was… I think I really chose it because it was close to Huletts (chuckling). I remember bringing up some classmates in the early years and we'd stay here and we would live dangerously. We'd have a 6 pack of beer for at least 5 people (laughter) and let's see at that time Mr. Wyatt owned all the cottages and the hotel and all that and he'd come down to check on us to make sure we weren't drinking too much.
Marian: So did your family now own this or were you still renting?
Blanche: In the beginning Wyatt would not sell to anybody.
Marian: I remember that, yeah.
Blanche: So that's the way it was when we first moved into the cottage. Let's see, this was built after his death. So…I'm trying to get on linkage here. I know this was built in the mid-fifties because of the deeds. Okay, Wyatt, when he died – it was sudden – and he died right here on the golf course and his will, as far as we knew, and I think my father was on the beam when he discovered that Arthur Wyatt left in his will that the place was to be sold. The land, the cottages, the whole thing was to be sold. Well, the people who were used to coming here year after year just like my family, they got together to form an association for… I can't remember what we called it. Somebody else is probably going to tell you that. Of course my parents paid more attention to what was going on at the time. I wasn't really interested. All I was interested in was school and what have you. So anyway these men, it was Carter Nash, my father; Frank Meehan, um, let me think who else, Mr. um, not Webber it was close to Webber. Well anyway there were enough to have a board of active people in the society or whatever you want to call it and they elected my father as president of the association. That's it, it was just an association. Really they had no power, the men that were on the board. It was like, like it is today. You know, there's no power on that board. But they struggled. None of them were hotel men. So they felt their way. They hired some people who had worked here and I guess they felt that they had done a good job there and they made them manager of the hotel, manager of the whole affair and for while it seemed to work but it was right after the war and people now discovered that they could drive from New York to Huletts Landing without a lot of trouble. So when they'd get here they would be in a hotel where they'd have to walk down a hall to go to the bathroom. Now a lot of people found out that you didn't have to do that anymore, you could go to what they called motels and that would be more comfortable for them.
Marian: Yes, right.
Blanche: So little by little the clients left and little by little things started to fall apart. They weren't making money and there were some people who wanted to buy their cottage and other people didn't want it. So, George Eichler, he had no hotel experience either and he wanted to own this place so badly and eventually he made it, he bought it from the bank because the bank was the owner.
Marian: So did he buy the hotel and the whole property?
Blanche: He bought the whole thing. As far as I know and let's see what else.
Marian: How old were you when your family came to rent the cottage? Do you have any memories of being in the hotel?
Blanche: Oh yes, I remember being at the hotel. Yes. I liked it as a child. But one thing I didn't like, I didn't like leaving my friends. They didn't have to get dressed for dinner. I had to get dressed for dinner and that was the end of my day. You know I could no longer go out and learn how to play golf or tennis or any of that stuff. I had to go to dinner, which I didn't like.
Marian: What time was dinner?
Blanche: I think it was around 7 or 8 o'clock. It was late. They would have dancing in the ballroom. I think it was three nights a week.
Marian: Did they have a live orchestra?
Blanche: Yes, they had a live orchestra. In the beginning it was like a real band; a real orchestra. It was 10 or 12 people. It was a lot of people to support too, right? Also, well, Eichler didn't like drinking which for the Wyatt's was a big part of their income which was from the casino. And the casino in Wyatt's day was supposedly owned by Mary Wyatt his wife, so any proceeds came from the casino not from the hotel. It was a little different having service people in the hotel waiting on tables, chefs. Of course I really don't remember the cuisine, but I don't remember that it was ever bad. You know what I mean; I don't have a bad taste for it. I felt it was good food.
Marian: Well Bunny Wilkening who I was talking to did say if you really wanted to do good dinner you went to the hotel. So it must have been true.
Marian: Yeah. And they'd have shows in the ballroom if they didn't have dancing and that would end at eleven o'clock and then people who wanted more would go down to the Casino and the band would follow and they'd play until one o'clock then that was it. Then of course the night club came in towards the end of the fun (chuckling). I can still remember that building. People just don't remember that building. What did it last for two or three years?
Marian: Not long, no. I want to say just for the recording that his knight club was K-N-I-G-H-T, because Proctor Knight started it. It was popular, I guess, wasn't it?
Blanche: Oh, sure. Yes. The night owls would all migrate from the casino up the road to the Knight Club. And I don't know how long they'd stay open. I think it was pretty late. Maybe 3 or 4 o'clock in the morning.
Marian: Wow, yes.
Blanche: I think so. And we had one night watchman for the whole thing and that poor man he worked for Wyatt for years I guess and the poor guy, he would try to herd everybody back to the hotel because the lights would go out at night and the street lights would be out so a lot of people were lost (chuckling).
Marian: No kidding! It's dark up here when there are no lights; it's dark.
Blanche: Yeah, right. So this poor man, as I said, he'd herd the people back to the hotel. I had my first crush. It was for the night man at the desk and who was that but John O'Brien and he'd take me on his shoulders and run upstairs with me and run down the hall making an awful clatter, I think, and then he'd open a room door and he'd throw me on the bed and I thought it was so wonderful.
Marian: What did you do during the day as a kid?
Blanche: I can remember rainy, cold days when they'd start a fire down in the entrance. There was a fire place. You'd walk in to where the desk was and to the left was a room that had a fire place and it would be lit late in august or when it turned cold. The kids… I can remember one horrible thing that I hated. They'd been out on the golf course and collected snakes. I didn't take to that at all. My poor pop, he'd try to convince me that little snakes like that were not bad. I was not convinced (chuckling).
Marian: Was there swimming? You must have gone swimming.
Blanche: Oh, yes. Swimming. Because I'd been in Florida for a couple winters and took swimming lessons down there, I was pretty darn good. Until I got water in my ear and that was the end of the good part of swimming because it was really a bad infection that I didn't get over easily. Oh and there was a golf instructor and I had golf lessons, I had tennis lessons, I had swimming lessons. Anything that I couldn't do was tried out on me and I am not an athlete.
Marian: Neither am I really. So did you play some golf?
Blanche: Oh yes, golf I liked. I liked and I played golf way in to my senior years. Then I had to give it up because I was getting so lousy. So I haven't played in many years now.
Marian: And the swimming beach was on the bay?
Blanche: It was on the bay where it is today.
Marian: Down behind the post office on the north side is that right?
Blanche: Well, the swimming beach really came from the county road. There was a gate there that opened onto the road there that came from; how can I put it? Do you remember the summer house right on the Lake? That was really the start of the bathing beach that went down all the way to the casino. You could go swimming off the docks. There were two docks you could swim off. Or go in a boat. You could rent a canoe if you wanted. There was a lot to do. There was a really a resort thing going on when it was owned by Wyatt.
Marian: There must have been other kids in the hotel when you were little. Did you play with other children?
Blanche: There were some children. I wouldn't say it was over-run with kids because it was a big favorite of secretaries, I think, and girls.
Marian: Mostly from Brooklyn, Long Island and New Jersey would you say?
Blanche: I was say Long Island and Jersey, yes. Like the Brady's, they were Jersey people that were there. Then we had a family from Oklahoma.
Marian: Oh really.
Blanche: There were two… was it two or three…I think it was only two boys that came with their mother every season and I don't know that the father ever came. That I don't know. But, I know they were here and they grew up here. They were about my age and they would in the beginning they would stay in the hotel too. I remember one time, my mother was looking for me and she found me in the room with the two boys and they had the mumps (chuckling).
Marian: Did you get the mumps?
Blanche: No I didn't.
Marian: That was lucky.
Blanche: Yeah, thank God, I would have gotten beaten to death. So anyway they stayed until they were in their college years and they were nice people.
Marian: So how old were you when your family came to the cottage?
Blanche: I, uh, I was still in high school. I think I was in my final year of high school. So that would be, what, maybe 18.
Marian: So what was life like when you got into the cottage?
Blanche: Oh it was great. It was wonderful. I could stay out at night. Even drink beer now and again. Paradise.
Marian: And were there a lot of people your age; a lot of young people?
Blanche: Yeah. There were. You see it was right after the war and all these boys were released from service and they hadn't gone to college yet or were in the process of applying for college. And funny thing is, the place I live now in Florida, one night I was having dinner with another lady and the hostess came over and she said, 'Would you mind if Mr. Land joins you at the table tonight?' We said, 'that's fine'. And we started with the usual 'where are you from' and all that business. And he said 'I am really from the Hudson Valley' and he said 'are you familiar with the Hudson Valley?' I said, 'yes, in a way I am but I know more about the northern end of Lake George.' He said 'oh, so you know Lake George?' I said 'yes.' He said 'I went to Union College.' So I said, 'well, I went to Skidmore.' And it was the same age group too. But he didn't seem so good, you know, so well. So anyway, we talked and he seemed to come out of his shell by the time dinner was over, but then I heard later that he was not all there. I'd speak to him and he'd smile but there was no recognition really. Which is too bad. So anyway, when he mentioned Union, I said 'by any chance did you know a Reggie Carol?' He said 'yes, he was a good friend of mind he went on to dental school and I went on to be a lawyer, but I've lost track of him.' I said 'well, I know where he is if you'd like to speak to him.' So I called Reggie Carol's number and I told his wife what had happened and I said 'if you have time I think he would really enjoy speaking to Reggie.' So they did call him but I never got a report. It was a good try anyway. I see him in the dining room occasionally anyway. He has help around the clock.
Marian: When you were living in a cottage as a later teenager, did your group go back to the casino and the hotel at all?
Blanche: Oh yeah, they didn't go to the hotel that much. They did go to the casino and then of course, Eichler bought the properties and he offered, well, in order to get the people to go along with letting him buy it, he had to promise the current owners or not the owners but the renters, that if they wanted to buy them, he would have to sell it to them. Which happened, but it was a case of nobody really wanted to help Eichler out. Everybody was kind of stand-off-ish. My father was right in on it. He said 'I want that property; I want that site,' but Eichler was the one who held it up. Did you know the Warners?
Marian: Well I know of them, Dorothy Warner.
Blanche: I think they were the first ones to buy the property.
Marian: My husband, Dave, went with Dorothy Warner when Cis, my sister in law, was going with Ty. They were that part of the little group there.
Blanche: Sure I know who Ty is and Cis. I'm terrible, but they haven't called me either.
Marian: Well it's hard for her to get around these days. They are there.
Blanche: Are they all right?
Marian: Well, yes, she she's ailing with something and it's hard for her to walk, but otherwise she's fine, yup.
Blanche: Oh, good. I really should call her. I'm very bad. But she's just as bad as I am.
Marian: I'll see her tonight; I'll tell her I saw you.
Blanche: Time goes so fast.
Marian: Yes, I know.
Blanche: And this year has gone…I was very ill early this year and so I was only here from the middle of August until now which is way less than I like.
Marian: Do you usually spend the entire summer here?
Blanche: Yeah.
Marian: When do you come?
Blanche: I would usually start in the middle of May and then until Columbus Day.
Marian: Oh really. That's a long summer. So going back again, do you have any memories of people in particular or incidents or things that happened that were fun or notable?
Blanche: Well the notable one was when the casino burned down. I wasn't here at the time, but that really killed this place.
Marian: As a tourist attraction. As a summer resort.
Blanche: Yeah.
Marian: That, I take it, was an accident. I hope it wasn't arson or something.
Blanche: I don't believe it was arson. I think it was an accident and I think it was probably caused by penny pinching that they didn't have somebody watching it. I guess Eichler was having a bad time with making money here and, as I said before, he did not approve of drinking and that's why he wouldn't build where the casino was. That's what I think. That's not burned in stone by any means. His daughter at the time, Margo, was going to Cornell; the hotel school there, and she was advised by her professors to rebuild that site and the father would not do it. That's why it's in a garage where the casino is today which is too bad. It could make a lot of money. But he didn't want strangers here. That was another thing. He thought if you weren't Christian…puhff.
Marian: Oh, huh. That's curious; I've never heard that about him. That's interesting.
Blanche: You've never heard about the…
Marian: I've never heard about that about him.
Blanche: What, if you weren't a Christian?
Marian: Yeah.
Blanche: Well, I know there was an article in the Brooklyn Tablet. It was a Catholic organization and he printed a little blurb in it to publicize the hotel and what have you and he would put in there that the Catholic Church and Protestant Church are on properties near by. No word about Jewish. You know, by elimination, he got his point across that Jews were not welcome and I think he turned people away who he believed were Jewish.
Marian: I'm sure that happened. Yeah.
Blanche: Well, that was a bad period and it was also a bad period I think between Catholics and Protestants. The people in Lands End and Bluff Head, they didn't want to talk to us. And of course this place is not beautiful the way the homes are on Lands End and Bluff Head. I call this the Ghetto (chuckling). But not out loud.
Marian: Oh, I wouldn't say that. Not at all. Now this is part of the area that's called The Landing. Right?
Blanche: Yeah. That's what we call it anyway. So I think that's the sum and substance of my life here. I do love the area and I love Lake George and I try to support it the best I can.
Marian: Yes, well it's a beautiful Lake. They don't call it the queen of Lakes for nothing. It's really beautiful.
Blanche: And people are so good, I think, about supporting the Lake George Association and the Adirondack Conservancy.
Marian: What was your career?
Blanche: I was a microbiologist.
Marian: Really? Uh, huh.
Blanche: I worked for Pfizer. After college, I couldn't get a job at first and finally I saw this ad in the paper. What I really wanted to do when I got out of school was throw aside my training in Biology and work for the U.N. Which, you know, they didn't want me from beans! So after trying after 6 months to get somewhere with that, I got nowhere what-so-ever. I said well I guess I better go back to the thing I studied. And I saw this ad for Pfizer and I applied there. Oh, before I applied there, there was an ad for Sheffield farms. Would you believe they had a stable on 59th street? I went there for an interview and they took me right away, but you know what they offered me for salary was twenty five dollars a week and I said 'I'm a college graduate!' They didn't care, no, but then they raised the anti a little bit but then I saw this ad for Pfizer and they offered me a salary of forty five dollars a week!
Marian: Wow. That's much better.
Blanche: I thought I'd died and went to heaven.
Marian: So how many years did you work for Pfizer?
Blanche: For the rest of…as long as I worked which was about 37 or 38 years.
Marian: And that was in Manhattan?
Blanche: No it was in Brooklyn.
Marian: And what part of Brooklyn did you live in?
Blanche: The awful part. Bedford-Stuyvesant.
Marian: But it wasn't bad in those days when you were growing up there?
Blanche: It wasn't good when I worked there.
Marian: But is that where you lived as well?
Blanche: No. I lived in Brooklyn, but not in that area.
Marian: Where about did you live?
Blanche: It was called Kensington which nobody seems to ever know.
Marian: My father was from Brooklyn. Dave's father was from Brooklyn. His grandparents came from Brooklyn. So it's a kind of familiar ground. No I haven't heard of Kensington; at least not in this memory that's coming up now. Well, do you have anything more you want to tell us?
Blanche: No. The only thing I…would you want to see some pictures of the…
Marian: If you have pictures I would like to see them and I know the historical society would like to see them. Do you have photos or post cards?
Blanche: They are photos of this period that I have mentioned.
Marian: Well if you have photos, I'll turn this off and tell you what the plans are.
Final Note:
At the age of 86, Blanche Meehan passed away Saturday, November 27, 2010 at her home in Palm Beach Gardens. Born in Brooklyn, NY, she was a winter resident of Palm Beach Gardens and a summer resident of Huletts Landing, NY. She was a graduate of Skidmore College and a Biologist with Pfizer Chemical in New York and a member of Cathedral of St. Ignatius, Loyola in Palm Beach Gardens.
Memories of Blanche:
"She was kind, caring and a successful business woman. Her positive can do attitude and sense of humor were infectious. I know I will hear her laughing at future celebrations. We will all deeply miss Blanche. Cheers to a life lived well."
"She was a wonderful friend and truly made our trips to the Lake enjoyable!"
"Remembering Blanche brings a smile to my face."
"Blanche was always, always with a smile and comment that would make you smile. Blanche, I think you'll bring laughter to heaven! Oh, and by the way, have one on me."
Blanche Meehan, September 2nd, 1924 to November 27th, 2010
Transcription by Emily Lyons