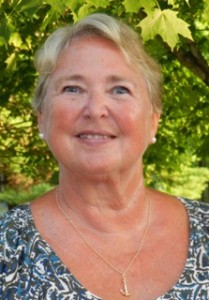 Barbara Wilford
Interviewed by Tom Keating
Driftwoods, home of Barbara Wilford
Huletts Landing, Lake George, NY
September 7, 2011
Tom Keating: Does your home have a name?
Barbara Wilford: We call it Driftwoods but nobody else does.
Tom: Okay. That often happens right? So we're gonna be talking to Barbara today about her history in Hulett's Landing and her family's history so I'll just start by asking you, how did your family originally come to Hulett's?
Barbara: My father's mother was born up here on the mountain just about to the top on the left hand side of the road and her whole family lived up there, the house that still stands with the top big grey barns behind it was built by my great uncle, and he built the barns. He had a big farm up there.
Tom: That's the little white house on the right side as you go up the mountain?
Barbara: I think it's now green, but it was white. And then there's a bigger white house beyond it that was Evelyn Benjamin's family but I think it was, I wanna say Caldwell and that's wrong but it did start with a "c." I can't remember. But anyway, that's where my grandmother lived and my grandfather's family was from Hague and my grandparents met at a party at, well they called it a casino but it was really nothing more than a big barn party on Pike Brook Road. Then he courted her by coming by canoe to Hulett's Landing and they were married in, I think, I should have checked this, I think around 1910, I would have to check the date to be sure, but anyway and they settled here in Hulett's.
Tom: In that house on the mountain?
Barbara: No. That was, my great grandmother lived there and my great uncle lived across the road and they had a little cabin, it was no more than a log cabin between the gravel pit and the entrance to the path to the cascades, right on that little here there, there used to be a little log cabin, but it wasn't winterized and my grandfather got work taking care of what is now Bunny Wilkening's house, they called The White House on Bluff Head. There was one section of that house that was winterized as best houses were back in the early 1900s and my grandparents lived there in the winter. They lived in their little cabin in the summertime. My grandfather worked for the Starr family and all the families down at Lands End. He worked there, he worked for Starrs for 35 years as caretaker, maintenance guy, whatever needed. My grandmother did all the house work and prepared the houses for them for the spring and whatever. My two aunts were born in Bunny Wilkening's house. After my two aunts were born my grandfather bought the house that became Dave Cooper's and is now Gail Smith's at the bottom of the mountain.
Tom: Wow, your family really got around.
Barbara: Yes they did.
Tom: They've been in a lot of houses.
Barbara: A lot of houses.
Tom: So what year roughly would that have been?
Barbara: My father was born in that house that is now Gail Smith's in 1918 and my uncle was born in that house in 1916.
Tom: Do you have any idea about how old those houses are?
Barbara: Well I would guess that Gail's house is turn of the century because it wasn't new when my grandfather moved there. I don't know who he bought it from. It was not as elaborate as it is now, it didn't have a fancy porch or anything. That's where he moved to, moved his family to. The Fosters still had the farm across the street which is now the old firehouse.
Tom: That was a farm?
Barbara: That was a farmhouse. Two story farmhouse.
Tom: And where was the farm?
Barbara: On the hillside behind it where all the woods are, where the present day firehouse is, where Van Patten's house is. All of that.
Tom: What did they raise? Was it plant, vegetables?
Barbara: Yes, they had cornfields and they had a lot of produce that supplied the Casino and the Hotel, the restaurants that were around here. Don't know a lot about that but Bordens would. Or anyone in the Foster family.
Tom: Fosters of the Fosters that are still around?
Barbara: Yes.
Tom: So these families have been here a long long time?
Barbara: Oh yeah.
Tom: And just getting back to the house thats up on the mountain, do you know how old that house is?
Barbara: I don't exactly, but I'm guessing probably around the 19-teens, early 1920s, I don't know. Uncle Charlie was a little younger than my grandmother so he would not have built it prior to my grandparents being married I don't think. But those are guesses, I don't know for sure.
Tom: So we're at the house on the corner.
Barbara: And they lived there and so let's see, my dad was born there and they didn't move to Whitehall till he was in 7th grade and my uncle was going to high school, and then they moved into Whitehall.
Tom: Why did they do that, do you know?
Barbara: To make it more convenient for the boys to go to school. My aunts commuted over the mountain to school and took the train to town and stayed with people in Whitehall during the week but by the time, as was many of that period, they thought it was more important that the men have a better education than the women, so it was okay that my aunts did that but when it was time for the boys to go to school my grandmother wanted them closer, and she wanted to be closer to them. She wanted them to be able to come home at night.
Tom: So essentially in those days if you went to school, you had to get yourself there
Barbara: High school.
Tom: Nobody was coming to pick you up.
Barbara: No, no school busses, no.
Tom: And they took the train? They went over the mountain and took the train?
Barbara: There was this train stop in Clemons, in fact my aunt used to go in on Saturdays in the summer for violin lessons. She used to walk over the mountain, take the train to Whitehall, have a violin lesson, take the train back and walk back over the mountain. Or, sometimes I'm sure my grandfather or whoever else was going or coming would pick her up but if there was no other ride she walked it.
Tom: So when they moved into Whitehall the abandoned the house in Hulett's or they kept that too?
Barbara: No, they kept it for a year or so and stayed here summers because my grandfather was still working for the Starrs and it was more convenient but then the roads became a little better, he bought a pickup truck, actually took his horse and buggy over the mountain, went into town, bought a pickup truck and drove the truck back.
Tom: Left the horses there?
Barbara: Yes. Part of the deal was to give them the horses and he used to laugh about that because he had no idea what he was doing but he was young and embarrassed to say he didn't know what he was doing so they said, "you need lessons on how to drive the truck" and he said, "oh no." And he got in the truck and drove back and at that time it was the North Road or Pike Brook and then down this side which was much much windier than it is now.
Tom: You had to come up by the Pike Brook road to get here?
Barbara: At one point yeah, and then you went across and down, was it Cross Road to the North Road which doesn't even exist even more, it came down into Bluff Head. Right at the end of the pavement is where the road used to come down in. But by the time the hotel started to thrive the steam boats were bringing a lot of people here they started working on a road that would go more direct.
Tom: So this raod that now comes down into Hulett's, that didn't exist until?
Barbara: It was a dirt road when my father was a little boy because I have a picture of him sitting on his horse in the front yard and there was a dirt road behind him that he told me was the original beginnings of what is now the mountain road. And so he was a little boy so 1920s. But it was dirt. I assume they were all dirt, I mean I imagine the North Road was probably dirt road too, I don't know that, I just remember him talking about.
Tom: Well it's a dirt road now right?
Barbara: Yeah, it probably hasn't changed.
Tom: Driving a pickup truck over that must have been quite an adventure.
Barbara: It was an adventure but he got it here, he didn't strip all the gears. And then they moved into town and he commuted over the mountain like I said when my dad was in middle school, well what we would call middle school today, he said he was in seventh grade my uncle was a freshman in high school.
Tom: So then when did your parents start to come into the picture?
Barbara: My parents, my dad went to NYU, studied drafting and architecture and actually the old buildings in Whitehall inspired him to study architecture. He was fascinated by the architecture of the old buildings.
Tom: You mean the ones down by the canal? They're very pretty.
Barbara: So he went to NYU and got a degree in drafting and architecture.
Tom: So country boy went to the big city?
Barbara: He did, and he loved it. He did, but then the war came along. He enlisted. He was sent to Savannah, GA.
Tom: Were they fighting in Savannah?
Barbara: No, this is World War II. They were drafting building, constructing what was Hunter Army Airforce base. It was one of the first air strips where, like the men from this country who went in the mighty 8th to England to fly all the bombers that flew over Europe, their last stop in the United States was in Savannah. But he built Hunter Airforce, built, helped lay out for construction. I have pictures of him surveying in the swamps. The runways and stuff for the air force. Well it wasn't the Air Force then it was the Army Air Corps and while there he met my mom. She was a Savannah girl and they were married and lived in Savannah until I was just 5 and then we moved to Whitehall and that was in 1950 when dad bought the land here.
Tom: So he returned to his roots. After seeing the wide wide world he came back to Whitehall.
Barbara: He came back to Whitehall. He wanted to be a builder and my grandfather's health was failing a little bit and my grandfather was doing a lot of building and remodeling around here but not to the scale my dad had hoped to do so he came home and got jobs, he built a lot of cottages in this part of the Landing. The glass house on the point, Flories which was written up in House Beautiful, one of them, might not have been House Beautiful, one of those magazines. But he built a lot of the houses around here.
Tom: Did he have his own house here at that time?
Barbara: We lived in Whitehall. Actually after my great grandmother lived on the mountain she moved into Whitehall about the same time my grandparents did and they bought houses in the same neighborhood. And my parents bought her house because she was moving to Schenectady to be near my uncle.
Tom: Go back a step here. Your parents bought whose house?
Barbara: My great grandmother's house in Whitehall. So we lived in Whitehall but my dad wanted to be here as much as possible so he bought the land right here on the corner of Sunset Bay Road and I think it's called Mountain Way West. Anyway, he bought the land there and we started building. My older brother dug the foundation by hand but daddy was off building somebody else's house Art's job was to dig and my self and my younger brother would haul buckets of dirt and dump them over the hill all the time. It was very much a family project.
Tom: So you really came in on the ground floor.
Barbara: Yes I did. We hauled bricks and we, when my father would come and cut lumber my little brother would pick up all the wood chips and put them in the pile for burning for scrap wood.
Tom: So who's house is that now? It's still standing I assume.
Barbara: Yes it is, it belongs to John and Beth Culligan.
Tom: How long did your family stay there.
Barbara: I grew up there. I spent all my summers or a good portion of my summers there until after Don and I were married. Then we bought this house about 40 years ago, right after we had two children and decided we needed a house of our own. And my parents stayed there and then they both died fairly young. My step mother sold it to the Culligans about six years ago. Anyway, so that's, at one point here in Sunset Bay my grandparents, my aunt Francis who was also born here in Hulett's and her husband George and my aunt Ruth and her husband Bill and my parents all had cottages here in Sunset Bay.
Tom: So you sort of ruled Sunset Bay.
Barbara: I don't know that we ruled it but we certainly had it. This particular community there were a lot of folks from Whitehall who were here. Valoneys from Valoney's news stand in Whitehall were here.
Tom: Is that the news stand that was on Main Street?
Barbara: Yes. Helda Sullivan who was telephone operator in Whitehall. Ellen Chairlone and her husband Joe, he was an electrician in Whitehall and she worked for the telephone company, so there were a lot of Whitehallers. Bill Aiken who was an electrician in Whitehall built the house next door to us. The next house down belonged to the Garrands. Lida was the school nurse in Whitehall forever. She was my school nurse when I started kindergarten. So there's, I could go on, but there are more, the Benjamins have been here forever and they own Champlain Coal and Fuel in Whitehall. Lot of Whitehall folks, not so many anymore, very few now, but they kinda settled this little pocket of the Landing.
Tom: So the ones that have a number of businesses in Whitehall had houses here in Hulett's.
Barbara: The Cooks had a house here and he owned a department store in Whitehall and a department store in Ticonderoga.
Tom: So when you were, what age did you first come to Hulett's, do you remember.
Barbara: I was five.
Tom: And that time you'd just come for the summer or how did that work?
Barbara: Well at that time we had moved to Whitehall and it was before we actually had the house here so we'd come and stay at my grandmothers.
Tom: So did you come for the whole summer?
Barbara: We would come and stay like long weekends. But we didn't stay the whole summer because Grandma's cottage was very tiny, and my cousin Bruce Young and my cousin Ruthy were both older than I was and they started working young at places like Fredrick's over here which was Oweenoko Colony. They had a little restaurant.
Tom: Tell us about that, I don't know anything about that.
Barbara: Where the Marina is now, and the building that is the store at the marina, that used to be the check in and offices for Oweenoko Colony which had a little tiny one bedroom cottages right along the waterfront there. There probably were six or eight of them. He rented those out and the people who stayed in these came to the main house which had a little restaurant in it for their meals.
Tom: So it was like a hotel in a way where you come for your meals.
Barbara: Right, and I think, I don't remember to be sure but I know that at least a couple of the cottages had little breakfast rooms or little what would we call a kitchenette today. So they might not have gone for their breakfast say but they would go for lunch or dinner or whatever.
Tom: When did that go out of existence?
Barbara: Oh my. In the late '50s maybe. I don't know if you remember there used to be a concrete ramp down the road there to the marina and they tore it down about 20 years ago but they originally were going to build cottages underneath the ramp. It was built out of concrete and they were going to put a couple of cottages under there and there still are a couple of little cottages along the brook there, they were all part of that and the concrete ramp never, business started to fail. There was a recession in the '50s that started to hurt these places and so they never pursued that but the concrete ramp I remember well because we would come in the winter and sleigh ride down that thing and you'd go all the way to the lake, you could get such a head start with that long concrete ramp.
Tom: So when Oweenoko went out of business is that when it became the marina? I remember there was a place called Leroy's.
Barbara: Yes. First the Leroy family bought it and they sold off part of the lakefront to the people who own Champlain beef and they had that lovely house along the water there that's all fenced in. But they bought that land which was where a lot of the little cottages were. The people in the back through their association maintained a section of beach front there and then Leroy's had the restaurant for quite a few years before it became much of a marina, although we did dock boats and stuff but it wasn't called The Marina then. He did have a boat launch and you know all those things have been there but then he sold out to this group of people and they enlarged the marina, got rid of the restaurant, rented, they have little apartments in the building that they rent and turned it into a store. Leroy's had, in the restaurant there was a small store that had bread milk and stuff for the campers but it wasn't, he didn't call it a store, it was kind of a convenient place. Then the Leroys got out of business then the marina took over.
Tom: So, what do you remember, what are the things you remember as a child when you first came here that's different from what it is now?
Barbara: Well, one of my biggest memories is where the park is now used to be a swamp. It was a wonderful swamp and it took all the debris that now ends up in our bay was filtered through that swamp and the swamp itself, when we were kids we all had canoes or rowboats or whatever and I mean there were no fancy boats in this bay back then, or very few. We would, as kids, would take the canoes or row boats and go paddle up through and wind our way through the whole swamp and explore and we spent hours up in there and loved it. And we just, and as a kid I fished, I have wonderful memories of fishing out here in the bay. Catching lots of fish, which the bay has changed so much with the park and all.
Tom: So the park is landfill?
Barbara: It's all landfill.
Tom: When was that made?
Barbara: 60's. It started. For a while they left part of it but then eventually they just kept filling.
Tom: So that was before people got concerned about the environment.
Barbara: Absolutely. Although there were people here who raised voices about it and there were people even in the Lake George Association who some of the people went to with concerns about it but at that time there was no D.E.C., no Adirondack Park Agency, at least not one that was, I don't know if it existed but it certainly wasn't doing anything about that kind of task.
Tom: So that's a county park isn't it?
Barbara: But it wasn't originally, it was privately owned, I cannot think of the name of the family that bought it originally, and it was going to be, when they filled in the back where the pavilion and all is, there was going to be a series of six or eight houses that were timeshares. That was the plan, and the, actually the cottage that is the caretaker's cottage over there was the model home.
Tom: I didn't know any of that. And that was in the 60's.
Barbara: Early 60's.
Tom: So that was all done privately, the landfill was done privately?
Barbara: Not all of it but a lot of it. And then that organization went bankrupt and sold out to the county.
Tom: And the county turned it into a park?
Barbara: Well, it was a private park, but it, that's how they sold it to the county was they had turned it into a park of sorts, but it was not as elaborate as it is now, it didn't have tennis courts. It was a beach. And then the county came a long and mad the tennis courts and all the other improvements, built the pavilion. Where the pavilion was, that wasn't filled in until much later. In the front where the swing sets now are in the park, they left that in as a big pond that was part of the swamp that they, and that was going to be like their little private marina, they could put their boats in there out of the water, out of the lake itself so that they weren't in danger of the wind or anything, in a protected area. But then the county came along and filled that all in and filled in back for the pavilion and stuff. And again, there was nothing done to stop them.
Tom: So that's where, so the brook that kind of goes along the side of it is what fed the swamp?
Barbara: Yes. And that's the water that flows into our bay, and with it tons of debris, when they were logging on the mountain there was always stuff, every storm. This last storm, we had huge logs and timbers come down that brook. Mounds of sawdust. Not to mention tons and tons of leaves.
Tom: Where are they doing logging?
Barbara: They're not logging anymore but two years ago they were and the stuff is still laying on the ground up there so it comes washing down.
Tom: Where on the mountain are they doing that?
Barbara: Above Franny Borden's property and down in that ravine. There was a lot of logging done a couple years ago. Now they're logging mostly on Pike Brook.
Tom: So getting back to your earlier life, so when did you start coming here for the whole summer? Was there a point?
Barbara: Yeah, when we got the house pretty much done and I was probably, I don't know seventh or eighth grade, somebody is stopping here, excuse me just a minute. Can you turn that off for just a second?
Tom: We're back to, you were just about to become a teenager and come here for the summers, is that how that was?
Barbara: When I was about ten or eleven the house was done, my father had changed jobs and worked for Federal Housing Administration in Albany and we were living in Albany or Guilderland and coming here for the summer. My mother and brother and I and then my little sister would come the day school got out and we would go home the day after Labor Day. Yeah, it was wonderful. I was terribly, terribly spoiled.
Tom: Tell us about teenage life in Hulett's Landing.
Barbara: We had a wonderful time. There were a few of us here in this neighborhood but there were many more over on the Landing and of course we wanted to be with the group, that is working, and so we started going over to the landing and meeting people and some of the first people I met were people like the Firth family which was now Judy Haggett and Loni and Wyatt, they became good friends and they're all the descendants of Mr. Wyatt, Art Wyatt who owned the Hotel.
Tom: So was the hotel still standing when you were here?
Barbara: Oh yes, the hotel was still here, in fact my cousin was working at the hotel. I was only ever in the hotel a couple times, like when my grandmother would send me to give my cousin a message or something. I was always taught it wasn't my place. It really was.
Tom: What does that mean?
Barbara: Well, if I wasn't a guest there I had no business wandering around there. That was, it was fine, my grandmother, my mother never said anything but my grandmother made it abundantly clear that if I wasn't a guest there I wasn't going in the hotel. And it was fine that I had friends there and, you know, went over there with them but I wasn't to be in the hotel.
Tom: So, kids, essentially, didn't go to the hotel for social reasons?
Barbara: Well I never did.
Tom: Adults used to go dancing there and stuff like that but teenagers wouldn't do that?
Barbara: That ended soon after I was going to the landing very often. I mean, I probably didn't start going to the landing on a regular basis until about 1959 and that's when the hotel, well, yeah, 1959 was probably when I started, when I was going to be a freshman in high school that I started going regularly. Up until then it was more sporadic, and it was to see specific people and it was usually the day time. By the time I was going to high school, we were doing things at night like bonfires in the Sheep Meadow that we called the Boondocks. It was a place near the water, there's a house there now but we, the boys would take logs and stuff all day long and build a teepee like of logs and then we would go and have a big bonfire in the evening. We'd be home by 11 o'clock, 12 o'clock at night. I personally never had a rigid curfew, my parents always said you know what's appropriate and we expect you to do that.
Tom: How admirable of them. Trust.
Barbara: Well maybe of them, I don't know if they knew how I felt (laughs) because I think I probably came in earlier then I needed to sometimes because I thought it was the appropriate thing.
Tom: How did you guys get into Sheep Meadow because that was private property wasn't it?
Barbara: It was private property. The Gardiner family owned the point with the big white house that sold last year and they were part of the group. Jerry and Patty and Luke, Les were all friends and they knew Mrs. Phillips and through, and I think the generation, the age group just above had already set the precursor but Mrs. Phillips always knew when we were having a bonfire. She always was informed and so it wasn't like we just intruded. She knew where we were and she knew we were having a bonfire and that much I know for a fact.
Tom: And not roasting the sheep?
Barbara: No, but I was never one of the ones, who, by that time her sheep were very limited and a lot of them stayed in her house. So, its the truth. But they were aging and, you know, she didn't have young flocks running around, and they never came down, but I do know that permission was always told. We were always granted permission but she was always informed when there was going to be a bonfire. And then we had probably had one at least once a week and the last year of the hotel was probably the year that I spent the most time there in the evenings. In the landing, because there were kids who came to the hotel who, they would come every week, I mean there'd be a new group almost every week and we would get to know these kids and some of the other friends who already lived on the landing knew, oh next week the Rooneys are coming or next week so and so is coming. So we wanted to do the same things with them, so there'd be a bonfire every week. That summer, I climbed Black Mountain every single week because the new group would come in and it was the thing to do, one of the things you do while you're here on vacation is you climb Black Mountain.
Tom: The social whirlwind.
Barbara: Yes. So, I mean, those of us who were here all the time did many things repetitively because there were new groups of kids every week. Then the year the hotel came down we all cried our eyes out.
Tom: It burned down didn't it?
Barbara: No, it was torn down.
Tom: Oh I though it burned down.
Barbara: The Casino burned. I remember that too.
Tom: Wasn't the Casino part of the hotel?
Barbara: No they were two separate buildings.
Tom: Where was the Casino?
Barbara: On the beach in front of the hotel.
Tom: Was it part of the same establishment though?
Barbara: Oh yes, oh yeah. You mean owned by the? Yes. The Buckells and then the Wyatts and the Eichlers.
Tom: So the Casino burned down before the hotel was torn down?
Barbara: The Casino burned down in '50… oh my gosh, maybe '56, I don't remember. I remember going there for ice cream. I was like 10 at the time.
Tom: I mean the fire, what do you remember about the fire?
Barbara: The morning of the fire we were, it might have been even earlier than that, it might have like '54, we were living in tents on the rock behind the house because we were building the house and my father built a big tent platform on the rock behind the house and we lived in the tents during the summer. My parents very often would get up and go fishing early in the morning and my older brother who was in high school would be responsible for us and my grandparents were down the hill and my aunt and uncle it wasn't like we were just left but this one morning my mom came in and I remember her whispering in my ear, and she rarely woke us up when they were going fishing, you know, they would just leave, but she whispered in my ear, "Dad and I have to go out, don't go anywhere unless you go see gram and pop, and we'll be back in a little while" so it wasn't like they were going fishing and it was still dark and after she left my brother and I had cots connected to one another and I remember rolling over and saying, "what's going on," cause we could hear this noise, this crackling and this loud noises and as we woke up, as we became more aware we could hear voices and people shouting and that is, I found out later what woke my parents up was people screaming and my parents thought the hotel was on fire so they were going to see if they could help. It was, you know, dawn, it was very still and they were going to see what they could do. Daddy heard a lot of cars starting. He figured they were evacuating people and stuff so he and mom and my grandfather went to the landing and my brothers and I woke up, I swear as soon as they left because we knew things were going on and my little brother who is two years younger than I am was Mr. Mischief. Until Ralph was probably 8 I don't think he was allowed out of the house without a lifejacket on because my mother never knew where he was going. But anyway, he got up and was determined to go down, to go see what was going on and my brother and I were arguing with him, yes well we'll go see gram. Well gram won't let us do anything. Well we're going to see gram. So we went down the hill anyway to my grandmother's and as we got to my grandmother's her next door neighbor, Mr. Rice said, "I'm going out in the boat to see if I can see what's going on," and his two boys who were good friends of my brother said, "I'm taking the kids with me, and if Barbara and Art want to go with me I'll take them." He had not a huge boat but it was bigger than rowboat and so my grandmother gave us permission, I remember my brother having a fit because he couldn't go and my grandfather saying I'll take you down the dock, that's as far as we're going, my grandmother. Anyway, we went down and just as we got to where, to Ranger's Island, came through the channel there was this huge snap, crack and then the whole second story collapsed. And I remember sitting there, I remember Mr. Rice practically in tears. And he and his wife and many of the others around here would go to the Casino to dance you know or have cocktails or just socialize. It was devastating. It was a beautiful old building, absolutely gorgeous.
Tom: So was there a fire department then or was there no such thing?
Barbara: I don't know, I honestly don't know. As a child I guess I wasn't aware and that's a question I never asked myself.
Tom: So it burned to the ground, that was the end of that, they never rebuilt it.
Barbara: I remember sitting there for a long time. Mr. Rice had thrown an anchor over and we sat and watched for a long time and there was charred wood floating all around us.
Tom: Did you find that scary?
Barbara: I think I was too in awe at the time to realize and I remember Mr. Rice was just so worried about the hotel because there was not a breath of air, it was not, it was as still as it could be. There was no breeze, there was nothing, if there had been any kind of north wind the hotel surely would have gone because they were fairly close to one another and it was a, even after the second story fell, flames were 30 feet or more in the air. I mean as a child it probably looked 50 feet.
Tom: Do they know what caused that fire?
Barbara: They think it was electrical, they never really knew.
Tom: Like so many of the fires.
Barbara: Well and they don't really, back then there was not the kind of fire examiners there are today who really know how to trace the source of the fire. They think it started in either the bar or the ice cream fountain. Both of which were to the back of the building.
Tom: So did that kind of lead to the eventual closing of the hotel or they're not related?
Barbara: They really weren't related. Mr. Eichler was, as I understand it and I didn't, this is all stories that I've heard because I was too young to know at the time, but he just really wasn't into the night life and he didn't really like people drinking or over indulging and so I know my father and I think Franny Borden and I think there was a third gentleman all submitted plans to build a new casino because this happened in like late August, to build a new casino for the next year and he rejected them all and went with the plan to turn the old garage into the Casino that we know today.
Tom: That was a garage?
Barbara: It was the garage, it was where all the grounds equipment was kept and the maintenance trucks, thats where everything was kept. He went with that because he really didn't want to encourage people off the water to come. And it was probably cheaper, I don't know that for a fact but I'm guessing because he was very frugal.
Tom: You mean he didn't want transients to come from the lake.
Barbara: Yeah he wasn't.
Tom: So how was that, so that opened the following season?
Barbara: The Casino, yeah, that we know today opened the following season.
Tom: What was the effect of that in terms of compared to the other casino.
Barbara: I don't think, I think there was the disappointment by a lot of people that it wasn't on the water. I remember clearly as a child lying my bed at night and listening to the music from the Casino drift across the water.
Tom: That's live band music.
Barbara: Yes and I can remember that. I can close my eyes and remember that, but I don't, once the Casino moved we never heard that again, it was far enough off the water that we never heard that sound again so as a kid it was a little something I missed, but it wasn't a big deal to me and I don't recall other than the fact that people loved it was on the water, the dance floor in that place hung out over the water and the windows that opened out were on the water so you were actually like dancing on a cloud over the water, it was. It was really special from all I hear, but again I was too young to go dancing there so the furthest I ever went in that Casino was the gift shop and the ice cream store.
Tom: The reopened Casino, that still thrived as a business?
Barbara: Oh yeah it did. We had, there was the big room that's there now where there were wonderful events that went on every night, I mean it was a well organized place. They had one night a week, friday nights were teen nights, we had sock hops every friday night. Saturday night they had a live orchestra. Tuesday nights they had movies, one night they had bingo, they had a talent show every thursday night.
Tom: Must have been a lot of talent around here for every thursday night.
Barbara: Actually there was and the hotel was still open or there were people, even after the hotel was torn down they built more cottages so a lot of people who came to the hotel then returned for weeks in these cottages and they did the American plan, they did people stayed in the cottages but you could buy the American plan where you had dinner every night in the Casino. See, when the original Casino was moved where the kitchens are now, behind the soda fountain that was originally a huge game room for kids. There were ping pong tables and all kinds of machines and stuff and there was a door into the soda fountain and the soda fountain back then sold hot dogs and hamburgers at lunch time, it was open from like 11 in the morning until 11 at night.
Tom: So when did all that come to an end?
Barbara: Oh gradually, over the years. After the hotel was torn down they moved the kitchen from the hotel to the Casino which took up the game room and they built a little barn out in back for game room but it never took on like the other one did because it was away from the soda fountain, away from everything. It's where that new cottage sits behind the Casino now. And it was, I mean they thought, well we'll just give the kids this place but it wasn't the same anymore so that's when the kids started hanging out more in the gazebos and the caddy shack and away from the Casino. They never really went into that place much.
Tom: And what do you remember about when the hotel was torn down? Was it torn down in the summer?
Barbara: That to me was the sad thing. It was torn down in the fall and the winter. November.
Tom: People knew that was going to happen.
Barbara: Knew it was gonna happen. The last summer every kid that came was like, this is the last time we'll be in the hotel and I can only relate to the kids conversation because that's what I was at the time, I was a young teenager, but they were like, this is the last time we're going to stay in the hotel, you know, next time we'll be in a cottage or something.
Tom: And why did they tear it down, because the business fell off?
Barbara: Well no, I honestly don't know for sure. My parents always said the rumor was that the fire insurance people wanted metal fire escapes and Mr. Eichler didn't want to pay for metal fire escapes but I don't know if that's true. That was the rumor of those who were angry that it was being torn down.
Tom: So the hotel was still thriving?
Barbara: It was still doing, as far as we knew it was still doing good business. As far as anyone I've ever talked to. I've never heard that the place was empty.
Tom: So then how did Hulett's change once that was gone, or didn't it change?
Barbara: Well it became a community of cottages.
Tom: So was it less crowded or quieter or what?
Barbara: Yes. I think it was less crowded because you had, they built maybe a total of I don't know, a dozen and a half cottages but that certainly wasn't enough to cover what had been.
Tom: People at the hotel. How many do you think the hotel would hold? What was the capacity, do you have any idea?
Barbara: I have no idea, that's a good question.
Tom: How many stories tall was it?
Barbara: Well, three. There were three floors as I recall. Three or four if you counted the attic. Three or four.
Tom: So, life went on.
Barbara: Life went on it certainly did.
Tom: So what do see as the major changes from that time to now, how is it different or how is it the same here in Hulett's?
Barbara: Oh it's very different, it's very different. I mean when the hotel was here it was a resort. Now it's a vacation place. I mean and there's a big difference to that. Most of the people who come here now are in for the long haul. There are not that many, I don't know, I think it's less than 10 cottages that the Kapusinski family owns now that are regular rentals. And that includes Del Noce which I think has two or three apartments in it. I don't think that, it just, it's a different atmosphere. There's no longer meals in the Casino like there were. I mean you can get a meal there now but it's not like it was. It used to be a dining room. You know, there used to be music regularly, there used to be a lot of amenities that are long gone. I think part of that's what the people over there have always been so frustrated, they never wanted anything to change and it changed. For people in our community life hasn't changed much. I remember the days of the Casino and I'm never in the hotel, I remember going in the lobby to the desk to give my cousin messages or looking around for him in the hotel and trying to see what I could see besides but it was not really part of my life, except that there was this big beautiful building there that is gone.
Tom: And how about the number of buildings that have gone up over the years, does it seem like a lot or just, I mean.
Barbara: Oh it's a lot, I think it's a lot.
Tom: For this neighborhood here is it much more crowded than it was when you were a kid?
Barbara: No. It is different in the sense that it's bigger, you know, the house two doors away was a little tiny cottage they tore down and built this big house. But the number of houses in this community has not changed in 30 years. So we're not affected by, there's no place to really change. There's a new house up on the hill and there is woods where more people could build but I think Bluff Head and Lands End have experienced far more of that than here in this little pocket. I don't know why that is. I think it's just primarily.
Tom: So how long have you had this house that you're now living in.
Barbara: 40 years. Well, 39.
Tom: Did you have this house built or it was here before.
Barbara: Oh no, this house was built in 1939 by a man by a name of Ed Heeny and his family.
Tom: So this house was standing while you were a child in the house up the road.
Barbara: Yes, in fact Juanita Smith who lives on the landing with her husband Luke, this was her family house. Her parents built this.
Tom: And did you look at this house early on and say gee, I'd like to live in this house someday?
Barbara: I never, no, I never never ever ever gave that a thought. I actually always thought I'd live in my parents house and that didn't work out but when, Nita's sister Sharon was one of my best friends, she was one of my bridesmaids and so we were always close and at one point when Don and I, I think we had just the one son at that point one day Mr. Heeny said, "you know, the kids just don't come much anymore, maybe we should sell," and Don and I said, "you know, if you're ever really serious about that," because it wasn't the first time he'd made a comment like that. "If you're ever really serious we'd like first refusal, we'd like a place of our own." And about a year later they called us up and said, "you know we really are serious and we are going to sell and we'd like you and Don to have it if it works out," and that's how it came to work out.
Tom: Well that's good. So how much of the year do you spend here now?
Barbara: Now that we're both retired we come the first week in May. Don is working out on the islands as a ranger so he usually starts work around the 10th or 12th and then we stay until around the last week in October. Although, he will be finished work in another 10 days.
Tom: And you don't come in the winter?
Barbara: When the kids were little we did. When the kids were little we'd come like February vacation or we'd come in the fall, Thanksgiving or something. We always come in December to check on things. A week or so before Christmas and when the kids were little we'd come and we'd ice skate and from here we'd go to Killington or somewhere to ski but Don and I don't do those things anymore and the kids have come in the winter but our son who enjoys it the most in the winter lives in Jersey and it's a long haul for them. They're way down on the shore.
Tom: So just to conclude, what would you say you like best about Huletts Landing that's caused you to stay here all these years?
Barbara: I think the Lake, but for me personally beyond my husband and family I think for me it's my roots. My great grandparents are buried here, my parents are buried here. My grandfather built the stone church.
Tom: Really?
Barbara: Yeah.
Tom: You didn't tell us that.
Barbara: Well he was the stone mason in Protestant church.
Tom: So your family is buried in that cemetery over by the stone church?
Barbara: Yes. Yup. As Don and I will be. But I think for me it's just that this is so much a part of who I am because I've been here forever. I hardly have memories that don't include being here at some part of every year of my life.
Tom: Well you're lucky to have had that. I didn't get to be here as a child. Being here as a child must have been really extra special to run around in the woods.
Barbara: I am, I'm very blessed. The freedom we had to explore. We would go off and explore the woods, the cascades. We were allowed rowboats that took us fishing and, you know, we did a lot of things that kids today seldom do.
Tom: Because they're sitting in front of screens. Poor them.
Barbara: Poor them. My brother, I'll tell you one quick story, my brother burned down Loon Island once.
Tom: How'd he do that?
Barbara: He and his best buddy, Larry, were camping there for about a week and the day they broke camp they came in and we were all sitting down at the dock later that afternoon and the whole island went up in flames.
Tom: Where's Loon Island?
Barbara: It's a little island down here just off Knights just off Meadow Point. It's a little tiny island and I remember sitting on the dock with my mom and saying Sonny's Island, my mother put her hand over my mouth, don't you say that, and Art swore for days, we put that fire out, we drowned it, we did everything we were supposed to do but it was a very windy day and apparently there were enough sparks left that, and the whole island burned up, all the trees.
Tom: I guess its recuperated since then though right?
Barbara: Oh yes, that was 50 years ago.
Tom: We won't tell anybody.
Barbara: No no, we haven't told a soul.
Tom: Thank you very much for talking with us.
Transcribed by: Robert Stragnell
Edited by: Arnie Galbraith and Marian Knight