Ann Goldsmith & Louise Grogan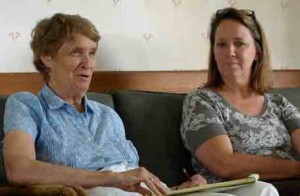 Ann Goldsmith and her Daughter Louise Grogan,
Interviewed by Marian Knight
At Bittersweet, Home of Ros Brady & Ginny Aloysi,
Lands End Road, Huletts Landing, New York
June 24, 2010

Marian Knight: I'm Marian Knight, and we're at Bittersweet, the home of Ros Brady, and this is June 24, 2010. I'm interviewing Ann Goldsmith and her daughter Louise, I don't know your last name Louise.
Louise Grogan: Grogan.
Marian: We had a little preliminary session this morning, whereas, this is the practice session interviewing two people together. Ely was going to be here, so you're kinda filling in for your dad.
Louise: Ok.
Marian: We were talking about what questions to ask, and so what came up first, about you Ann, was your family, and if you could kind of untangle, your, all the interconnections between Goldsmith and Jelliffe and how the people were, and that would be interesting for us.
Ann Goldsmith: Well, the interesting thing is that we have tied my family together with my husband's family. The property family belongs to my husband's family and has for over 100 years on this particular property, but when I married into this family I was able to bring my family along, because I had an aunt, who lived in Chicago, who decided when she had a picnic on the beautiful rock on Taft's point that she wanted to be there too, and so when her husband died, she bought the property from Harrison Bird, and so built this beautiful house at the very tip of Taft's point, which had always been unoccupied until that point. And she was a writer and she wrote a wonderful, wonderful story about buying this property and being guilty about taking it away from the people that had always come there traditionally, because Taft's point was always this wonderful place where everybody came and had family picnics and what have you. She wrote this story about, making the principal character was this person that came and invaded it but kept apologizing for invading it, and tried to make it as much, make it accessible to the people that had been displaced.
Marian: Is there a name of the book that we could find?
Ann: Yes, it's just a story, its unpublished, she had submitted it, I think, about nine times to a publisher, and even in her 90s when she was getting to the end of her life, she took it out again and rewrote it, because she really felt this was a very good story to tell about being responsible for property and being responsible to nature, and she thought it would be a good kind of teenage novel, but nobody was ever able to pick up on it, so I have it in my collection, I have all of her manuscripts, from all the many stories she wrote.
Marian: So I took you away from talking about your family.
Ann: No, that's alright, because she was really kind of the link because now my brother has that house, and so he comes there with his family.
Marian: And your brother's name is?
Ann: My brother's name is Mac Bollman, and we have another, additional tie because he married a classmate of mine from college. So he came to pick up his car at Wheaton College and I was taking six girls to hear Fred Wearing Waring in Boston and I refused to give him the car until I had done this, so he came with five other girls in the car with us and went to Boston, and Lucy met him, and then immediately decided that she was going to New York, and maybe she could ride along with Mac, and by the time they got to New York, Lucy had set her sights on Mac, and it was probably five years later, but that was a nice relationship that my brother married this classmate of mine, and then, when Ely was in Texas and coming back to New York, he called Lucy up and said, I'd like to meet Mac because he wasn't able to go to the wedding because he was in Texas, and so he was making this arrangement with Lucy and there was another person in the office who was a cousin of Lucy's and he overhears this conversation and says well Mac has a sister, and so he said, well, get the sister, so we went out on a double date the first time, and so that's what brought us really together, from all, from many different connections, so that's the story.
Marian: How many brothers and sisters do you have, and how many does Ely have?
Ann: Both of us have just one, one brother. Mac is the older brother, and Ely's brother is also older, and the other aspect of this is that the family is connected through Ely's grandfather to five other families all of whom have property here, and so that makes this a big circle.
Marian: And which families are they?
Ann: Alright, there are five children, the oldest was Sylvia, who became a Stragnell, and so that's Sandy and Pam and dozens and dozens of Stragnells, and they have, Doctor Jelliffe gave each of the children a house, so Sylvia got the Peter Pan. Then, the next oldest sister, youngest sister, was Winifred, and Winifred is Bunny's, Bunny Wilkening's mother.
Dave Knight: I knew her.
Ann: You knew Winifred?
Dave: She was my, she was very good to me when I was a kid.
Ann: Oh really? You didn't know Sylvia?
Dave: Not as well, no, yeah, I knew who she was and I'd been introduced to her, but I didn't know her nearly as well as her sister.
Ann: Well, unfortunately Winifred died quite young and she got the White House, so that's how Bunny came to have that house, and then the next in line is Ely, Uncle Ely, not my husband, Ely, and he was kind of, (a) bad boy, and he was supposed to have the White House but he kept not paying his bills, and so Dr. Jelliffe took it away from him and gave it to Winifred, and so that's the Wilkenings. And then Uncle Ely is a Jelliffe and so he had three sons, and all those three sons were adopted by my mother in law in summertime because they lived in New York City and so she took in David, Donald and Gordon, every summer, so there were those three boys and Ely and Dolf, five boys, off in the woods, doing horrible things, all the time. They had great adventures, rock climbing up cliffs and getting crowbars under rocks and making landslides and really exciting things like that but they were very companionable and they played a game called stinky boy where they ran around the house with pillows and threw them at each other, and then that's Ely and then the next was Leeming, who was another boy, and he was graduating from medical school, Columbia Physicians and Surgeons and died in an accident, got in an accident, and so he at that time was, his wife was pregnant with John, Jack Jelliffe, was his offspring, born after Leeming had died, so that, that whole, that's another Jelliffe that were not, they lived in Indianapolis and most of their early life was in Indianapolis, and after let's see, John was about 7, well, young John was about seven when they first came here. They had five children, and they came from Indianapolis at Aunt Sylvia's invitation to the Peter Pan, and fell in love with the Peter Pan, and that was the first of their life here, and they came every summer after that, and there are wonderful stories about the packing for that trip. Jack let everybody have a cardboard box they could fit in the car and that's all they could have for packing, everything had to go into that cardboard box.
Dave: That's a good idea.
Ann: Carefully packed the car and stacked up and then pulled in the children in between so it was 5 children in a station wagon and a box for every child, it's kind of a wonderful picture that Sylvia, the young Sylvia tells of getting together. We've had some wonderful reunions, we had one big reunion for the hundred year celebration of the family on the property and that was in 2004, and on Sunday we had a breakfast of remembrance, and we had everybody speak about the people that were not there still, that had left us, and everybody had participation in that, and I was able to tape those interviews and put them together in a booklet.
Dave: That, we got that tape, and that was wonderful.
Ann: It's a wonderful remembrance, and it was interesting things that came out, you know, some of it negative and some of it positive, I mean, Bunny, who was a dear woman and I love her, but she just loves to complain, and she took this upon herself that time to complain about everything you could imagine in her life up till that point and why she hadn't been here as long as everybody else had been here because of her father who wouldn't let her come, and just, so instead of talking about the happy things, it was not a very happy interview. She wrote this out for me ahead of time and I wrote her back, do you really want me to publish this, I said I'm putting this together and publishing it, and she said, that's how I feel, that's what I want to write. So the history has been really quite well recorded, stored up.
Dave: That was, we listened to that from beginning to end of course, I got to know Winifred and she got to know me, they took care of me when I lived out in Chicago, I went to University of Chicago.
Ann: Oh, did you? Well, that would be a good contact then.
Dave: Well, I was only there one term.
Marian: Dave lets tell that another time shall we please?
Dave: Go ahead.
Ann: She was married to Alfred Emerson. Winifred was married to Alfred Emerson, and Alfred was a professor of entomology, he was a bug man, he was a termite man, and Helen did a very good talk about Dr. Emerson, he was an extraordinary man.
Dave: He taught me everything I know about termites.
Ann: Probably a bit you didn't want to know either.
Marian: Well, Louise, the other thing we were, one of the other things we got into was possible themes for recording you, the younger generation's experiences of the lake, so as a kid, and coming up, I heard you say a little while ago that you had, that you came every year, all your vacations have been here, most of them anyway, and so, perhaps you could tell us, what it was like to grow up and be a kid, what kinds of things you did, who did you pal with, and what life was like?
Louise: Oh it was, I mean it was a wonderful way to grow up, it was a wonderful place, I only know, I only knew here, you know, I knew where we lived in Glens Falls and well we lived in New York City first, I was there till I was about 4 and then we moved to Glens Falls and I guess that, you know, every summer to me, this was where you went, so we literally moved, so that the school was over and you knew you were moving and so it wasn't, even when we lived in Glens Falls, which I know now is only 45 minutes away, I thought it was, it could have been Timbuktu, we thought when we left it was far, far away, you couldn't go back there, so we moved up here and lived the whole summer, three months, until school started again, so we would have a friend maybe that would come up, but mostly it was just family. We grew up with, I grew up with all the Stragnell kids, all the Bollmans, my mom's brother's kids, Elly and Macko, were who we predominantly hung out with for the years they were here, we had a couple years that they were overseas but for the years that they were here, we were five of us that were just inseparable, and everything was about camping and woods and building and skiing and skiing was a ritual that super ceded superceded everything. We would get up at six o'clock to get good ski water, and then go back to bed.
Ann: This is water skiing.
Louise: Yeah, so we would water ski, I mean, two, three times a day, the world revolved for a certain number of years around water skiing, dinners revolved, everything.
Marian: How old were you at that time?
Louise: All the way, when I think we started skiing we were about five, six, seven years old for each of us, and then as we progressed and it used to be the parents would all ski us and then as we got older we started driving our own boats, and Mac, Macko Bollman, my cousin, was the leader of the pack, and when they started renting, I guess on the Bluff, we had, just constant, we were either at one house or the other, or we were in the woods, back in those days it was really easy to get an island, you just went and paid your ten dollars and you got an island, probably all to yourself, so our life here was just unbelievably free and, you know, back then we didn't have TVs we didn't have, we had a telephone, I remember our party line, where your ring and I think our house was one of the houses that got a private line pretty early.
Ann: Yeah, Opah had to have it.
Louise: Yeah, he had to have a private line so it's the first time you didn't have to listen for your ring, and that was kind of cool, so all these, I hadn't thought of that in years, all these things were really unique experiences that when I talk about with some people, they're like wow, they didn't get to do that, they just grew up and did their thing and stayed in the same place, and we got to come to this amazing place, meet, I mean, so many extended relatives, it was unbelievable, I got to know Sarah Stragnell, who's my age, she is Sandy's sister, ok, Libby and Bob's youngest daughter, was my age, and then so the Stragnell kids were all a lot older, except for Sarah and I and Macko, we were all kind of the same age, so we had a lot of really great years with Stragnell cousins. Jelliffe cousins were all older, they were my babysitters. All the Jelliffe girls, Helen and Sylvia and Myla.
Ann: Sylvia never did.
Louise: No, Sylvia doesn't, okay they were all our babysitters growing up so we had this really unique bond with all the older cousins too, endless lawn parties, weddings, crazy stories that could go on forever.
Marian: Did you have any games that you people would play as a group of kids? Other than waterskiing?
Louise: I don't know that I could talk about some of the games we played. (laughter)
Marian: Or things that you did.
Female: Just because your mother is sitting here. (laughter)
Louise: We had a lot of fun. The rainy days, great memory is rainy days when we were younger, and since there was nothing to do, outside, well we still would go outside in the rain and things like that, but we would go to the mansion, to the tower, and in the tower were games and toys and my Omah, my dad's mother, my dad's parents were my Omah and my Opah, which is Dutch for grandma and grandpa, so we would go up there and they would play horses and the horse stables and we played monopoly and we would play war, because there's all those, Uncle Dolf, my dad's brother, had all these helmets and guns, not live guns, but, and then, the other fascinating thing that's up in the mansion up in the tower which is still there, is every Life magazine from probably 1918 to 1950s.
Ann: Basically the 40s.
Louise: And we would sit and read these old Life magazines.
Ann: The whole war.
Louise: And it was just, to us, that was just the coolest, coolest thing. Endless stories and memories all really terrific, and my goal when I had children was to have them come as close to that experience as possible because that was so unique and so I've brought my two boys up here every year since they were born, of course we didn't, weren't able to stay the whole summer, but at least, early on we could stay a month, three or four weeks, then it got to be kind of more of a two week thing, and now, both my boys have totally fallen in love with the lake, it's just in their heart. It's amazing.
Marian: How old are your boys?
Louise: Hold old now? They're 16 and 18, my older one just graduated from high school and moved into an apartment last week and is probably not going to come for the first time ever, and I'm hoping that his work lets him, he's already working full time, so I'm hoping he asks work so he can come up, I don't know, but my younger son is here and he's ready to, you know, take over the land, he's ready to conquer the property, and become, you know, a caregiver of the lake, and that's a wonderful thing.
Marian: How old were you Ann when you first came up here, were you already an adult, or were you still a kid?
Ann: I came up when I was married. I came up before I was engaged; I was invited for the Fourth of July weekend when I was dating Ely.
Female: And what did you have to do to prove your worth?
Ann: (chuckles) Yes, well Ely had this idea that any woman worth paying any attention to had to climb Spruce Mountain tower, all the way to the top, and so I had to climb the Spruce Mountain tower, and it is a nightmare of mine, that I still have to this day, because when you climbed that tower, it was a vertical thing like this, and when you climb vertically, you feel like you're doing this, and when I got to the top I expected there was going to be a platform, I would fall prostrate on top of this platform and relax, when I got up there, it was a grid about 12 inches square and there was no platform, there was nothing, nothing you could count on, if you put your foot on it you could go right through it and it was a very terrifying experience, but I did it.
Louise: And you proved your worth.
Ann: And I won the guy.
Female: The tower is no longer there. It probably was taken down shortly thereafter don't you think? The tower was removed.
Female: No, it was there for a long time.
Female: There was a light on it for years.
Female: My cousin George was convinced it was a bear up there that was trained and automatically turned on at dark. (laughter) She was a coastal Georgia girl, she didn't know.
Marian: So is this a family tradition that every out law had to follow after you?
Ann: No, not at all, this was Ely's idea of fun I guess.
Female: And you still married him. (laughter)
Ann: Yeah, they used to go up there and sleep, on top of the tower.
Marian: On that little grid?
Ann: Yes, on that little grid. Cousins together.
Dave: Is this the top of?
Ann: Spruce.
Dave: Okay. You could get into the, up onto the top, by going up the side, cause I did it. There's a platform around the light, but I climbed up inside and you could get into the top.
Ann: And what did you climb, a ladder?
Dave: No ladder, on the…
Ann: Well, I wasn't going to do that either.
Dave: No, it was possible, because I did it several times, I can tell you all about the light because the light, they didn't, after they put the light out, didn't use it anymore, that was a lifeline, you know, that was just one of the lights going up to the Montreal, but you could climb up, but it was about square, it was about yay big, that you could climb up inside and when you get up into the top, you could climb out if you were thin enough and get onto the top, it was a platform all around the outside, you could walk around it.
Marian: Well, Ann, maybe we'll switch around and say, do you have any impressions or whatever, really, moves you most about being up here? Both answer, what is it about this place that's so special?
Ann: Well, for me, it was the continuity of a whole long period of time of family living on this property and it staying the same, I mean there was really no change at all, for all those years I was here, and we, now we've made a big change, but until the early days, we just built this house in 2007, up until that time it was always the same, and you had a sense of presence of the people that had gone before you. And my mother- in- law was a very, very invested in the property, matter of fact, in Hulett's in its entirety, and she did, brought a kind of continuity for that.
Marian: How about you Louise?
Louise: I don't know that you can put that in words, and I guess that was my point earlier, when you, it is so a part of you, and it is, it's so indescribable that, I brought many, not many, but quite a few boyfriends up here before I married them, because, just like, that was the point of my story, and for mom's, is that, you had to make sure, that when you bring someone up here, that this is going to be a part of their life, because it's so a part of you, so a part of your life, and the community, and the feeling of it, the love of the land, the property, the area, the people, if you don't have someone in your life, permanently, who has that same love of it, that's just not gonna work.
Ann: Should one boyfriend turn his back on the lake, that was it.
Louise: Well, and I had another one that got heavily invested in the plumbing, because nothing worked, and he never came back, and then, my husband now, who came up here with me, we met each other and shortly after were just smitten with each other, so we had no time left, because the summer was over, so on Labor Day we flew up here, emergency, and then he proposed to me in the corner chair of our old library, and you know, I was like, oh yeah, this works. (laughter) This is right. So it's that, it's whatever it is that you know you just have that feeling that, to me, this is home. I've lived all over, I love Texas, I love where I am, but when you're talking about coming home, you come here, like you said, you vacation here, every summer, our vacations are just here, it's almost impossible for us to go somewhere else, and why would you. It's absolutely amazing.
Ann: We have Dutch cousins that have come to visit us here and they are so invested in this place, and they come over here, from Holland, and at the drop of a hat they'll hop on a plane and fly over here, and they have two, three kids, one of whom was just visiting me in New York, and she had to bring her boyfriend up here, she said, oh please can I take him and show him to Lake George, because they are so invested, and that's just coming as guests, coming from a great distance, with a totally different perspective, and that's what they said. We had another friend, a friend of one of the cousins who came over and toured all over the United States and he came to us and said, you know, you live in the two most wonderful places in America, because I've toured the whole country, New York City and Huletts Landing.
Transcription by Robert Stragnell
Edited by Arnold Galbraith and Marian Knight